Title: Our Chemical Hearts
Author: Krystal Sutherland
Publisher: G.P. Putnam's Sons BFYR
Date of Publication: October 4, 2016
Source: purchased from National Book Store (paperback)
John Green meets Rainbow Rowell in this irresistible story of first love, broken hearts, and the golden seams that put them back together again.





Henry Page has never been in love. He fancies himself a hopeless romantic, but the slo-mo, heart palpitating, can't-eat-can't-sleep kind of love that he's been hoping for just hasn't been in the cards for him—at least not yet. Instead, he's been happy to focus on his grades, on getting into a semi-decent college and finally becoming editor of his school newspaper. Then Grace Town walks into his first period class on the third Tuesday of senior year and he knows everything's about to change.





Grace isn't who Henry pictured as his dream girl—she walks with a cane, wears oversized boys' clothes, and rarely seems to shower. But when Grace and Henry are both chosen to edit the school paper, he quickly finds himself falling for her. It's obvious there's something broken about Grace, but it seems to make her even more beautiful to Henry, and he wants nothing more than to help her put the pieces back together again. And yet, this isn't your average story of boy meets girl. Krystal Sutherland's brilliant debut is equal parts wit and heartbreak, a potent reminder of the bittersweet bliss that is first love.
My Rating: 3 out of 5 stars
I was quite interested in this book when I came across it online, probably because of the striking cover. (Which is apparently apt to the book so kudos!) But after reading the blurb, I knew I wasn't going to read it. Maybe it's with the comparison to John Green or the glaringly obvious presence of an MPDG (manic pixie dream girl) but I shelved it in my mental pile of most-likely-never. But then came all the raves and I ended up getting only more curious with each glowing review that I bought it on a whim. Still, it was surprising that I got to it immediately because I usually end up not finishing books I bought impulsively. My usual pattern was that I'll sample it and determine that it's not the perfect time to read it. But with Our Chemical Hearts, that did not happen. I sampled it and I ended up reading it continuously in the hopes to actually finish it in a timely manner.
This was primarily because of the voice of the narrator, our protagonist Henry Page. He's cheeky and sarcastic and competent in banter. While being a writer (for his school's newspaper), he is that, a writer, and isn't great at speaking his thoughts, which Grace Town calls first drafts. Which I just related to so much because I am NOT a speaker. I, however, can fool you sometimes that I have a good head above my shoulders and that I can coherently form a thought or two. Heh. I also related A LOT to being a romantic but not seeking for my own romance. *helpless*
Right from the get-go, Our Chemical Hearts sounded like a John Green novel. In that I truly felt I was reading a novel by him because Henry Page is so familiar, with how he speaks, thinks, and even the girl he falls in love with. But what I did appreciate with Our Chemical Hearts is how Krystal Sutherland didn't write a manic pixie dream girl in Grace Town. In fact, all throughout the novel, Grace calls out Henry on him being in love not with her but the idea of her in the near future, of a broken but already fixed Grace. What I find irritating about MPDGs are not the girls itself but how the males from which perspective we always read them about, make them so. Make them just a collection of quirks and ~cool~ things that they're not a person. While Henry can be accused of being guilty of this too, I love how Sutherland infused Grace with character. And with that, I'm thankful for the author for writing it this way. Grace has her own issues, which affects Henry as well, but I appreciated how Grace had her own story arc as well, and not just an accessory to Henry Page's first love as its object.
I do have to admit that I didn't see the Rainbow Rowell comparison (I think it's only because Grace Town is a bit like Eleanor in Eleanor & Park, which I don't even really think so. Their only similarity is that they look kind of disheveled/dirty.) because it wasn't actually swoony in my opinion. Henry and Grace were great at deep discussions and banter. I had a grin most of the time and chuckled quite a lot of times while reading this book because it is funny and I had a field day with all the pop culture references. I LOVED SPOTTING THEM. Oh, that's a thing too. While reading this novel, I kept on noticing how modern it is. There's constant mention of social media apps like Snapchat, Facebook, and Spotify. Which I'm not particularly fond of but nothing I'm not fine with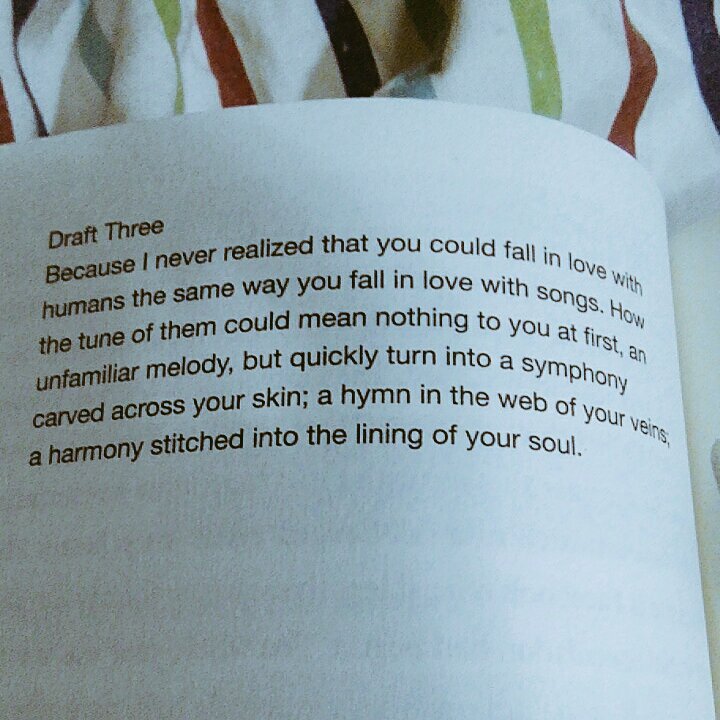 Then we also had passages like this which just BAM. HOW BEAUTIFUL. There were lots of quotable passages and I especially loved Henry's older sister Sadie's thoughts on love as a chemical reaction quite at the end. It's not heavy science but I did appreciate how Krystal Sutherland said that love, even if it's just a chemical reaction, does not make it something not great. Or something cheap. Love, even if it fails, is still love. That all love is equal in the brain. I gobbled that part up, I loved the last chapters to this novel.
I felt like I wanted to give this book 4 stars but in the end, I just didn't care much for our main characters, sadly. I should have been relating so hardly to Henry but we just didn't connect to the point that I'd love this novel. I am actually more interested and into the secondary characters such as Lola and Muz, Henry's best friends, especially on Lola, who's biracial and a lesbian. Lola and Henry and Muz's friendship was so great to read, with how they support and help and call each other's shit out. I realized that I could have gone without the romance aspect of the book and just live with the friendship of these three, honestly. Lola was just the best, really. Additionally, I was also more into Sadie (she's a neuroscientist!) and her relationship with her son and how great of a sister she is, and the reality of parental separation. All things the novel had on the sidelines.
While Our Chemical Hearts was a quick and enjoyable read, I wasn't able to connect deeply with the main characters, which hindered me from ever loving it fully. Still, I had fun with all its references, the banter, the friendship, and the deep discussions and realizations. Objectively, it is a great story of first love and of coming of age. It also touches upon grief and how we punish ourselves with pain for the guilt we feel. Maybe if I haven't read a lot of books quite like it before it, I would have loved this one. But do try it! Do not let me prevent you from trying this one out because a lot of people loved it and I'm in the minority. It might be for you!