Yesterday was the Manila leg of #AmyandAndreainPH! Thank you so much to National Book Store for bringing these two awesome authors to the Philippines! Read on so you can read all about me promoting Jollibee. HAHAHA
This was my view because I was late and stayed at the back. What a beautiful collection of books! You can see the best host EVER, Chad, and Amy Zhang in the photo. And my fellow bloggers who I've missed dearly (why so clingy, Dianne, it's only been a month or so). It was my first time being late so I was so rattled and at a loss on what to do. But I did get to ask my question so I wasn't THAT late!
I asked Andrea Portes how she managed to write such legitimate teen-sounding voices in her books. She answered that as the events are mostly real, she just tried to get back to her teenage years. Or that maybe she actually didn't grow up at all. She said that she has always been a precocious teen so she just channeled her teen self.
Read on for what went down that day!
I got on queue with Andrea first as I've read Anatomy of a Misfit recently and really enjoyed it. She saw my ARC of The Fall of Butterflies and told me that she loved that cover and I agreed, although some people might be iffy with all the insects going on. But it really does fit the story better. She then mentioned that Barnes & Noble didn't like the original cover so Harper Teen had to change it. I was then shocked that a bookstore had a say in a book's cover! So I asked her if that's normal and she said that B&N is such a big bookstore so they could have a say in things and that it appears that B&N truly disliked that cover for it to change. Andrea then told me that it all worked out fine though because she loved the new cover too.

While Andrea was signing my books, I told her my reactions upong reading Anatomy of a Misfit, which was complete surprise and heartbreak due to things I did not expect. She then told me that those were real-life events and I told her that while I was blindsided, I still think the book was better and got great because of what went down in the end. She then said something how truth makes things better or something to that effect and you have to tell the truth and it just struck me. Also, also, have you seen the naked hardcovers of her books? I'm so glad I got them in hardcover!
Have you read Andrea's books? PLEASE DO.
Then I went to go fall in line for Amy!
I haven't read Amy Zhang's books (I started with Falling into Place last week but got so busy ugh) so while in line, I was kind of panicking on what to say to her. I'm not great with small talk so I was grasping at straws. Kate of The Bookaholic Blurbs (my personal photographer for the event HAHAHA) told me to ask Amy if she's had Jollibee spaghetti. With a plan, I felt emboldened and ready to face Amy so when I was next, I wasn't ready when Amy opened with: You were late. She also had a serious face and I was just speechless and got so shy. My brave front immediately shattered and I had nothing to say except sorry and I couldn't look her in the eye. She then laughed and said she's kidding and it's okay because she's also perpetually late.
After that, I got at ease with Amy and I ended up really bringing up Jollibee. I asked her if she's tried it and said that she hasn't but some people have recommended it to her so she definitely wants to. Kate then told her she should try it in New York (since she's in university there) and Amy lamented how it won't be open until 2018 so she might have to try it here.
I then proceeded to recommend her the spaghetti and told her that Filipino spaghetti tastes sweet unlike Italian ones and then I FORGOT THE ENGLISH WORD FOR SOUR (which is sour of course but I know that now). So I looked to Kate and asked her in Filipino what's the English for sour and she was laughing so hard at me. Kate then told Amy to try the Chickenjoy and I said "It's called Chickenjoy for a reason!" and Amy laughed at my enthusiasm. I then told Amy this is not a paid advertisement then she jokingly asked me if I was secretly working for Jollibee and I told her: IF ONLY!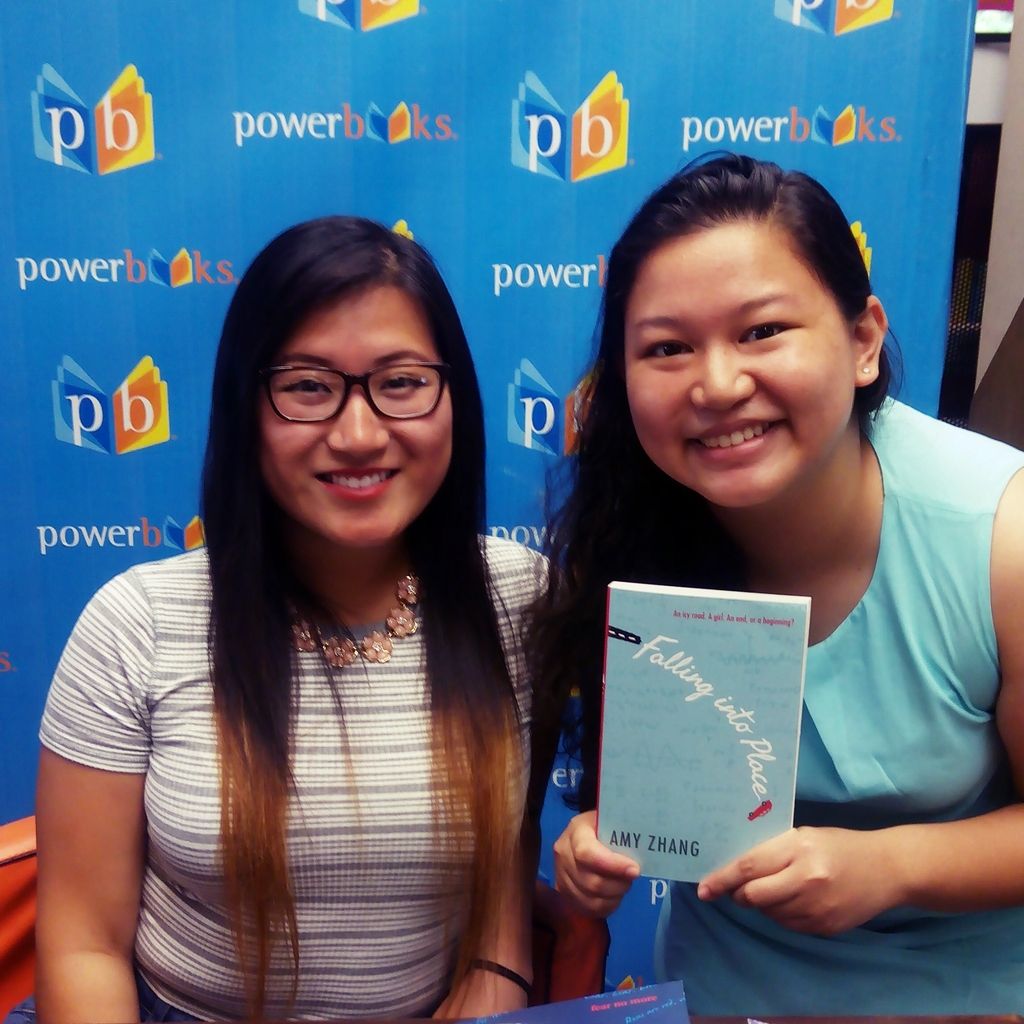 Kate then asked about how Amy manages to juggle being in uni and writing. She's apparently an incoming junior and she told us that she only writes during breaks so she doesn't really have to juggle writing and school. I also noticed that Amy has a belly button piercing I mean HOW COOL IS SHE OKAY. And I was not being a creeper even though I sound like one! (I saw that not during our talk.)
All the while, Louie was enjoying my conversation with Amy as evidenced by his reactions on our photos. HAHA
Then, at the end, I got a photo with both Amy and Andrea!
Gah, thank you so much as always, National Book Store! For bringing in authors here in our shores and making our bookish hearts happy!