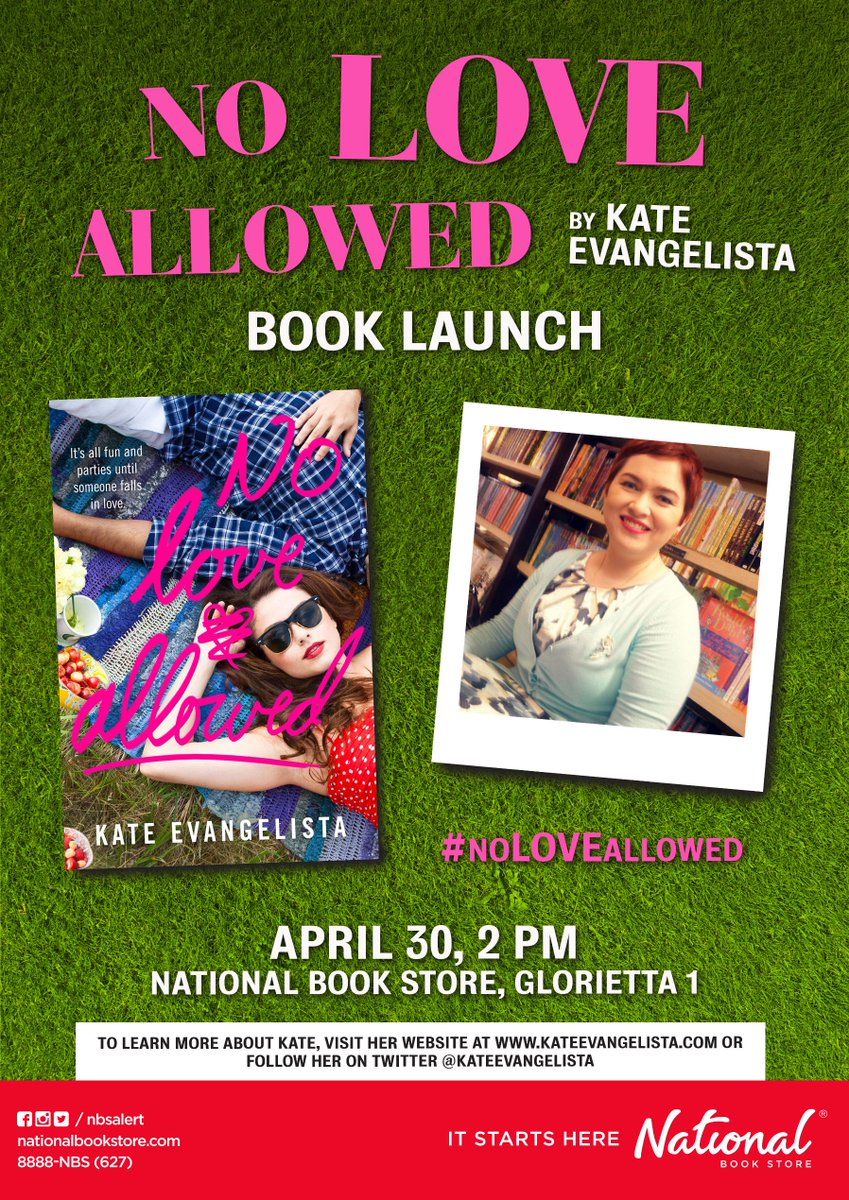 Join Filipino young adult novelist Kate Evangelista (@KateEvangelista) for the launch of her latest book 'No Love Allowed' on April 30, 2016 at 2 p.m. in National Book Store, Glorietta 1. Registration starts at 12 p.m.
ABOUT THE BOOK
Caleb desperately needs a new fake girlfriend. Either he attends a series of parties with a pretty girl on his arm to schmooze for his father's law firm, or he gets shipped off to Yale to start a future he's not ready for and isn't sure he wants. And sadly the last unattached girl in his social circle has just made the grievous mistake of falling in love with him.
Fortunately, Didi, the waitress at the Country Club — who just lost her job due to Caleb's too-public breakup — is open to new experiences (and art supplies are expensive!). It's the perfect setup for them both. Caleb has only one rule for the arrangement: Didi mustn't fall in love with him.
ABOUT THE AUTHOR
When Kate Evangelista was told she had a knack for writing stories, she did the next best thing: entered medical school. After realizing she wasn't going to be the next Doogie Howser, M.D., Kate wandered into the Literature department of her university and never looked back. Today, she is a graduate of De La Salle University - Manila with an Bachelor of Arts in Literature. She taught high school English for three years and was an essay consultant for two. Currently she writes full time and is based in the Philippines. To learn more about Kate, please visit her website at www.kateevangelista.com or follow her on Twitter @KateEvangelista.
Frequently Asked Questions
When and where is the book launch?
April 30, 2 p.m., National Book Store, Glorietta 1
When will the registration be?
Registration opens at 12:00 pm on April 30 at National Book Store, Glorietta 1. First come, first served.
Is there a registration fee?
No. There is no registration fee.
How many books can I have signed? Is there a limit as to how many people can have their books signed?
You may have any number of books signed as long as they were purchased from National Book Store, National Book Store Express or Powerbooks, and we do not have any preset limit as to the number of people.
However, although we will take every effort to get as many books signed as possible, depending on the number of attendees, we reserve the right to limit the number of copies per person or limit the number of people in line. First come, first served.
Can I bring old books or other editions of the books?
Yes, as long as the books were purchased from National Book Store, National Book Store Express or Powerbooks.
Do I need to buy on-site?
No. You can buy books before or during the events.
Can I have other items signed?
No. Only books will be allowed to be signed by the author.
Can we have our photo taken with the authors?
Yes, you can have your photo with the author when she signs your book. However, we strictly allow only one photo per person for each author.
How much are the books?
No Love Allowed - P479 (Trade Paperback)
Til Death - P399 (Trade Paperback)
Savor - P185 (Trade Paperback)