I guess I'm a masochist because even though I only gave 2 stars to Love, Lucy (the book this novella is a companion of), I still got around to buy and read this novella, HOPING AND WISHING THAT I'LL LOVE IT. Why do I do this to myself?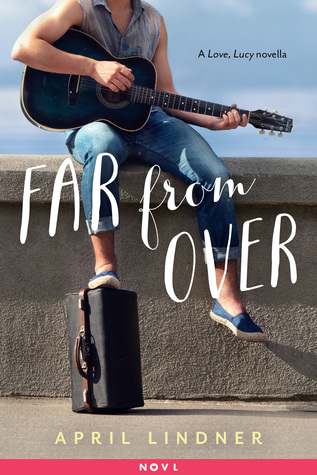 Title: Far from Over
Author: April Lindner
Date of Publication: April 12, 2016
Source: purchased (Kindle)
A captivating digital original companion novella to April Lindner's Love, Lucy.




Jesse Palladino is used to moving on. As a street musician backpacking through Europe, he's never in one place for long. Which is why it's so surprising he can't seem to move on from Lucy, the girl he fell for in Florence. They parted ways when Lucy returned home to start college, but every crowded piazza and winding cobblestone street reminds Jesse of the time they spent together. Now staying with a friend in Naples, he can't help wondering if it's time to pack up and move on again. But just when his mind is made up, something—or someone—might give him a reason to stay.
My Rating: 2 out of 5 stars
I sort of kind of hated Love, Lucy even though I tried so hard to like it and be more forgiving. Props to Far from Over though because I didn't hate it! MWAHAHA
In my review of Love, Lucy, I described Jesse Palladino, Lucy's love interest as: "Jesse was nice and all, but he lacked dimensions. Quirks. He was bland and boring and I don't see anything in him I'd be over the moon with."
Well, I'm unhappy to say that that's how I still see Jesse, even though I've read pages from his point of view. HUHUHUHU this makes me so sad
In Love, Lucy, while I admitted to finding Jesse uninteresting, at least he didn't irk me. I was neutral with him. So that's why I read this novella, that maybe, just maybe, reading it from Jesse's POV won't be so bad. It might make me appreciate him and find more joy (although retroactively) in Love, Lucy.
Sadly, even if I've spent almost 40 pages inside his head, I still don't know A LOT about him and nothing to fawn over. Granted, the novella didn't actually irritate me so I guess that's already a win? But it didn't really make me feel anything AT ALL. And I would have rather felt anything, even disappointment or hate, than nothing.
Unfortunately, I really don't connect with the characters of Love, Lucy. I still want to try reading books from April Lindner though because I've heard Jane and Catherine were amazing. I just have to get to them!
What Far from Over did successfully do though? MAKE ME WANT TO TRAVEL.