EVERYTHING, EVERYTHING is out this week and I implore you to go and read it. J'adore!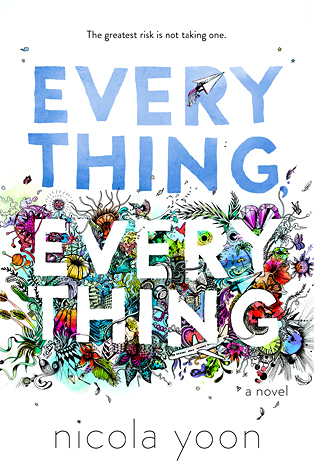 Title: Everything, Everything
Author: Nicola Yoon
Publisher: Delacorte BFYR
Date of Publication: September 1, 2015
This innovative, heartfelt debut novel tells the story of a girl who's literally allergic to the outside world. When a new family moves in next door, she begins a complicated romance that challenges everything she's ever known. The narrative unfolds via vignettes, diary entries, texts, charts, lists, illustrations, and more.




My disease is as rare as it is famous. Basically, I'm allergic to the world. I don't leave my house, have not left my house in seventeen years. The only people I ever see are my mom and my nurse, Carla.




But then one day, a moving truck arrives next door. I look out my window, and I see him. He's tall, lean and wearing all black—black T-shirt, black jeans, black sneakers, and a black knit cap that covers his hair completely. He catches me looking and stares at me. I stare right back. His name is Olly.




Maybe we can't predict the future, but we can predict some things. For example, I am certainly going to fall in love with Olly. It's almost certainly going to be a disaster.
Review
My Rating: 4 out of 5 stars
Thank you to Random House Kids for the review copy! Having received one did not affect my views of the novel.
Everything about this book was adorable! Yeah, I couldn't stop myself from saying everything. But it holds true though, because this book is just A-D-O-R-A-B-L-E.
I got this book Friday and the first thing I noticed is WHAT A PRETTY COVER LET ME CUDDLE IT. You have to see it in the flesh. The colors and the illustrations, just, *moony eyes*. Then, I started it first thing Saturday and I didn't stop reading. While I was out commuting, doing the grocery, I read EVERYWHERE. I couldn't stop. Madeline's voice got to me right away and I couldn't let her go until I know her story. What she has to say. It was so damn readable!
Madeline has SCID, which is more commonly known as the bubble baby disease, where everything and anything could trigger an allergy attack that can make her sick or even kill her. With that, she has lived her eighteen years inside her house, being homeschooled via online classes, reading books, and is actually happy and content. Sure, she'd still want to get cured if only it were possible, but alas, she doesn't think of nonexistent cures as it would only make her miserable. I love how positive Madeline was but still having yearning thoughts for the Outside (as she calls it) once in a while. She's resigned to her fate but is dealing with the cards she's been dealt as positively as she can.
She's close with her mom, a doctor, and her personal nurse Carla. These are the only two people Madeline see and talk to personally and rely on. Carla's Mexican and I love how she's so warm. And perfect for Madeline. As for Madeline's mom, I like how they play Fonetik Skrabl which is basically scrabble but not caring about spelling. Just the sound. So cute and yay for a young adult who doesn't hate parental figures! Madeline's mom is a bit on the scale of anxious and very worried for Madeline so it all balances out.
One day, a moving truck of a family of four comes and Madeline gets neighbors. Specifically, a neighbor who's a boy. Of the same age. Named Olly. Who wears all black, does parkour, and definitely took Madeline's breath away the first time she saw him.
Thus begins the adorable. Madeline and Olly get to know each other and I love love love reading their chats! Olly's a cynic but isn't that cynical as he would like to think. He's random, he's kinetic, he's spontaneous, he's movement. Madeline has been living her life as if in stasis, every day is the same as any other day. It was so obvious she'll fall in love with Olly. And I was right alongside her.
Olly was perfect and maybe I have a beef with that? I wish we got to know Olly more. Aside from having an abusive father and being sweet and - did I say perfect already?- magnetic, I wanted more! Nevertheless, GUYS, Olly just made me squeal so hard. Dolphin squeals were heard all over our house because HE SAYS JUST THE PERFECT THINGS AND I AM LEFT UNDONE. It is also Madeline's first time to fall in love so IT'S SO EXCITING! AND FRESH! And generally swoontastic.
But do you know what made me instantly click and understand Maddy (as Olly now calls her) even more? That moment where she said her favorite book is The Little Prince. Because it changes meaning every single time. I thought, AM I HER? This is the exact reason why I love The Little Prince and why it's my favorite book OF ALL TIME. I think that single tidbit about Madeline made it for me. Made me understand her and of course, root for her, like nothing else.
She also loves and cries every time she reads Flowers for Algernon by Daniel Keyes and GUYS GUYS GUYS. Is Nicola Yoon writing about me??? That book wrecked me and I can never re-read it again because I cannot go through that again.
Aside from my deep connections with the books featured in Everything, Everything, it also took me by surprise. If you think this is just a story of a girl falling in love for the first time even if it could kill her, it's not. It's more than that and the third act of the novel made me !!!!OKAY!!!! I DID NOT EXPECT THAT MUCH AMAZE. While I do wish the resolution at the end wasn't as quick and a bit swept-under-the-rug, I still certainly approve of the ending. Specifically Maddy and Olly's last scene. It was very reminiscent of Dash and Lily's Book of Dares (not its ending but a scene in it), which you must know I also adore (every single letter of it).
Oh, oh, before I forget, diversity! Madeline's mother is Japanese American and her father's African American. So she's of mixed race, with dark skin and curly hair. As I previously stated, Carla's Mexican.
Lastly, the illustrations! I love the format of the book, in the form of diary entries, email screenshots, the illustrations (made by the author's husband LOVE THEM ALL), chats, and everything.
Everything, Everything is a novel full of heart and this heart is what kept this book beating and resonating among readers. I highly recommend you to pick this one up and join me in reveling living your life, taking risks, and loving. J'adore!
Nicola Yoon grew up in Jamaica (the island) and Brooklyn (part of Long Island). She currently resides in Los Angeles, CA with her husband and daughter, both of whom she loves beyond all reason. Everything, Everything is her first novel.