I am deeply concerned and totally cringing that the letter 'S' in Homo sapiens is capitalized in the title. My science nerd self is totally not cool with it. I knew italicizing the scientific name would be tricky because it's the title so I ended up being cool with that but THE CAPITALIZED S, I CANNOT. It's like going everything against what I was taught. Am I overreacting? Maybe. But scientific name syntax is important, you guys! Carl Linnaeus would be so proud of me. I'm completely off-tangent here because I don't want to talk about how the hype killed this book for me.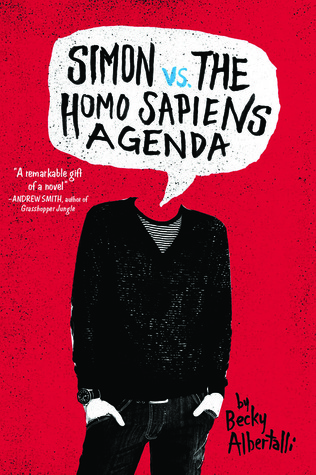 Title: Simon vs. the Homo Sapiens Agenda
Author: Becky Albertalli
Date of Publication: April 7, 2015
Sixteen-year-old and not-so-openly gay Simon Spier prefers to save his drama for the school musical. But when an email falls into the wrong hands, his secret is at risk of being thrust into the spotlight. Now Simon is actually being blackmailed: if he doesn't play wingman for class clown Martin, his sexual identity will become everyone's business. Worse, the privacy of Blue, the pen name of the boy he's been emailing, will be compromised.




With some messy dynamics emerging in his once tight-knit group of friends, and his email correspondence with Blue growing more flirtatious every day, Simon's junior year has suddenly gotten all kinds of complicated. Now, change-averse Simon has to find a way to step out of his comfort zone before he's pushed out—without alienating his friends, compromising himself, or fumbling a shot at happiness with the most confusing, adorable guy he's never met.
Review
My Rating: 3 out of 5 stars
Thank you to Balzer + Bray and Edelweiss for the review copy. Having received one did not affect my views of the novel.
So, hey, what's up? This review is a bit awkward to write for me because EVERYONE I know and look up to and adore and friends with loved this book. Everyone was like THIS IS SO ADORABLE, READ IT, DIANNE. And I've been planning to read it way back before it came out, when the first raves trickled in. But then I didn't get to read it and then the hype just kept getting bigger and bigger and scarier and TOO MUCH PRESSURE. Dianne couldn't deal.
But I finally did it! I finally read it! And I tried to not have any expectations going in because that's unfair for the book but it was impossible. Completely impossible. Everyone told me THIS IS CUTE AND ADORABLE AND SUPER SHIPPY AND YOU WILL LOVE IT. And sure, I did enjoy it and it was cute and adorable and shippy but I was also a bit underwhelmed. I liked it, sure, and it's actually a 3.5-star read but y'all know I don't do .5s. I guess I was expecting too much and I know it's my fault.
The book was narrated by the eponymous Simon whose voice was so teen and I'm all over his sentence fragments. His narrative was interspersed with his emails with Blue. Simon's gay and no one knows about it except this so grammatically correct Blue he corresponds with via email. Blue's also a junior at Creekside High but aside from that, Simon has no idea who he is. Absolutely no idea. Which just made me so giggly too because their emails were so honest and ADORABLE. Basically, Blue is so adorable and I don't blame Simon for falling in love with him because he is so darn lovable!
Now, the conflict arises when Martin sees Simon's emails to Blue (he didn't log out on the school's public computer) and blackmails him. Martin leverages the screenshots he took in exchange for Simon putting a word in for Martin to Abby, Simon's friend.
Simon's narrative is basically a slice-of-life one and I do admit, I got bored at times. (Don't brick me!) I've always been fine with novels that just chronicle the daily life of its main characters but I don't know, I'm just not that hooked with Simon's story. Sure, I badly wanted NEEDED to know who Blue was because like I said, BLUE BLUE BLUE IS A-D-O-R-A-B-L-E. So the email parts of the book were my favorite parts. But Simon's story? Not quite. I can't exactly pinpoint what didn't work for me because I did like it but I guess I was expecting just more that I got disappointed with just the daily happenings in Simon's world.
Don't get me wrong, Simon's daily life was amusing. Simon's in drama club and he's in a theater production of Oliver! as part of the ensemble so we get to see that. Simon's family even plays Facebook scavenger hunt, which was such a great idea, I think I'm playing that with my friends soon. Simon's a bit introspective too and I like how he's constantly thinking and evaluating things, like his friendship with different people. How it's so much harder to admit something to the people you know the longest because they know you so much. How he's afraid to go out of the box that defines him for these people. I so feel that.
Simon also has a diverse cast of characters and they're not even stereotypes! It also tackles divorce, bullying, friendships, family, and all that. It's got all and I get why people loved this so much. Simon's voice was pitch-perfectly teen as I said and he's completely relatable.
I read Simon really quick, in just a day. It's just so damn readable and I really wanted to know who Blue was. And I actually guessed right! BLUE BLUE BLUE BLUE BLUE. The bits near the end when Simon finally knows who Blue is and just BLUE WHY SO SWEET AND WHY DO YOU SAY ALL THE PERFECT THINGS? I was so giddily happy for Simon and Blue and I was smiling like an idiot. THE SHIPPY FEELS.
I guess I just wish Nora and Leah and Allie got more screentime. I want to know more about them and it felt like things were just swept under the rug, especially for the possible-temporary-crack in Simon and Leah's friendship. But then, this is Simon's story so I guess that's understandable.
All in all, a cute read! I enjoyed it but it didn't go down as a favorite or something I'll go back again and again (
which is totally my own fault AND THE HYPE BECAUSE HYPE KILLS DREAMS). If you're like me who've been afraid of the hype, I know it won't work but just maybe, if you can, don't expect anything. Do know that this is still such a fun ride!
P.S. I WANT OREOS RIGHT NOW.
About Becky Albertalli
Becky Albertalli is a clinical psychologist who has had the privilege of conducting therapy with dozens of smart, weird, irresistible teenagers. She also served for seven years as coleader of a support group for gender nonconforming children in Washington, DC. She now lives in Atlanta. Simon vs. the Homo Sapiens Agenda is her first novel.