I've been thinking of not posting this review yet because I want to read the series properly first but I now feel like my views of this novel won't change even though I know the characters from the previous books. But who knows? I'll let you know when I've read the series.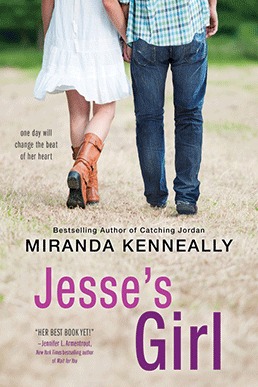 Title: Jesse's Girl (Hundred Oaks #6)
Author: Miranda Kenneally
Publisher: Sourcebooks Fire
Date of Publication: July 7, 2015
Practice Makes Perfect.




Everyone at Hundred Oaks High knows that career mentoring day is a joke. So when Maya Henry said she wanted to be a rock star, she never imagined she'd get to shadow *the* Jesse Scott, Nashville's teen idol.




But spending the day with Jesse is far from a dream come true. He's as gorgeous as his music, but seeing all that he's accomplished is just a reminder of everything Maya's lost: her trust, her boyfriend, their band, and any chance to play the music she craves. Not to mention that Jesse's pushy and opinionated. He made it on his own, and he thinks Maya's playing back up to other people's dreams. Does she have what it takes to follow her heart—and go solo?
Review
My Rating: 3 out of 5 stars
Thank you to Sourcebooks Fire and NetGalley for the review copy. Receiving it for review did not affect my views of the novel.
Okay, so this was super cute and super fun and super adorable. (Stop saying super, Dianne.) It felt like a four-star read, especially with all my favorite tropes apparently in here. Which I didn't know because I didn't read the plot. Haha! I mean, a celebrity (country star Jesse Scott), spending a day together doing shenanigans (test driving a GT, riding around a Harley, jumping into a fountain, A LOT OKAY), taking it slow, not labeling a relationship anything, a cool punk-looking girl with a nose ring who loves 80s music, sex positivity, and tackling how hard it is to live somewhere where religion plays such a huge role. I should have loved this one.
However, I felt like it read so fast. Everything was dumped on me and I'm the kind of reader who wants things to unveil slowly, and I want that for my characters too. Which made me realize that Miranda Kenneally wrote this book thinking that the reader already knows Maya. I do not. I don't know Sam and Jordan too, which is why I probably didn't enjoy this as much as I should have. Sure, you can read JESSE'S GIRL as a standalone but I think you'd enjoy it moreso if you've read the previous books in the series.
Moreover, I guess this is just a personal preference but I like my books with beautiful prose. Miranda Kenneally's storytelling was addicting (heck, I was so sleepy but I didn't feel sleepy AT ALL after I started JESSE'S GIRL) and I kept on reading but it was too straight-forward for me. Like I said, I want peeling off layers from my characters and from the story.
So, I have a new plan. I'll read the series in order first, then read this again. I might appreciate it more. So I guess, this rating is a temporary one. Til then!
About Miranda Kenneally
Growing up in Tennessee, Miranda Kenneally dreamed of becoming an Atlanta Brave, a country singer (cliché!), or a UN interpreter. Instead she writes, and works for the State Department in Washington, D.C., where George W. Bush once used her shoulder as an armrest. Miranda loves Twitter, Star Trek and her husband.