Honestly, I didn't know what The Start of Me and You was all about until it arrived on my doorstep (AFTER SO LONG! *throws shade at the Philippine postal system*) and I picked it up. Emery Lord is an auto-buy author for me after I loved (and offered to be impregnated by Matt Finch, never mind he's a fictional character SHUSH DO NOT BURST MY DAYDREAM BUBBLE) Open Road Summer and I remember wailing when I wasn't approved for The Start of Me and You on NetGalley. Point is, AT LAST, I'VE READ THIS ONE!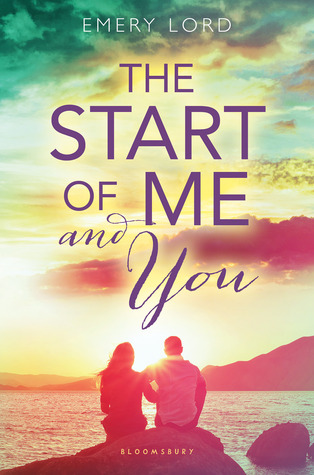 Title: The Start of Me and You
Author: Emery Lord
Publisher: Bloomsbury USA Children's
Date of Publication: March 31, 2015
Brimming with heartfelt relationships and authentic high-school dynamics The Start of Me and You proves that it's never too late for second chances.




It's been a year since it happened—when Paige Hancock's first boyfriend died in an accident. After shutting out the world for two years, Paige is finally ready for a second chance at high school . . . and she has a plan. First: Get her old crush, Ryan Chase, to date her—the perfect way to convince everyone she's back to normal. Next: Join a club—simple, it's high school after all. But when Ryan's sweet, nerdy cousin, Max, moves to town and recruits Paige for the Quiz Bowl team (of all things!) her perfect plan is thrown for a serious loop. Will Paige be able to face her fears and finally open herself up to the life she was meant to live?
Review
My Rating: 4 out of 5 stars
I tried not having any expectations going into this book but it was impossible because Emery! freaking! Lord! Seriously, Open Road Summer just ranks so high up on my favorite contemporary YA books and it's hard not to compare. And while I really liked The Start of Me and You, I still love Open Road Summer more.
In retrospect, I should have loved this novel to the end of the world. It features quite possibly all of my favorite topics and tropes. We have Paige, our heroine who's a TV show junkie (Like me! We deconstruct and analyze TV shows! I review TV shows! And movies! Even the technical things like dialogue, editing, cinematography, etc.). She's also a bit of an introvert, she loves to read, she's an amazing friend, she's close to her grandmother, just, PAIGE IS MY PERSON. We have a love interest who's a nerd and COME HERE, MAX WATSON, LET ME PINCH YOUR CHEEKS. We have an awesome group of friends (SQUAD GOALS). IT IS A BEST FRIEND ROMANCE, COME ON, I AM PUTTY WITH THOSE. We tackle grief, moving on, taking your life by the reins, divorce, parents dating again, A LOT. Guys, I read anything tackling grief. I talked about what I feel about my grandmother dying before here in the blog. The Start of Me and You had the trappings of being in my all-time favorites list but somehow, somewhere along the pages of this book, it didn't end up there.
Don't get me wrong, I really liked and enjoyed The Start of Me and You. The ending was PERFECT and made me feel things in that stone I call a heart. I was so sure this was a solid 3-star read (actually, a 3.5 if only do .5s) but the ending! But why didn't I love it entirely? I hereby list all possible reasons.
1. Max wasn't as fleshed out as I hoped to be. I know that this is Paige's story but I was expecting to know him more. To know is to love and sadly, this also meant I didn't end up loving Max as much as I wanted to.
2. The Start of Me and You read a little bit young to me? I know Paige Hancock is shy and has been hiding behind her boyfriend's death but that was how she read to me.
3. I know the title is The Start of Me and You, which means it's the start of Paige and Max's romance but CAN YOU FAULT ME FOR WANTING MORE KISSING AND ROMANCE-Y THINGS AND SWEET THINGS? Nope.
All in all, I enjoyed this one but my heart is still owned by Matt Finch when it comes to fictional boys written by Emery Lord. Still, Emery Lord ranks high in my favorite contemporary YA authors because YOU CAN NEVER GO WRONG WITH THE LORD. Wahaha, that was horrible. ANYWAY, I still highly recommend this one to YA contemporary lovers!
About Emery Lord
Emery Lord is a 20-something Midwestern girl who writes stories about high school and best friends and weird families and the crushes that make you feel combustibly alive and also more awkward than you thought was possible. If you're not sure how to pronounce Emery, try slurring the name "Emily," and that will get you really close.
She lives in Cincinnati in a 100 year-old pink row house with her BFF/husband, a closet full of dresses, and lots of books. If karaoke-ing in grocery store aisles or guzzling coffee while impulse shopping were illegal, Emery would be writing her overemotional YA books from jail. Also, she makes up words sometimes. Like combustibly.
OPEN ROAD SUMMER, her first YA novel, is out now with Bloomsbury. Her second, The Start of Me & You, will be released March 31, 2015.
Website | Twitter