I asked this book as a Christmas gift last year from a friend and I just recently finished it. And a gift, that's how it felt reading Marina Keegan's essays and stories. Marina died a few days after she graduated from Yale and it's a gift that we can read her works.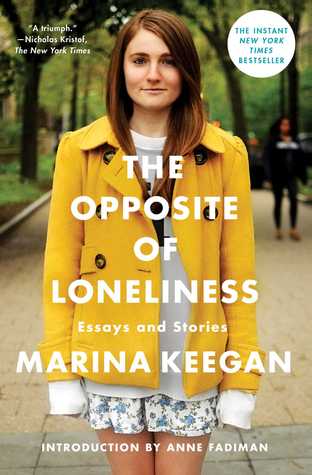 Title: The Opposite of Loneliness: Essays and Stories
Author: Marina Keegan
Date of Publication: April 8, 2014
An affecting and hope-filled posthumous collection of essays and stories from the talented young Yale graduate whose title essay captured the world's attention in 2012 and turned her into an icon for her generation.




Marina Keegan's star was on the rise when she graduated magna cum laude from Yale in May 2012. She had a play that was to be produced at the New York International Fringe Festival and a job waiting for her at the New Yorker. Tragically, five days after graduation, Marina died in a car crash.




As her family, friends, and classmates, deep in grief, joined to create a memorial service for Marina, her unforgettable last essay for the Yale Daily News, "The Opposite of Loneliness" went viral, receiving more than 1.4 million hits. She had struck a chord.




Even though she was just twenty-two when she died, Marina left behind a rich, expansive trove of prose that, like her title essay, captures the hope, uncertainty, and possibility of her generation. The Opposite of Loneliness is an assemblage of Marina's essays and stories that, like The Last Lecture, articulates the universal struggle that all of us face as we figure out what we aspire to be and how we can harness our talents to make an impact on the world.
Review
My Rating: 4 out of 5 stars
Ever since I read about Marina Keegan's book, I knew I had to read it. I remember having goosebumps and tearing up when I read an excerpt of her essay The Opposite of Loneliness. I made sure my friend got this for me last Christmas and I just got around to reading it recently. And I cried, man, I cried.
I am now a fan of Marina Keegan and it saddens me how these stories and essays could be the first and last of hers that I'll be able to read. There were nine short stories and nine essays and I'll talk a bit about some that I really loved.
Cold Pastoral. What if your not-a-boyfriend-not-really suddenly dies? But then, you didn't actually love him and he didn't really love you either. But you were his last whatever-you-guys-are so you're left to speak a eulogy for him and all that. I was surprised at how unique the situation of the protagonist is in this story and amazed at how did Marina ever think of it.
Reading Aloud. Wow. I didn't know where this story was going at first but it reminded me a bit of the Bastille short in the film Paris, je t'aime (about the husband and his wife with the red coat). It surprised me because by the end, my heart was breaking and I didn't even realize it.
The Emerald City. Before I read Challenger Deep (the last story), I was so sure this was my favorite one. It's in epistolary format, emails from Will to Laura. Will is an architect in Iraq, working on re-districting and he and Laura had a something before he left. He tells her how he is and as we go on, he tells the story about how one single decision he made could have killed a lot of people. Just that one decision, where he was so sure he was doing right and helping others. It was so Homeland to me, and if you know me, Homeland is my favorite TV show. I just love how Marina Keegan wrote Will, his faith and need to do something right, that good intentions sometimes end up badly.
Baggage Claim. This one was short but I thought it was cute.
Hail, Full of Grace. The last paragraph was effin' perfect. I'm having goosebumps right now (I am not kidding) remembering that scene and how I felt.
Challenger Deep. This, guys. BRING ON THE TEARS. This was the perfect last story and it just captured so much of the spectrum of human emotions. Love, desperation, letting go, grief, acceptance, denial, everything. I was so sure that The Emerald City was my favorite story until this. UNTIL THIS. This blew out all stories I've read before out of the water. I still think of this story until now. The characters. I wanna hug them. I'll be a fan of Marina Keegan forever just for this story.
Stability in Motion. This was such a good read. About how her car isn't just a car but it's actually a repository of her high school memories. Her kiss with a guy, her trips with a friend, reviewing for exams, her grandmother. And how about going to college is about moving on and moving forward and passing the car to his younger brother.
Against the Gran. This was the essay about Marina having Celiac disease. And it was a great read, even just for seeing how Celiacs live. But I especially loved the ending.
I Kill For Money. This featured an exterminator and it positively broke my heart a little bit. Goes to show how the funny guys who joke about everything aren't that happy on the inside.
Song for the Special. This wasn't her strongest essay in my opinion but it was a great ending. I love everything.
While the plot and characters of her short stories are a bit unique, Marina Keegan was able to tap into something universal. Whether it be guilt, shame, letting go, insecurities, grief, sadness, yearning for lost youth, desperation, everything is just so damn heart-grabbing. I just, wow.
Then let us not forget her non-fiction essays, which were so heartfelt. She didn't shy away from talking about how she hated how her mother fussed about her because she has Celiac disease (she's allergic to gluten) and then come back from that with the realization and understanding for her mother. She had insights and she was truthful about them, in the way that just grabs you because YES, THAT IT IS EXACTLY. I might not have seen pilot whales die due to beaching but her concern that it's easier for humans to care for animals was just so on point, so real. I'm having goosebumps again when I remember how good her essays were. Just, wow.
I definitely recommend The Opposite of Loneliness. Marina Keegan had the knack for observation and writing about it in a way that was completely accessible and relatable and mind-awakening. She puts words into emotions you've felt and musings you've thought about and makes you feel not alone. And isn't that how books tap into you? When they make you feel not alone? When they make you feel like you're special, not just a speck of dust in our vast universe? When they make you feel that it's okay, someone understands? Marina Keegan probably understood more from her short years living than some people who've seen more. And I am grateful that she chose to share those with us in her words.
About Marina Keegan
Marina Evelyn Keegan was an American author, playwright, journalist, actress and poet. She is best known for her essay 'The Opposite of Loneliness', which went viral and was viewed over 1.4 million times in ninety-eight different countries after her death in a car crash just five days after she graduated magna cum laude from Yale University.