Adam Silvera's acclaimed debut novel (starred reviews from Kirkus! Publishers Weekly! School Library Journal! Booklist!) is out TODAY! And because I love you my dear readers, I'm giving away the ARC I won because I want YOU to be able to read this gem immediately!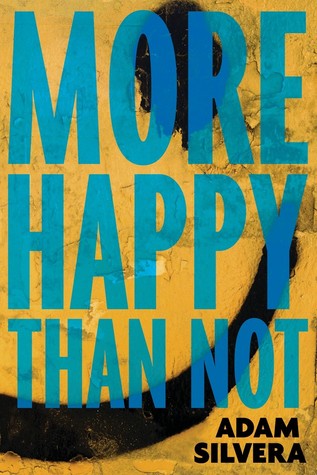 Title: More Happy Than Not
Author: Adam Silvera
Date of Publication: June 2, 2015
"A brilliantly conceived page-turner." -Kirkus Reviews, starred review.




"Vividly written and intricately plotted."-Publishers Weekly, starred review.



The Leteo Institute's revolutionary memory-relief procedure seems too good to be true to Aaron Soto -- miracle cure-alls don't tend to pop up in the Bronx projects. But Aaron can't forget how he's grown up poor or how his friends aren't always there for him. Like after his father committed suicide in their one bedroom apartment. Aaron has the support of his patient girlfriend, if not necessarily his distant brother and overworked mother, but it's not enough.

Then Thomas shows up. He has a sweet movie-watching setup on his roof, and he doesn't mind Aaron's obsession with a popular fantasy series. There are nicknames, inside jokes. Most importantly, Thomas doesn't mind talking about Aaron's past. But Aaron's newfound happiness isn't welcome on his block. Since he's can't stay away from Thomas or suddenly stop being gay, Aaron must turn to Leteo to straighten himself out, even if it means forgetting who he is.

Adam Silvera's extraordinary debut novel offers a unique confrontation of race, class and sexuality during one charged near-future summer in the Bronx.

"[A]n engrossing, intense narrative."-School Library Journal, starred review.


"Thought provoking and imaginative."-Booklist, starred review.
Purchase from Amazon | B&N | The Book Depository
Review

My Rating: 4 out of 5 stars

Thank you to Soho Teen for the copy I won! Receiving a copy from the publisher did not affect my views of the novel.

I admit, all the acclaim and the hype surrounding More Happy Than Not made me SO afraid to read it. WHAT IF I DON'T LOVE IT? WILL PEOPLE STILL BE FRIENDS WITH ME? But Miel of Bookish and Awesome (Linked is his review. Which is way better than whatever I'll write because he said EVERYTHING I want to say!) and I decided to buddy-read this one so I had to put my big-girl pants on. And I'm so glad I read this because MY HEART GOT SO FULL OF LOVE FOR AARON SOTO and so sad too because MY HEART WAS PULVERIZED.
It wasn't love at first sentence, what happened between More Happy Than Not and me. Maybe it was the burden of the hype or my mood when I started reading but I wasn't invested in MHTN right away. It was bleak! I started reading this last May while I was a bit down so the bleakness of Aaron dropping the bomb right away that his dad committed suicide was a lot to handle. But as I continued reading, I got to know Aaron Soto more. And the more I read about him, the more I got invested in his story. Because Aaron is a character worth knowing. (Infinite brownie points for a diverse character! He's Puerto Rican! Living in a Bronx housing project!)
We get to know Aaron more (He's a comic geek and he loves this fantasy series Scorpius Hawthorne and he doesn't know how to ride a bike [like me].) and his friends. While Aaron was not completely happy with his father's death and his own attempt to end his life still weighing him down, we can say he's trying to be happy. He has his ever-loving and ever-patient girlfriend Genevieve and the simple joys of hanging out with his friends. Then Genevieve has to go for a summer art camp and Aaron gets a new friend in Thomas from another housing project. They spend all summer together and because of Thomas, he's now happy. And Aaron realizes that he's a dude-liker, as he calls it. But being gay in the Bronx projects makes you a target for hate crime and with Thomas not returning his feelings too, Aaron decides to get the Leteo procedure -- fixing his memory so he forgets he's gay and so he can start anew.
"I don't want to be me.






I don't want to second-guess if my friends are going to be okay with me being me, and more importantly, I don't want to see what happens if they're not. I don't want to be someone who can't be friends with Thomas, because if there's anything worse than not being able to be with him, it's knowing our friendship will ultimately have an expiration date if being around him becomes impossible.






I know not being me will be a lie, but I know I'm doing myself a favor in the long run if I can somehow book a Leteo procedure. Because as I stand now, I have so much bullshit to look out for.





Happiness shouldn't be this hard."
WHICH JUST MADE ME BAWL. Scene: I was sneak-reading in class and while Aaron was trying not to cry, I was also trying not to cry during class. I needed to stop reading because I cannot break down in public... When I got home, you bet your ass I cried and heaved as freely as I could.
It broke my heart that Aaron wanted to be straight. To not be targeted and to not live through the pain of rejection. I previously read The Summer I Wasn't Me by Jessica Verdi where the protagonist was forced to go to a degayifying camp. That book made me rage because HOW CAN THERE BE PEOPLE WHO WANT TO DE-GAYIFY A PERSON? But with More Happy Than Not? I got so sad. Because it was Aaron HIMSELF who wanted to be straight.
(Can I just say that it's so damn hard to review this title because I feel like I can't talk about anything! That everything would be a spoiler! As much as this novel is driven by Aaron, it is also plot-driven so I cannot divulge plot points. You have to read it for yourself!)
I can't really talk about the latter half of the novel but JUST KNOW THAT IT WILL PULVERIZE YOUR HEART. The twist, GAH, THE TWIST. I couldn't deal! I was full-on crying, be it from the sibling love, the maternal love, and everything that Aaron went through. I couldn't even remember the feeling of not being invested in Aaron because all I wanted to do was hug him and take him away from such a homophobic society and shelter him and love him and protect him. NO PERSON SHOULD EXPERIENCE BEING ATTACKED FOR WHO THAT PERSON IS. But alas, our LGBTQIA* friends experience this every day.
I don't know how to end this review except that everyone should read More Happy Than Not. It's the kind of book people should read to gain insights and understanding. It tells it as it is, that being gay is not something you decide to be, it just is. With an array of characters you will feel the whole spectrum of emotions for (be it love, pity, understanding, hate, or rage), a plot that will take you through all the crests and troughs of Aaron's life, and themes always worth discussing and rallied for, Adam Silvera's More Happy Than Not will certainly cement itself in the YA landscape as a book that accurately presents how it is to be different in a society that silences and attacks the minority. I cannot wait for more books from Adam Silvera!
About Adam Silvera

Adam was born and raised in the Bronx and is tall for no reason. He was a bookseller before shifting to children's publishing where he worked at a literary development company, a creative writing website for teens, and as a book reviewer of children's and young adult novels. He lives in New York City.

More Happy Than Not is his debut novel.
Website | Twitter | Facebook
Giveaway

I won an ARC from Soho Teen but I'm giving it away to one lucky Philippine resident because YOU HAVE TO READ THIS ONE NOW! (So sorry my dear international readers but I can only afford to ship it locally!) Good luck!
a Rafflecopter giveaway