Bookish Filipinos! Here's another chance to meet me fabulous authors! Katie Cotugno (SHIVER ME TIMBERS), Melissa Kantor, and Robyn Schneider are all coming here in the Philippines this weekend!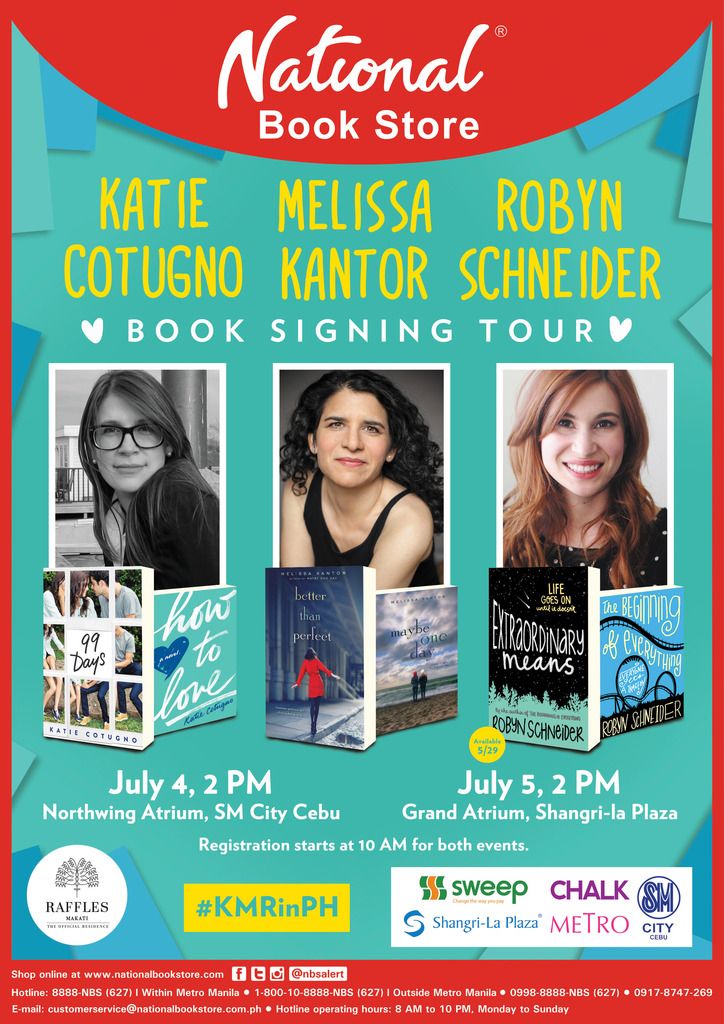 Katie Cotugno, Melissa Kantor and Robyn Schneider Book Signing Tour
When: July 4, 2015, 2 p.m.
Where: Northwing Atrium, SM City Cebu
When: July 5, 2015, 2 p.m.
Where: Grand Atrium, Shangri-la Plaza
Registration starts at 10 a.m. for both events.
Join bestselling authors Katie Cotugno, Melissa Kantor, and Robyn Schneider for book signing events on July 4 at 2 p.m. in the Northwing Atrium, SM City Cebu, and on July 5 at 2 p.m. in the Grand Atrium, Shangri-la Plaza. Registration starts at 10 a.m. for both events. The events are made possible in partnership with Raffles Makati, Shangri-la Plaza, SM City Cebu, Metro magazine, Chalk magazine, and Sweep. Follow National Book Store on Facebook, Twitter and Instagram (@nbsalert) for more details. Tag #KMRinPH to join the discussion.
For more information on their latest books and the event, read on!
ABOUT 99 DAYS
Molly Barlow is facing one long, hot summer—99 days—with the boy whose heart she broke and the boy she broke it for . . . his brother.
Day 1: Julia Donnelly eggs my house my first night back in Star Lake, and that's how I know everyone still remembers everything. She has every right to hate me, of course: I broke Patrick Donnelly's heart the night everything happened with his brother, Gabe. Now I'm serving out my summer like a jail sentence: Just ninety-nine days till I can leave for college and be done.
Day 4: A nasty note on my windshield makes it clear Julia isn't finished. I'm expecting a fight when someone taps me on the shoulder, but it's just Gabe, home from college and actually happy to see me. "For what it's worth, Molly Barlow," he says, "I'm really glad you're back."
Day 12: Gabe wouldn't quit till he got me to come to this party, and I'm surprised to find I'm actually having fun. I think he's about to kiss me—and that's when I see Patrick. My Patrick, who's supposed to be clear across the country. My Patrick, who's never going to forgive me.
ABOUT KATIE COTUGNO
Katie Cotugno went to Catholic school for thirteen years which makes her, as an adult, both extremely superstitious and prone to crushes on boys wearing blazers. She routinely finds herself talking about the romantic endeavors of characters on TV shows as if they actually exist in the world. Katie is a Pushcart Prize nominee whose work has appeared in The Iowa Review, The Broadkill Review, The Apalachee Review, and Argestes, as well as on Nerve.com. Her first novel, HOW TO LOVE, is out now from Balzer + Bray/HarperCollins. The great loves of Katie's life include child's pose, her little sister, and mozzarella and honey sandwiches. She lives in Boston with her husband, Tom.
ABOUT BETTER THAN PERFECT
Juliet Newman has it all. A picture-perfect family; a handsome, loving boyfriend; and a foolproof life plan: ace her SATs, get accepted into Harvard early decision, and live happily ever after.
But when her dad moves out and her mom loses it, Juliet begins questioning the rules she's always lived by. And to make everything even more complicated there's Declan, the gorgeous boy who makes her feel alive and spontaneous—and who's totally off-limits. Torn between the life she always thought she wanted and one she never knew was possible, Juliet begins to wonder: What if perfect isn't all it's cracked up to be?
Melissa Kantor once again delivers a tale that is equal parts surprising, humorous, heartbreaking, and romantic. Powerful and honest, Juliet's story brilliantly portrays the highs and lows of life in high school and will resonate with any reader who has experienced either.
ABOUT MELISSA KANTOR
Melissa Kantor is the author of "Maybe One Day"; "Confessions of a Not It Girl", an ALA Booklist Best Romance Novel for Youth; "If I Have a Wicked Stepmother, Where's My Prince?", a YALSA Teens Top Ten Pick; "The Breakup Bible", an ALA Best Books for Young Adults nominee; "Girlfriend Material", a Junior Library Guild selection; and "The Darlings are Forever" and "The Darlings in Love", a Junior Library Guild selection. She lives in Brooklyn, New York, with her family.
ABOUT EXTRAORDINARY MEANS
From the author of The Beginning of Everything: two teens with a deadly disease fall in love on the brink of a cure.
At seventeen, overachieving Lane finds himself at Latham House, a sanatorium for teens suffering from an incurable strain of tuberculosis. Part hospital and part boarding school, Latham is a place of endless rules and confusing rituals, where it's easier to fail breakfast than it is to flunk French.
There, Lane encounters a girl he knew years ago. Instead of the shy loner he remembers, Sadie has transformed. At Latham, she is sarcastic, fearless, and utterly compelling. Her friends, a group of eccentric troublemakers, fascinate Lane, who has never stepped out of bounds his whole life. And as he gradually becomes one of them, Sadie shows him their secrets: how to steal internet, how to sneak into town, and how to disable the med sensors they must wear at all times.
But there are consequences to having secrets, particularly at Latham House. And as Lane and Sadie begin to fall in love and their group begins to fall sicker, their insular world threatens to come crashing down. Told in alternating points of view, Extraordinary Means is a darkly funny story about doomed friendships, first love, and the rare miracle of second chances.
ABOUT ROBYN SCHNEIDER
Robyn Schneider is a 28-year-old writer and videoblogger. She is the author of the critically-acclaimed novel The Beginning of Everything, which has earned numerous starred reviews, appears on many state reading lists, and is published in over a dozen countries. Robyn is a graduate of Columbia University, where she studied creative writing, and the University of Pennsylvania Perelman School of Medicine, where she earned a Masters of Bioethics. She lives in Los Angeles, California, but also on the internet.
Frequently Asked Questions
When and where are the book signings?
July 4, 2015, 2 p.m., Northwing Atrium, SM City Cebu
July 5, 2015, 2 p.m., Grand Atrium, Shangri-la Plaza
When will the registration be?
Registration opens at 10:00 am on July 4 at the Northwing Atrium, SM City Cebu, and 10:00 am on July 5 at the Grand Atrium, Shangri-la Plaza. Each guest will be asked to fill out the registration form upon arrival. Separate registrations for each event is required should you wish to attend both events. First come, first served.
Is there a registration fee?
No. There is no registration fee.
How many books can I have signed? Is there a limit as to how many people can have their books signed?
You may have any number of books signed as long as they were purchased from National Book Store, National Book Store Express or Powerbooks, and we do not have any preset limit as to the number of people.
However, although we will take every effort to get as many books signed as possible, depending on the number of attendees, we reserve the right to limit the number of copies per person or limit the number of people in line. First come, first served.
Can I bring old books or other editions of the books?
Yes, as long as the books were purchased from National Book Store, National Book Store Express or Powerbooks.
Do I need to buy on-site?
No. You can buy books before or during the events.
Can I have other items signed?
No. Only books will be allowed to be signed by the authors.
Can we have our photo taken with the authors?
Yes, you can have your photo with each author when they sign your book. However, we strictly allow only one photo per person for each author.
How much are the books?
99 Days (Trade Paperback – P395; Hardcover – P649)
How to Love (Trade Paperback – P379; Hardcover – P649)
Better Than Perfect (Trade Paperback – P359; Hardcover – P649)
Maybe One Day (Trade Paperback – P359; Hardcover – P649)
Extraordinary Means (will be available on May 29, 2015)
The Beginning of Everything (Trade Paperback – P359; Hardcover – P649)