Yesterday, I reviewed THOSE GIRLS by Lauren Saft and basically, I RECOMMEND IT. Go get it now! I loved how Lauren Saft pulled no punches in delving inside the insecure minds of high school girls. So much so that I interviewed her! Check out the interview below and get a chance to win THOSE GIRLS too!
About Lauren Saft
Lauren Saft holds an MFA from the University of San Francisco and a Bachelor's degree from Tufts University. She's worked in publishing, TV, education, child care, retail, journalism, and food service, all the while closely studying the habits and compulsions of teenage girls. She currently works as a TV producer in Philadelphia where she lives with her cat and creative inspiration, Desi. Her work has been published in Five Quarterly, Rap Up Magazine, and clubplanet.com. One time, she met the Olsen twins. Those Girls is her debut novel.
Interview
Describe Those Girls in 140 characters or less.
A dark comedy about female friendships, insecurity, ugly truths, and unwholesome fun.
I've been itching to ask you this since I devoured Those Girls. While I was reading, I could perfectly imagine Those Girls as a film or even as a TV show centering on Alex, Mollie, and Veronica. Who's your dream cast for Those Girls?
Ashley Benson as Mollie Finn
Oh man, I think about this ALL THE TIME and I can never make up my mind. My only 100% heart-set actress wish is for Ashley Benson to play Mollie. I see Alex as maybe a Shailene Woodley or Abigail Breslin.... Veronica could go so many different ways, maybe Victoria Justice or Zoey Deutch?
Shailene Woodley as Alex
Okay, I cannot not ask! Who are your dream actors for the boys?
oh my god that would be amazing... but gah! this is so much harder! drew i see as as maybe miles heizer? or alex pettyfer, but he might be too overtly amazingly good looking :) sam, dave franco (or zac efron, is he too old?). or liam hemsworth maybe! fernando, tyler posey. and josh, um... josh hutcherson? nick jonas? hahaha
Zoey Deutch as Veronica
While I'd say that I connected the most to Alex, I still saw parts of myself in both Mollie and Veronica. Which girl is closest to your own personality?
Alex is definitely closest to who I was in high school, but I connected to all of them on a certain level. I had to to write them! I have been in each of their positions, thought many of their thoughts, and felt many of their feelings at one time or another.
Miles Heizer as Drew
What was the greatest challenge you faced while writing Those Girls?
The biggest challenge was really getting to those deep dark caverns of my teenage self and being brutally honest about the unflattering and often embarrassing truths of what it was really like to be sixteen. I had to shed my natural inclination to want these characters to be likable because I wanted this book to be about the dirty, vile, ridiculous things we think and do not say when we're feeling insecure (which, for me, was basically all the time when I was that age) and the ways it manifests itself because we don't say it. For some reason, people, especially teenagers, and especially teenage girls, do all sorts of absurd and awful things in lieu of just saying "I'm jealous" or "I feel left out" or "I'm afraid." I wanted this book to be about the things that we never say out loud or ever even admit to thinking, even to ourselves, and to do that, I had to actually admit them to myself. In order to write a book about insecurity, I had to face all of my own head on, and it wasn't pretty.
Liam Hemsworth as Sam
Those Girls was written in three first-person perspectives. Which girl was easiest to write and which one did you a number?
Alex was easiest in the sense that her perspective and instincts are closest to my own, so I wouldn't have to second guess how she might react to or interpret something. But her being so close to me, made acknowledging/writing her shortcomings and imperfections harder and more personal. Mollie was by far the most fun, because she is really just a mode that was amazingly (and terrifyingly) easy to snap into. Veronica was the hardest because she is the furthest from me in terms of the way that she thinks and acts, so it took me a few tries and revisions to really find her and understand who she was and why she'd do the things she did.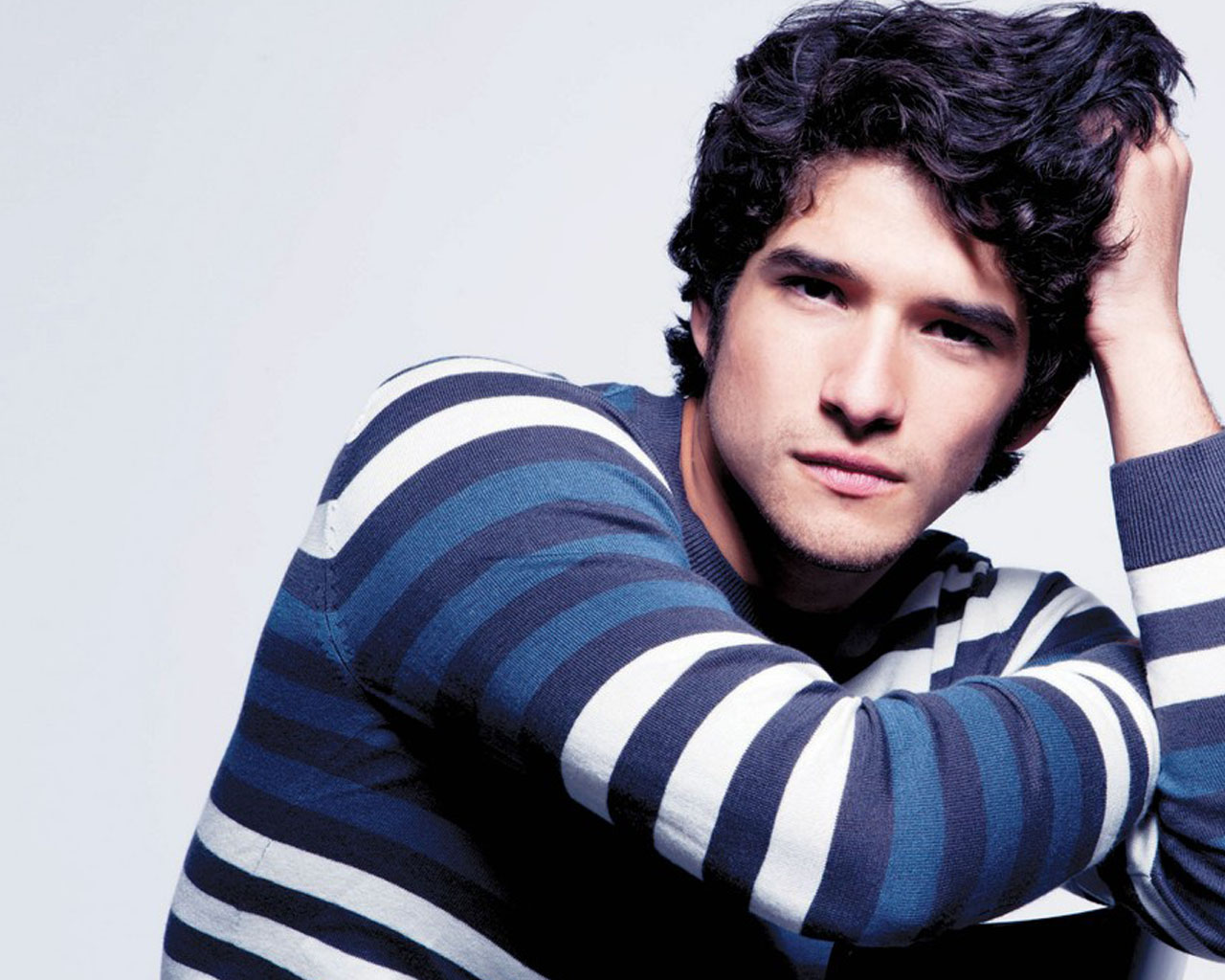 Tyler Posey as Fernando
Where did the idea for Those Girls come from?
Life! Inspiration for the book came from my friends, my experiences, books, movies, and TV shows about rowdy, rule breaking teenagers that I love to read and watch—and the fact that I thought that there were too many goody-goody, misunderstood, shy wallflowers in YA lit. I wanted to hear from the binge drinking, sex-having, chain-smoking, foul-mouthed hooligans who have fears and insecurities too, maybe even more than an introverted late-bloomer on some levels. And I wanted to expose (by exaggeration) the reality, absurdity, comedy, and honestly, intrinsic sadness of said binge-drinking, sex-having, chain-smoking teenage culture, which like it or not, does very much exist.
Josh Hutcherson as Josh
Do you listen to music while writing? What songs did you listen to while writing Those Girls or what songs can be its soundtrack?
I can't write a first draft with any noise or music at all, I need to be home, in silence, alone with the voices in my head. I occasionally listen to music when I revise, but it needs to have a good beat and can't have a lot of words, so I'll listen to some kind of down-tempo electronic music like Flying Lotus, Aphex Twin, Bonobo, Ratatat, etc.
If you like <blank>, you'll love Those Girls. What books and/or films would fit that sentence perfectly?
Heathers, Gossip Girl, Mean Girls, Jaw Breaker.
Who are your favorite authors and/or what are your favorite books?
Oh man, too many to count! I love Junot Diaz, Dorothy Parker, Joan Dideon, Nick Hornby, Judy Blume, Jonathan Tropper, Vladimir Nobokov, Lianne Moriarty, Courtney Summers, Rainbow Rowell, R.L. Stine, Flannery O'Connor, Raymond Carver, Margaret Atwood, Meg Wolitzer, Toni Morrison... the list goes on and on and on and on and is ALL OVER THE PLACE in terms of brow, reading level, and subject matter.
My favorite books are "The Brief Wonderous Life of Oscar Wao," (Diaz) "Lolita," (Nabokov), "The Interestings" (Wolitzer), "Cat's Eye" (Atwood), "Jazz" (Morrison), "High Fidelity" and "Juliet, Naked" (Hornby) , and literally everything Judy Blume ever wrote and the entire Fear Street series from R.L. Stine.
Lightning round!
Favorite pizza topping? Spinach and mushroom
Favorite ice cream flavor? Chocolate must be involved in some way, but anything with swirls or chunks of things.
Celebrity crush? (dead or alive) Zac Efron (is that creepy? am I too old to say that?)
Eye color? Brown
Favorite song? "The Light" by Common
Favorite movie? "Sister Act 2: Back in the Habit"
What's next for Lauren Saft?
Book 2! Currently in the works, a very different kind of book about a very different kind of character on a very different kind of journey... Hoping to have a first draft by the end of the summer!
Thank you so much for gracing Oops! I Read A Book Again with your presence, Lauren! I love your answers to my questions, especially the bit about writing about these characters we don't read a lot about. And of course, the dream cast! I have a crush on Miles Heizer now! DREW!

P.S. Lauren, no one is too old to have a crush on Zac Efron. HIHI
Anyway, don't forget to follow Lauren on her social media profiles, my dear readers! And let us support Those Girls! Once again, here's the blurb for Those Girls.
Title: Those Girls
Author: Lauren Saft
Date of Publication: June 9, 2015
Some girls will always have your back, and some girls can't help but stab you in it.




Junior year, the suburbs of Philadelphia. Alex, Mollie and Veronica are those girls: they're the best of friends and the party girls of the school. But how well does everybody know them--and really, how well do they know one another? Alex is secretly in love with the boy next door and has joined a band--without telling anyone. Mollie suffers from a popular (and possibly sociopathic) boyfriend, as well as a serious mean streak. And Veronica just wants to be loved--literally, figuratively, physically....she's not particular. Will this be the year that bonds them forever....or tears them apart for good?




Lauren Saft masterfully conveys what goes on in the mind of a teenage girl, and her debut novel is raw, honest, hilarious, and thought-provoking, with a healthy dose of heart.
Giveaway
NOVL graciously sponsored a giveaway for THOSE GIRLS! Thank you, Novl! One lucky US resident gets to win this baby. Good luck!