Back in 2013, I read this amazing book about a teenage girl hacker named Wick (HOW COOL, RIGHT?!) and never looked back. I've been a fan of Romily Bernard EVER SINCE and I am totes addicted to Griff this series. Not familiar with this series? THAT IS UNACCEPTABLE. *shoves covers and blurbs below*
Title: Find Me
Author: Romily Bernard
Date of Publication: September 24, 2013
Genre: mystery YA thriller romance
"Find Me."




These are the words written on Tessa Waye's diary. The diary that ends up with Wick Tate. But Tessa's just been found . . . dead.




Wick has the right computer-hacking skills for the job, but little interest in this perverse game of hide-and-seek. Until her sister Lily is the next target.




Then Griff, trailer-park boy next door and fellow hacker, shows up, intent on helping Wick. Is a happy ending possible with the threat of Wick's deadbeat dad returning, the detective hunting him sniffing around Wick instead, and a killer taunting her at every step?




Foster child. Daughter of a felon. Loner hacker girl. Wick has a bad attitude and sarcasm to spare.




But she's going to find this killer no matter what.




Because it just got personal.
Purchase from Amazon | B&N | The Book Depository

Then, Romily Bernard released a digital short from GRIFF'S PERSPECTIVE and I just about went to heaven with the ALL THE SWOON AND THE GLEE. Here it is.
Title: Lie for Me: Griff's Story (Find Me #0.5)
Author: Romily Bernard
Publisher: HarperTeen Impulse
Date of Publication: September 2, 2014
A digital-only prequel novella from Romily Bernard, author of the Find Me trilogy.




Griff wasn't always the knight in shining armor Wick Tate thinks he is. He had a whole life before he met her, and even though it's grittier than Wick could have imagined, it also made him into the guy she loves.




This prequel novella grants readers access to Griff's story from his point-of-view—and it includes some scenes from Find Me, which Jay Asher called "a thriller that keeps picking up speed" and Sophie Jordan hailed as "fast-paced and full of twists," and is told from Griff's alternate perspective!
Purchase from Amazon | B&N

Then the sequel, Remember Me, was released and another awesome character was introduced and heavens, MADNESS. I WELCOMED MADNESS. I GOT SO ADDICTED.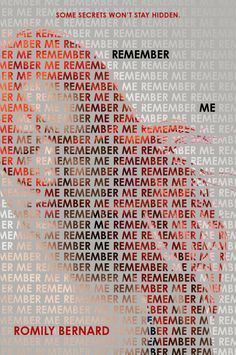 Title: Remember Me (Find Me #2)
Author: Romily Bernard
Date of Publication: September 23, 2014
In the sequel to Find Me, Wick Tate, sarcastic teen hacker, is back and once again dealing with criminals and corrupt cops…and a brooding new love interest. Will Wick persevere when some secrets refuse to stay hidden?




Wick had thought her troubles were over.




But she should've known better.




Not only is she embroiled in a new murder case, which starts with a body with "Remember Me" carved into it and doesn't stop there, but she also discovers new evidence surrounding her mother's suicide…which leads her right back to her imprisoned deadbeat dad. And she has to deal with her flirty new hacker friend, Milo, sniffing around—which her boyfriend, Griff, isn't too happy about.




The pressure might be too much as secrets—including Wick's own—climb to the surface.




Remember Me is an edge-of-your-seat thrilling read that'll have readers turning the pages at lightning speed! The paperback of Find Me is on sale simultaneously, and a digital original novella from Romily, featuring Griff, is on sale just a few weeks before!
Purchase from Amazon | B&N | The Book Depository

Today, I have the pleasure of sharing the cover of Trust Me, the finale in this effin' awesome trilogy by Romily. And it's an exclusive reveal! I almost cried when Romily shared the cover to me and gave me the opportunity to reveal it on my blog.

But you might have seen a few bloggers dropping puzzle pieces for the cover of Trust Me today. That's because I got the help of some amazing bloggers who also love Romily's series to make you anticipate for the cover even more. Because everyone loves puzzles, right?

Starting at 6AM, puzzle pieces of the cover have been dropping on the Internet and thank you for (im)patiently waiting but THE FULL COVER IS NOW HERE. But first, I wanna thank all the bloggers who helped me with this reveal. Still check out their blogs and how they presented their pieces and what they thought of it. I loved all the speculating!

But no more speculating! THIS IS IT. CLICK BELOW FOR THE COVER OF TRUST ME!!!
ISN'T IT AWESOME?!?!?!

I love the red, it screams THIS IS THE EFFIN' FINALE (MORE) SHIT IS ABOUT TO GO DOWN and I love it!!!!

Plus, yay for cohesive covers!

I can't wait to get this and read this!

Next item on my to-do list: WAIT FOR THE BLURB.
About Romily Bernard
I graduated from Georgia State University with a Literature degree. Since then, I've worked as a riding instructor, cell phone salesgirl, personal assistant, groom, exercise rider, accounting assistant, and, during a very dark time, customer service rep.
So don't let anyone tell you a BA degree will keep you unemployed.
a Rafflecopter giveaway