I was reading this NA book and I felt like I'm so tired of NA. It felt like I already read too much and I've reached my saturation point and that at this point, I think I'm already done with NA. THAT WAS A SCARY THOUGHT because I loved NA. So I decided to re-read one of my favorite NA novels to see if I was just reading the wrong book (wouldn't be the first time) or if the magic is really gone. And I'm glad to say that MORE THAN MUSIC proved that I still love NA and I just need great ones. Because yes, MORE THAN MUSIC ranks high in my new adult favorites list.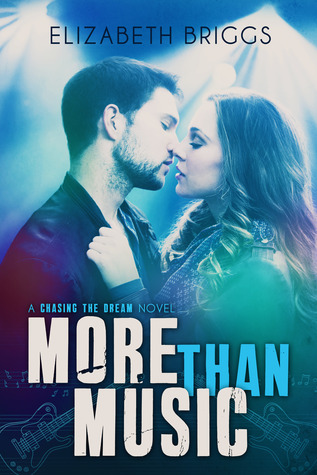 Title: More Than Music (Chasing the Dream #1)
Author: Elizabeth Briggs
Date of Publication: June 17, 2014
Genre: contemporary NA romance
A band trying to win it big on reality TV. A secret romance that might ruin it all.




Music major Maddie Taylor just finished her junior year of college and has a summer internship lined up with the LA Philharmonic, yet every night she practices guitar and secretly dreams of a louder life. But geeky girls like her don't get to be rock stars. That is, until tattooed singer Jared Cross catches her playing guitar and invites her to join his band on The Sound, a reality TV show competition.




Once on the show, Maddie discovers there's more to Jared than his flirty smile and bad boy reputation - and that he's just as big a geek as she is. With each performance their attraction becomes impossible to ignore, but when the show pressures them to stay single, they're forced to keep their relationship secret.




As the competition heats up, Jared will do whatever it takes for his band to win, and Maddie must decide if following her dream is worth losing her heart.




*** New Adult romance suitable for 17+ due to mature content. ***
Review
My Rating: 5 out of 5 stars
Thank you to Elizabeth Briggs for the review copy! This in no way affected my views of the novel.
I remember anticipating this book so much last year. When I first read the plot, I was so sure that I NEED THIS IN MY LIFE I'M GOING TO LOVE IT that I practically begged Liz for an ARC. I practically begged her to tour the book with me too because PEOPLE ARE GONNA LOVE THIS BOOK I MUST GET THIS BOOK TO EVERYONE PROMOTE PROMOTE PROMOTE. That was how my mind was working last year. I guess my begging worked because Liz gave me an e-ARC of the book AND toured the book with me. I felt like I won something. I read MORE THAN MUSIC and loved it so much that I ended up not reviewing it because HOW DO YOU DESCRIBE AND EXPLAIN LOVE?!?! And now here I am, trying to do exactly that, albeit a year late.
I read this book almost a year ago, May 25 to be exact, according to Goodreads. But when I re-read it now, everything still felt so fresh. I knew what was going to happen and who the characters are because THERE IS NO WAY I CAN FORGET but I never felt like I'm tired of it. I really wanted to relive the journey Elizabeth Briggs crafted for these lovely characters. I missed the gang. It was so nice to be back with them and go through everything with them.
So the lowdown. Maddie Taylor is a geeky piano major (but a closet guitar lover) at UCLA and she's friends with Kyle Cross, the keyboardist for local band Villain Complex. Kyle invites her to a big gig for the band and there she meets Kyle's older brother, Jared Cross. Maddie has a big crush on Jared ever since Kyle gave her their album. His voice and the lyrics to the songs he penned that seems to pierce Maddie's heart. She feels like Jared understands her. It doesn't hurt that Jared is so effin' hot and handsome as well. After the gig, everyone goes to the afterparty at the brothers' house, where Becca, Villain Complex's bassist, leaves the band. Maddie goes into their studio and plays Behind the Mask, one of Villain Complex's song, when Jared catches her using HIS guitar. AWK. The next day though, Maddie finds Jared asking her to be a part of the band so they can audition for The Sound and the rest is the oh-so-exciting story of Villain Complex in The Sound and OF COURSE, Maddie and Jared's romance.
Of course, I was in absolute glee with the concept of the reality show The Sound. Yes, it's like The Voice but for bands. It's easy to imagine and relate to because it's basically The Voice, complete with judges turning around and mentoring them and the battles. LOVE IT.
What I love best about More Than Music, aside from quite possibly everything, is even though this is the story of Maddie and Maddie and Jared's love story, it is still the story of Villain Complex. Maybe that's why this novel works so well because it balances all three. You get character growth in Maddie and her facing her demons, you get the swoon and the steam (YES, THE STEAM) on her romance with Jared, and you get the journey of the whole band. And you get the geek on! Everyone's a geek and thank you, Liz, for writing these characters. Elizabeth Briggs even featured recent songs for Villain Complex to cover so this novel is really a part of pop culture. Liz also did a fantastic job in describing everything and chronicling the intensive six weeks of the band that the show felt cut-throat and intense. I cared so much about everybody and when there was conflict, I just want them to solve it or make up.
I'm not doing a great job on praising this book and commending it. TELL ME WHAT TO SAY SO YOU'LL READ IT. It's just so full of plot without being excruciatingly long, in fact, this is such a breezy read that my re-read only took me a few hours. It's so easy and addicting to read and you won't put this down until you see it to the end. Populated by lovely and likable characters, More Than Music accomplishes what most new adult novels fail to do and that is equally delve onto the life, romance, and career of our protagonist. Before re-reading it, I was wondering if my five-star rating was too much and just spurred on by my feelings but after my re-read, More Than Music deserves all five of those stars. It checks everything on what you'd want on a contemporary new adult romance. Just, READ THIS ONE. Awesome doesn't even cover it.
About Elizabeth Briggs
Elizabeth Briggs is a full-time geek who writes books for teens and adults. She graduated from UCLA with a degree in Sociology, currently mentors teens in writing, and volunteers with a dog rescue group. She's the author of the new adult Chasing The Dream series and the upcoming young adult novel Future Shock. Elizabeth lives in Los Angeles with her husband and a pack of fluffy dogs.
Website | Twitter | Facebook