KASIE WEST IS THE BEST. KASIE WEST IS THE BEST. Chant it with me! KASIE WEST IS THE BEST. KASIE WEST IS THE BEST.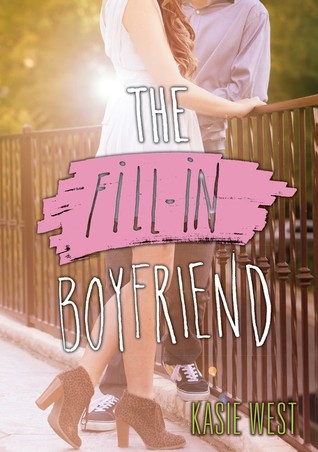 Title: The Fill-In Boyfriend
Author: Kasie West
Date of Publication: May 5, 2015
When Gia Montgomery's boyfriend, Bradley, dumps her in the parking lot of her high school prom, she has to think fast. After all, she'd been telling her friends about him for months now. This was supposed to be the night she proved he existed. So when she sees a cute guy waiting to pick up his sister, she enlists his help. The task is simple: be her fill-in boyfriend— two hours, zero commitment, a few white lies. After that, she can win back the real Bradley.



The problem is that days after prom, it's not the real Bradley she's thinking about, but the stand-in. The one whose name she doesn't even know. But tracking him down doesn't mean they're done faking a relationship. Gia owes him a favor and his sister intends to see that he collects: his ex-girlfriend's graduation party — three hours, zero commitment, a few white lies.

Just when Gia begins to wonder if she could turn her fake boyfriend into a real one, Bradley comes waltzing back into her life, exposing her lie, and threatening to destroy her friendships and her new-found relationship.
My Rating: 5 out of 5 stars (and all the love and approval from the fake-boyfriend trope gods)

Thank you to HarperCollins International for the review copy! I've been pining for this book ever since it was announced because plot! fake boyfriend! KASIE WEST! and I was so sad when it was not available in EW. So I would like to thank and worship all the book gods for sending this my way! (*winks at Megan and Sarah*)
As usual, how do I even review this when all I want to do is shove it to everyone while squealing so hard I'd be breaking eardrums left and right?!?!?! I even proclaimed on Twitter that I might love it even more than The Distance Between Us, which is blasphemous (because oh gods, I love it so much I've gifted it to tons of people because #KasieWestistheBest) but I don't care, okay? I have to re-read The Distance Between Us soon to fully decide but at the moment, The Fill-In Boyfriend owns my shippy heart. OWNS IT.

First, my favorite trope: FAKE RELATIONSHIP. I just can NEVER resist reading (and usually, loving!) anything involving this trope. It just gets ALL THE SWOON in me. I got the book Saturday and I finished it on the same day. The next day, I re-read it to relive it again because THAT'S HOW GOOD IT IS. Guys, COME ON. If you're looking for a new book boyfriend, he's here!!!

The Fill-In Boyfriend was so easy to read. Right from the first chapter, the conflict has been dangled into our laps. Gia Montgomery, seventeen, a senior and the president of the student council, has been dumped by her older-by-four-years college boyfriend Bradley in the parking lot of her school at prom night. After two months of dating, he unceremoniously dumps her. But this can't happen! Jules, one of Gia's friends, has been undermining her relationship with Bradley. She doesn't believe that Bradley is real and Gia can't go stag for prom as her friends might truly believe that she invented Bradley. Desperate and partly going insane, Gia asks the only guy in the parking lot, who's waiting for prom to end to pick up his sister, to be her fill-in boyfriend for the night. He'll have to break up with her during prom too, so it's like she's just extending the night, just proving that Bradley exists. And here starts everything.

After prom, Gia still doesn't know fill-in Bradley's (FIB) name and he's all she thinks about. Well, she thinks that she just needs to know WHY he actually agreed to act as her boyfriend and then she'll be able to move on. I can't tell you because it's so much fun to go into this blind (aka not even knowing FIB's real name, what actually happens, etc) because Kasie West will take you for such a fun ride! Gia will end up playing as FIB's fake girlfriend as well and YES, more fake relationships!!! Gah, just savor it because it's a very amusing heck of a ride.
Just, believe me. FIB is SO nice and sweet and kind and just !!! He's a theater geek and he loves acting. He wears glasses! I mean, come on, it's time for the theater dudes to shine!
Going into The Fill-In Boyfriend, I was so sure I'll be swooning all throughout. But I was honestly surprised that I teared up while reading this one! Gia's concerns and fears are universal and relatable that I couldn't help but see myself in her. Even though she's popular, she still feels lonely. (Remember this lonesome post?) Then, Kasie West also inserts a social commentary in here as Gia is obsessed with social media and the validation of strangers. Aren't we all? I know I erase photos/tweets/posts that do not get replies or likes. I admit to being hungry for the validation of others. Which isn't healthy, I know, but it's so hard to NOT care. Especially in this day and age when everyone wants to be heard. I love love love this social commentary because it added depth to the novel.
Aside from the social commentary aspect, which wasn't preachy and was seamlessly incorporated in the plot, I love the family and friends conflict in The Fill-In Boyfriend. Gia's family keeps everything inside. They aren't close as well. While my family isn't completely like Gia's and isn't as worse as them, I also find it hard to open up to my parents. I only recently learned not to bottle up my emotions. And recently, I've been shedding off some of my friends (or outgrowing them or whatever) and just keeping those who I truly cherish. These events are also concurrent in Gia's story and it just resonated with me so much.
I just love the characters in this one even though they're flawed. You know Gia is only digging her grave with every lie she tells or every story she doesn't tell her friends but you understand her. Even though you know everything's gonna crash down, you're still behind her, rooting for her. FIB's issues are so legitimate too and I hate not being able to talk about him fully but JUST. READ. THIS. ONE. OKAY.
Lastly, realistic ending! I remember loving The Distance Between Us but I found its ending to be too neat. In here, The Fill-In Boyfriend ends happily and hopefully, but it's not something that's set in stone. Which is how I want my novels to end.
The Fill-In Boyfriend takes a tried-and-tested trope, that of a fake relationship, and delivers all the goods and more. Not only do we get all the swoon and the butterflies-in-a-blender-in-my-stomach feelings, we are also served depth, which puts this novel out of the fluff category. Populated by characters you'll love and root for, you just can't help but be invested in Gia's quest to get to know fill-in Bradley and for her imminent growth as well. Indeed, INDEED, #KasieWestistheBest, and The Fill-In Boyfriend proves this and that it is another addition to Kasie's consistently strong and great line-up of novels. I highly recommend this for contemporary YA romance fans or anyone who wants to try the genre! It's glorious and I can't wait for more from Kasie West!

I write YA. I eat Junior Mints. Sometimes I go crazy and do both at the same time. My novels, published through Harper Teen are: PIVOT POINT and its sequel SPLIT SECOND. And my contemporary novels: THE DISTANCE BETWEEN US, ON THE FENCE, and THE FILL-IN BOYFRIEND. My agent is the talented and funny Michelle Wolfson.