I'm currently reading this one because DUH, Lauren Blakely is an auto-buy author for me, auto-read, auto-love, everything. If it's written by Lauren Blakely, I have a 100% assurance that I'll love it. Lauren Blakely is my queen with steamy contemporary romances. Anyway, YOU SHOULD READ THIS ONE AS WELL and no worries because IT IS OUT TODAY!!!! No need to wait!! I have an excerpt for you today and a giveaway too so YAY!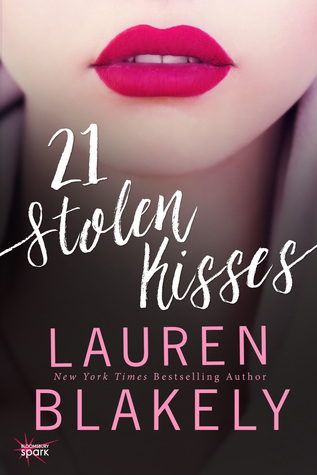 Title: 21 Stolen Kisses
Author: Lauren Blakely
Publisher: Bloomsbury Spark
Date of Publication: May 26, 2015
When I first met him I resisted.

Like any forbidden love, I told myself he was a crush, and it would pass.

That was a lie. It never faded.




And I never expected he would fall for me just as hard.




There were so many reasons that should have kept us apart, least of all, the decade that separated us. Growing up in New York City, I learned early on that love is a double-edged sword. Love broke up my parents, love took away my friends, and love — the big, intense, never-been-like-this-before love — landed me in therapy. Now I'm heading to college, and it's time to give love a clean slate again. But, can I really start over when he's still in my life Because the one man I've always wanted, is also the only guy I absolutely can't have…And he wants me just as fiercely.




Can I settle for anything less than the love of my life?
Excerpt
He inhales sharply. The look in his eyes says we're crossing into the danger zone again. It's the only place I want to be with him. Because when we're there, nothing between us feels dangerous. Everything feels right.
"I turn eighteen in a few more weeks," I say, like my birthday is an open invitation for us to slam back into each other.
A breeze blow by and rustles his hair. A lock falls out of place. Instinct takes over. I raise my hand to reach for his hair.
But he's faster. He grasps my wrist, and the second he does, the moment expands. It stretches and unfolds into the thing I will replay tonight and tomorrow and the next day. I stare at his hand clasped around my wrist, flashing back to all the times he held my hand, touched my wrist, and ran his fingers along my arm. I shiver as the memories collide, the past slamming into the present.
I look up from our hands to his eyes. Blazing, full of heat. Full of all that restraint from him that I know so well.
Lauren Blakely writes sexy contemporary romance novels with heat, heart, and humor, and her books have appeared multiple times on the New York Times, USA Today, Amazon, Barnes and Noble, and iBooks bestseller lists. Like the heroine in her novel, FAR TOO TEMPTING, she thinks life should be filled with family, laughter, and the kind of love that love songs promise. Lauren lives in California with her husband, children, and dogs. She loves hearing from readers! Her bestselling series include Caught Up in Love, Seductive Nights, and Fighting Fire. She recently released Nights With Him, a standalone novel in her New York Times Bestselling Seductive Nights series that became an instant New York Times Bestseller. Her next book in that series is Forbidden Nights, releasing in early 2015. She also writes for young adults under the name Daisy Whitney. To receive an email when Lauren releases a new book, text BLAKELY + your email address to 678-249-3375 (please use the actual + sign).
Giveaway