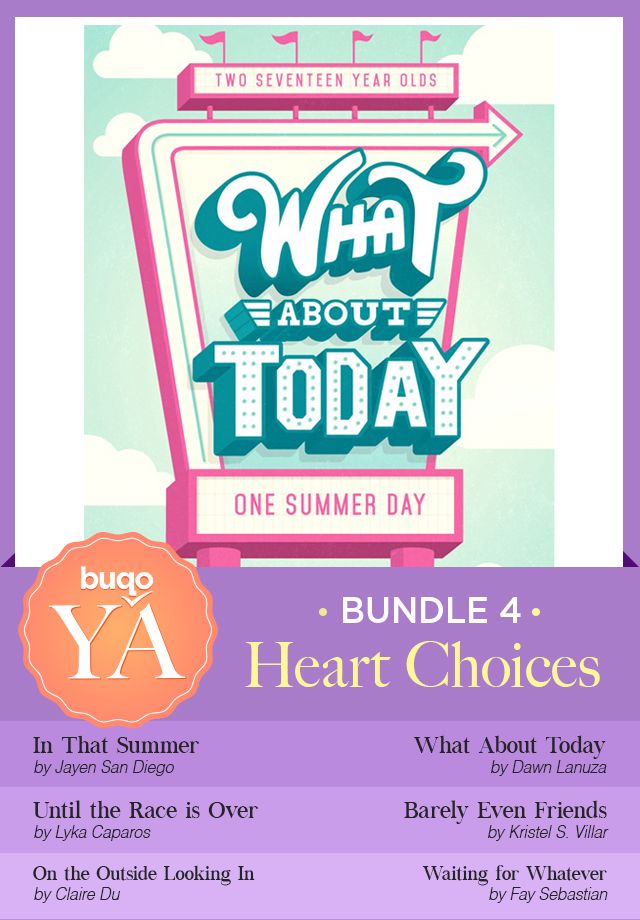 Buqo YA Bundle 4: Heart Choices
Sometimes it's hard to choose. Do you stay or do you let go? Should you become friends, more than friends, or stay strangers? Would you risk love for popularity? You're invited to explore these stories and find out each character's choice from the heart.
Until the Race is Over by Lyka Caparos
Rico wishes Lianne back in his life, but because of that viral article that Traecy posted on their school paper's website, it appears to be impossible for them to be together again. Traecy on the other hand, had only one wish for her birthday, to spend it with the one she admires since high school – Rico Avila. How can fate brings the two together in a race that would definitely reveal small discoveries that can lead to two choices: either to tear them apart or hope for a more unexpected relationship?
In That Summer by Jayen San Diego
Senior high school student Jane Enriquez is the 'dream-girl' of all male students at Southridge Montessori. Well, except the geeky student leader Sean Villamayor. Opposing from the start, Sean never expected Jane would become his partner for this year's Summer Camp Immersion. Will this be their worst summer? Or will it turn out to be different?
On the Outside Looking In by Claire Du
Seventeen-year-old Freya Mahilum has always been in love with football hotshot Ezra Montelibano. Ezra, who's too caught up with family pressures and his so-called girlfriend to pay attention to a geek obsessed with him. Freya knows she'd never stand a chance with him, but then fate conspires to bring them together. Will getting to know each other prove that love knows no boundaries or will they find that they're better off existing in two separate worlds?
What About Today by Dawn Lanuza
Aiden's stuck working for his family's amusement park, Funtastic World, for the whole summer. Nothing amuses him, until he met this terrified girl.
Gemma's stuck in Funtastic World thinking she could handle the park's rides. She couldn't. Good thing she met someone to guide her.
As the day comes to a close, Aiden and Gemma ask themselves if one day is ever enough to decide if they were better off as friends or strangers.
Waiting for Whatever by Fay Sebastian
Denise knew pain at an early age. She has been waiting for her true love since she was 11, but she never gave up, knowing she'd meet him someday.
What she didn't know was that she already met the man she's been waiting for, and that he's sitting beside her at the airport. The thought never crossed her mind because she's seated between two guys who broke her heart before.
Barely Even Friends by Kristel S. Villar
For pretty and athletic Emily Fonseca, nothing's better than getting invited to join Luna East Arts Academy's most popular crowd, the Elites. She only has to fulfill a list of dares to prove that she's got what it takes. But will it cost Emily her rekindled friendship with language tutor and childhood friend Noah Calderon?
Tour Details
2. Multi-stop tour composed of reviews, excerpts, interviews, guest posts
3. There will be a tour-wide giveaway.
4. Electronic review copies will be provided.
5. You don't have to review each story. You can review it as a whole bundle or certain stories only.
6. Some of the stories are in Filipino and for non-Filipino bloggers, you are free to skip these stories.
Tour Schedule
Giveaway
a Rafflecopter giveaway