Last year, I freakin' loved Walter Jury and Sarah Fine's collaboration, SCAN. You can check out my spazzy review as proof of this. And just this Tuesday, the sequel BURN was released!!! I am SO excited to read it and be on the lookout for my review because IT WILL HAPPEN because this duology is (sadly) over. Yes, BURN is the conclusion to this awesome story so you can now binge this series! Today, I am very honored to present to you an interview with Sarah Fine and of course, a giveaway!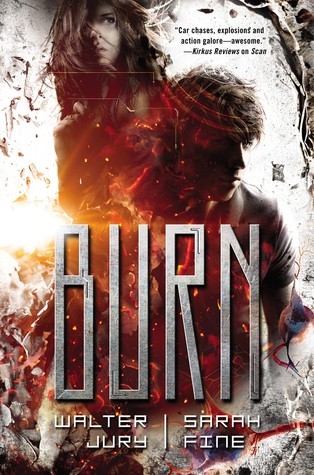 Title: Burn (Scan #2)
Author: Walter Jury and Sarah Fine
Publisher: Putnam Juvenile
Date of Publication: May 12, 2015
"Car chases, explosions and action galore—awesome."—Kirkus Reviews on Scan




At the cliffhanger ending of Scan, Tate loses the very thing he was fighting to protect, what his father had called the key to human survival. Tate doesn't have much time to worry about it because he needs to get away, to ensure he and Christina are safe. His father left him one last thing that can do just that—a safehouse, which turns out to be a clue to what's really threatening the planet. As Tate follows the clues his father left behind, he starts to uncover the truth, realizing he's up against an enemy he's only beginning to understand.




A riveting, fast-paced "we are not alone" adventure, Burn thrills to the very end.
Interview
For today, Sarah Fine kindly graced us with her presence and I'm fangirling over here, OKAY? Let's get right to it! Let's all welcome, Sarah Fine!
Describe the Scan series in 140 characters or less.
Boy steals device from father's covert lab and accidentally sets off an interspecies conflict with aliens that secretly rule the planet.
I saw that you've been asked this question a lot of times before but I wanted to really get a picture on how you co-wrote SCAN and BURN with Walter. The books were told in Tate's perspective and the prose was seamless. Do you exchange chapters? What's your system of co-authoring with Walter?
Thank you! Walter is the big-picture guy, and I'm the one who focuses on details -- it works out well!
What was your favorite thing about co-writing with Walter Jury or in general?
I learned a lot about story structure and pacing, because Walter's a movie guy and that's how he thinks.
How did you guys come up with the idea for this series?
Walter was watching Cowboys & Aliens and thinking about its box office performance, and he wanted to come up with a story about what really might have happened if aliens invaded the planet before the onset of modern technology.
Were there any songs you consider as a SCAN/BURN playlist, either to get you in the mood to write or to be its possible soundtrack?
In the End, by Linkin Park; Lampshades on Fire, by Modest Mouse; and most especially: Year Zero, by 30 Seconds to Mars (it's the perfect song for the series, but if you listen to that track and hang out all the way to the end, you also hear the words of Sun Tzu, one of Tate's inspirations).
If you like <insert film or book>. you'll love the Scan series. What books and/or films would fit that sentence perfectly?
Lots of people have said that SCAN and BURN will appeal to fans of I am Number Four because of its fast pace and relentless action, and it fits well with other action-packed YA sci-fi books like ALTERED by Jennifer Rush and FALSE MEMORY by Dan Krokos. It's less post-apocalyptic than THE 5TH WAVE by Rick Yancey, but has similar who-can-you-trust and alien invasion themes. In terms of movies, SCAN has a "man on the run" feel to it, so it would be a good fit for folks who liked The Fugitive, The Bourne Identity, Salt, and Minority Report, and for those who like fast-paced sci-fi-ish tales like DIVERGENT (especially since Walter was one of the producers of that movie, under his real name).
Thank you so much Sarah for sharing your insights with my readers! But really, guys, SCAN was so action-packed and awesome and it reads like a movie. I'm sure BURN will be the same and I WANT YOU TO BINGE ON THIS SERIES NOW. WHAT ARE YOU WAITING FOR?!?!
About Sarah Fine
Sarah Fine is the author of several books for teens, including Of Metal and Wishes and its sequel, Of Dreams and Rust, and the Guards of the Shadowlands YA urban fantasy series. She is also the co-author (with Walter Jury) of two YA sci-fi thrillers: Scan and its sequel Burn. Sarah is also the author of the adult urban fantasy series, Servants of Fate, with the third book in the series, Fated, releasing September 2015. When Sarah's not writing, she's psychologizing. Sometimes she does both at the same time. The results are unpredictable.
Giveaway
Follow the Tour
May 14 - Oops! I Read a Book Again - Interview (YOU'RE HERE!)