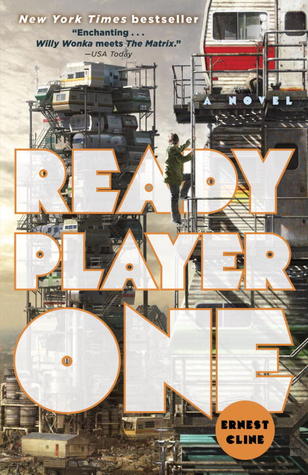 Title: Ready Player One
Author: Ernest Cline
Publisher: Broadway Books
Date of Publication: June 5, 2012
It's the year 2044, and the real world is an ugly place.




Like most of humanity, Wade Watts escapes his grim surroundings by spending his waking hours jacked into the OASIS, a sprawling virtual utopia that lets you be anything you want to be, a place where you can live and play and fall in love on any of ten thousand planets.




And like most of humanity, Wade dreams of being the one to discover the ultimate lottery ticket that lies concealed within this virtual world. For somewhere inside this giant networked playground, OASIS creator James Halliday has hidden a series of fiendish puzzles that will yield massive fortune — and remarkable power — to whoever can unlock them.




For years, millions have struggled fruitlessly to attain this prize, knowing only that Halliday's riddles are based in the pop culture he loved — that of the late twentieth century. And for years, millions have found in this quest another means of escape, retreating into happy, obsessive study of Halliday's icons. Like many of his contemporaries, Wade is as comfortable debating the finer points of John Hughes's oeuvre, playing Pac-Man, or reciting Devo lyrics as he is scrounging power to run his OASIS rig.




And then Wade stumbles upon the first puzzle.




Suddenly the whole world is watching, and thousands of competitors join the hunt — among them certain powerful players who are willing to commit very real murder to beat Wade to this prize. Now the only way for Wade to survive and preserve everything he knows is to win. But to do so, he may have to leave behind his oh-so-perfect virtual existence and face up to life — and love — in the real world he's always been so desperate to escape.




A world at stake.

A quest for the ultimate prize.

Are you ready?
Purchase from Amazon | B&N | The Book Depository
Review
My Rating: 5 out of 5 stars
Thank you to my friend Mia for lending me her copy!
So upon the announcement that Steven Spielberg is going to direct the film adaptation of this book, my friend Jean tagged me on Facebook to inform me and well, spazz. I told him I haven't read the book and he deemed this as a travesty. Enter our friend Mia who said she'll lend me her copy as it's her guilty pleasure read and she can't count how many times she's read it.
The next day, this was on my office table.
That was fast. Of course, I had to set aside everything and read it. Good thing I didn't have anything I planned on reading because GUYS, Ready Player One consumed me.
In fact, I read it twice in a row. Right after I finished it. IT'S THAT GOOD.
I stayed up just so I can read this book. And here goes a list review!
Ten Reasons Why READY PLAYER ONE is Glorious and Why You Should Read It
1. Super engrossing and engaging. Like I said, I couldn't stop reading it! I was anticipating everything that admittedly, I skimmed some pages just to know what's gonna happen because the tension and excitement levels were so high! Of course, I went right back to where I was to read it properly. That's why it also took me some time to finish this the first go-round because it's so fantastic I kept on doing that.
2. Underdog story! Oh guys, you know how much I (and the whole world) love underdog stories. Wade Owen Watts is poor and his avatar is only a level 3. By all means, of all people, you'd least expect him to find the Copper Key. BUT HE DID. I was just rooting for Wade all along because he deserves it all. He's so smart, passionate, dedicated, kind, everything! He's the kind of guy you'll root for and cheer on.
3. Origin story! Ready Player One read like a superhero origin story and Wade admitted himself that his father named him Wade Watts, an alliteration like most superheroes. It's just so apt. Here we see someone who's a nobody become the most famous gunter in history. Origin stories are the best.
4. Action-packed. But don't get me wrong, it is not a boring origin story. It's so action-packed and there are lots of explosions and all around shenanigans and blackmail and everything. It is so damn readable too that I just can't stop myself from reading it!
5. Most geekgasmic storyworld EVER. Come on, A VIRTUAL REALITY? It is so geekgasmic that even though I'm not a gamer, I loved and appreciated every single moment of it. It's also SO plausible, what, with the technology we have now. Who knows, right?
6. Adventure-filled. I mean, literally. It's so chock full of quests and I love quests and missions!
7. Vivid. Props to Ernest Cline because I can picture every single thing he wrote. The scenes just play on your mind. I AM SO FREAKIN' EXCITED ABOUT THE MOVIE. (Although a bit scared too!)
8. Diverse set of characters. Not only are they diverse, they're also very dynamic and fun to read and easy to root for. Our villain is very villain-y too. Just, superhero story, right?
9. Social commentary. Oh dear, this is one of the reasons why this is so amazing. I've read a lot of books that were partly social commentary on the effects of our generation's addiction to social media and everything virtual but this takes the cake.
10. Perfect ending. Just, perfect. I couldn't ask for more and I don't think there's a better way to end this wonderful, fantastic tale than how Ernest Cline did it.
So those are my ten reasons! GO READ THIS BOOK IF YOU HAVEN'T YET, DAMMIT.
Have you read Ready Player One? What did you think of it? And if yes, ARE YOU AS EXCITED AS ME ABOUT THE FILM?