'Tis a glorious day because Kissing Ted Callahan (and Other Guys) is out NOW!!! Guys, you HAVE to read this one! It's pure hearty YA fun and I LOVE IT. Check out my review under the cut!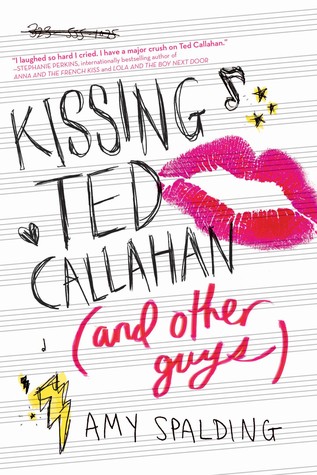 Title: Kissing Ted Callahan (and Other Guys)
Author: Amy Spalding
Date of Publication: April 7, 2015
Nick and Norah's Infinite Playlist meets Easy A in this hilariously realistic story of sneaking out, making out, and playing in a band.




After catching their bandmates in a compromising position, sixteen-year-old Los Angelenos Riley and Reid become painfully aware of the romance missing from their own lives. And so a pact is formed: they'll both try to make something happen with their respective crushes and document the experiences in a shared notebook.




While Reid struggles with the moral dilemma of adopting a dog to win over someone's heart, Riley tries to make progress with Ted Callahan, who she's been obsessed with forever-His floppy hair! His undeniable intelligence! But suddenly cute guys are popping up everywhere. How did she never notice them before?! With their love lives going from 0 to 60 in the blink of an eye, Riley and Reid realize the results of their pact may be more than they bargained for.
Review
My Rating: 4 out of 5 stars

Thank you to Poppy and NetGalley for the review copy! Having received one did not affect my thoughts about the novel.
I'm telling you right this moment that this review's going to be long because I NEED TO SPAZZ AND RAVE AND SHARE ALL MY DOLPHIN SQUEALS WITH YOU GUYS. *tries to chill out* *utterly fails* (Disclaimer: I won't even try to be coherent, guys. It's just not possible with all the awkwardly cute and cutely awkward interactions EEEKKK, COME ON. See?)
When juniors Riley and Reid caught their bandmates Lucy and Nathan being LucyandNathan and in a compromising situation/position, they resolved to fix this glaring absence of romance in their lives by documenting their quest for ~love~ in the Passenger Manifest. (LOST REFERENCE YOU GUYS, I CRY)
The novel alternates between Riley's POV and the Passenger Manifest, from which we get Reid's side of the project. Prior to all the hullabaloo that is LucyandNathan, Riley has had a crush on Ted Callahan. And he becomes her project. MAKE TED CALLAHAN NOTICE ME. She thinks Ted Callahan is so cool and she wants to touch his hair. When in reality, Ted's actually timid and awkward and uncool, per Reid's testimony. WHICH WOW, I TOTALLY GET IT. I mean, when you have a crush, you think he/she is the sun, the moon, and the stars rolled into one. He/She spouts rainbows and is the most precious ever. Because YOU LIKE HIM/HER. When in reality, he/she isn't all that perfect. Oh gods, I was having so much fun. Riley's proactive on this quest as she starts by asking Ted if he needs a ride after school, which apparently, he does! Here starts ALL the awkward flirting and MY GOD, I LOVED EVERY SECOND OF IT.
Bonus nutella cookies to this book because Riley IS such a teen (and every character). While some reviewers thought it was too juvenile, I digress. By all standards, Riley's cool, she's in a band after all. But when faced with The Crush? She ends up babbling and is such a dork. AREN'T WE ALL? When faced with greatness, rambling is the natural human response. Teenspeak game spot on.
So it's all about Ted, right? But why is chemistry partner science nerd Garrick Bell so good at making out? And Milo just gets her and music and is just so chill. HERE IS WHERE THIS BOOK IS SO GLORIOUS. Aren't you tired of books with multiple possible love interests but some of the love interests are so obviously wrong? Like, ooohh, let's write this one off as a jerk. Why would the hero/heroine choose that person? But in here, Riley ends up dating three guys and she likes all of them. What's a girl got to do?
Here are my tweets to Amy Spalding showing how much I appreciate EVERY SINGLE BOY to be a viable love interest. HOW IS A GIRL SUPPOSED TO CHOOSE?
And yes, my high school crush was two years my senior, plays the guitar, writes for the school paper, and is a science nerd (well, all of us in the school are science nerds). Basically, he's Ted, Milo, and Garrick rolled into one. And his name is Garrick and his initials is also GB. Because obviously, Amy Spalding wrote this book for me. MWAHAHA
I loved every single interaction Riley had with these boys but OF COURSE, Ted Callahan takes the cake (and my heart). Because, #TeamAwkwardBoysWhoTrySuperHard! Just see my conversation with Amy below.
I was squealing so hard at home my mom actually checked up on me and she saw me rolling on my bed with my Kindle grinning like a fool. TED CALLAHAN IS SO CUTE AND ADORKABLE I WANNA TAKE HIM HOME. We always read about the smooth guys in YA but what about the awkward boys? The dorks? The nerds? They deserve love too and kissing and the likes! You know how much I love contemporary romances with nerds, right? No? Oh goodness, Life in Outer Space by Melissa Keil is A+. If you love nerds in YA, you'll swoon hard for Ted and his non-asking-outs, timidness and awkwardness. SO CUTE.
I don't think I've had as much fun reading contemporary YA for some time now (with a female MC, especially). So Kissing Ted Callahan was just the perfect read for me because it is PURE YA fun! It was a light and breezy read and I finished it so fast I ended up re-reading my favorite parts right away. But don't think just because it's fun, it's shallow. No, not sorry to inform you, but this still tackled sex (yes!), kissing (lots of kissing!), friendship (drama!), and a whole lot more! I absolutely worship Amy Spalding with how she wrote about sex and seeing multiple people in here. It's casual and NEVER preachy, but being a teen, Riley still thinks it's a semi-kind-of-a-big-deal. She worries about seeing other guys but then, nothing is happening with Ted yet so she can explore her choices! She's also very forward like I said and I like how this depicts how it's totally fine for the girl to initiate and think about ~sexy things~.
We also have such fun and dynamic characters. Reid, who probably has irrational anxiety, Riley's parents the United Front (god, I love Riley's voice), Riley's sister Ashley, EVERYONE. I haven't talked much about Reid but he adds so much color to the book! He's super paranoid and he goes to extra lengths to get the girl he likes. He's definitely a one-of-a-kind character but really, he won me over when he named it the Passenger Manifest. (LOST REFERENCE, I CRY)
In fact, I like how this novel showed that people aren't stereotypes. Sure, some people just fall into stereotypes but a lot of times, everyone has a secret geekiness. This book reveled in everybody's weirdness and I love that. Everyone's a geek and a weirdo in some way or another. Just, look at Riley. She's a drummer and she's a Rock Star but she isn't a rebel, she loves her parents, and she totally freaks out (internally, that is) all the time, especially with Ted. We have Lucy, Riley's best friend, who wears dresses and flats, but is also a Rock Star. Who knew that Garrick Bell the science nerd kisses so well?
Snorting from laughter, squealing, and swooning guaranteed, Kissing Ted Callahan (and Other Guys) is a fantastic read with a very authentic, fun, and hilarious teen voice. I highly recommend this one because y'all need to meet Riley Crowe-Ellerman and Ted Callahan! #TeamAwkwardBoysWhoTrySuperHard forever!
About Amy Spalding
Amy Spalding grew up in St. Louis, but now lives in the better weather of Los Angeles. She received a B.A. in Advertising & Marketing Communications from Webster University, and currently works as the Senior Manager of the Digital Media team for an independent film advertising agency. Amy studied longform improv at the Upright Citizens Brigade Theatre, and can be seen performing around L.A.