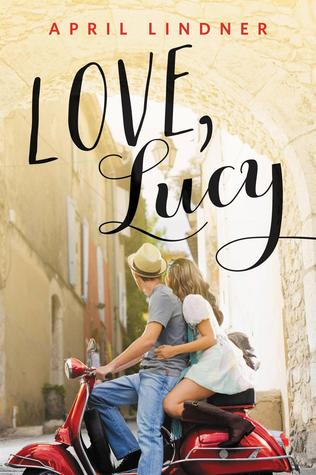 Title: Love, Lucy
Author: April Lindner
Date of Publication: January 27, 2015
While backpacking through Florence, Italy, during the summer before she heads off to college, Lucy Sommersworth finds herself falling in love with the culture, the architecture, the food...and Jesse Palladino, a handsome street musician. After a whirlwind romance, Lucy returns home, determined to move on from her "vacation flirtation." But just because summer is over doesn't mean Lucy and Jesse are over, too.




In this coming-of-age romance, April Lindner perfectly captures the highs and lows of a summer love that might just be meant to last beyond the season.
My Rating: 2 out of 5 stars
Thank you to April Lindner for sending a signed copy for review and for touring! Having received a copy did not affect my views of the novel.
Writing this review is one of the hardest things I have to do so far as a book blogger. I debated about posting a review of this one because April is so sweet and she even sent me a signed copy but it felt like I was not being honest with myself if I didn't. So here I am. (There might be minor spoilers!)

My lack of enjoyment while reading Love, Lucy all boils down to my lack of connection with our main character Lucy. Absolutely no connection. AT ALL. I'm a big advocate of chasing ones dreams and being assertive then here goes our heroine who gave up on her dream of being an actress for a Europe trip. Yeah, her father won't pay for college if she didn't take up business but SO WHAT? She should have argued with them and told them what she wants. She should try and support herself through college. Okay, she also felt like she didn't want to pursue acting anymore because of a bad audition but SERIOUSLY? I don't know, I just couldn't get behind a character who says she loves acting more than anything then gives up on it so easily. Sure, you could argue that she's a filial daughter and I'm such a bad daughter if I wanted her to go against her parents but judge me all you want but your life is your life. You should make your own decisions.
Right off the bat, I know I'm not gonna love this novel but I knew that by the end of the novel, Lucy will stand up for herself so I soldiered on. But I just kept on hitting more and more roadblocks to me liking this one. I try hard on putting myself on the shoes of characters and nowadays, I try to not let how much I like a character dictate my enjoyment of the novel. But the pragmatic and practical Dianne just couldn't see eye to eye with Lucy or even get to understand her. The novel is told in the third person perspective and I bristle with annoyance every time Lucy's thoughts are shared.
Lucy's parents didn't want her to tour Europe alone so they also paid for a companion, Lucy's mom's friend's daughter, Charlene. Charlene is cool, collected, and pragmatic. She can be blunt with a strong personality (and at times a mood killer) but by the first chapter, it was very obvious to me that I can relate more to her.
Judge me all you want that I'm a bitch or that I'm cruel but I absolutely sided with her friend Charlene every time. Sure, Charlene could have been a tad bit nicer and it's also obvious that she's just envious of Lucy but there was no denyin
g how Lucy was playing the pity card and that she acts like woe-is-me all the time. Lucy kept on denying that she was spoiled but she is! I guess I'm just no-nonsense like Charlene but REALLY, Lucy was such a bitch to Charlene too so please, she shouldn't be all pissed and hurt Charlene talking back. The real problem is that they weren't really friends to start with and that Charlene feels like getting to tour Europe for free means she has to look out for Lucy. Which is actually why she was there and I couldn't fault her feeling like it's her duty. I really do tend to side with characters that aren't rich or are in the other side of the rich spectrum. Then she kept on ditching Charlene and just, I really don't like Lucy, guys. Nah.
There's this bit where I laughed so hard at what I was reading because Lucy said this to Charlene: "I can't believe how cynical you are. You're... coldhearted." Yeap, that is ME. Basically, Lucy just said it herself, I am a cynic so I won't enjoy her story.
Let's get away from Lucy a bit and delve into her love interest, Jesse. Now, Jesse was nice and all, but he lacked dimensions. Quirks. He was bland and boring and I don't see anything in him I'd be over the moon with. There's this part where Lucy said that the list of things to like about Jesse just keeps getting longer -- he plays the guitar, sings, was in a band, can drive a Vespa, knows Florence so much -- and WOW, way to be superficial. All the things she mentioned were so surface level that even though I wanted to understand how she ended up loving him, I couldn't. Sorry. Plus, it all seemed a bit insta-love to me. Lucy hated Jesse the first day because she thought he was rude but the next day, she learned that he's nice. Then off the romance we go. I know this makes me sound like I don't have any romantic bone in my body but I just prefer romance that takes time.
Like all vacations, Lucy's ended and I started to appreciate the story more when she was back in Philadelphia. First, she defied her parents (HA!) by auditioning for plays and starring in them. YAY! I was so happy for her and for myself because here's Lucy taking charge of her life! We also get to meet a new love interest, who I was so aboard with, until he became a jerk who just wants to have sex with Lucy. Uh-uh. Here I go again with my absolute dislike for supposed love triangles where the other guy is obviously written to be the wrong choice so that whole option is cancelled out. Frustrates the hell out of me. Without Jesse in the picture and with the other half of the novel focusing on Lucy's college life, her new drama friends, and how she's dealing with the play and the incoming arguments from her father, I was almost ready to forgive and forget the first half of the book. But then, towards the end, it lost me again.
Most of the negative reviews I read were because this is apparently a retelling of A Room with a View and that it's SO FAR from it. Now, I haven't watched the film or read the book so I can't judge it but for me, even if it wasn't a retelling, this didn't work for me AT ALL.
Still, a lot of people loved Love, Lucy so you should still go pick it up, especially if you adore travel romances. I do admit that this novel made me want to travel and experience the world but ultimately, I didn't even remotely like it. Very unfortunate.
About April Lindner
I'm April Lindner, author of two young adult novels, Catherine, a contemporary retelling of Wuthering Heights, and Jane, a retelling of Jane Eyre, both published by Poppy. A third YA novel, Love, Lucy, is due out from Poppy in January 2015.
I'm also a poet, with two collections in print: This Bed Our Bodies Shaped, from Able Muse Press, and Skin, winner of the Walt McDonald First Book Prize from Texas Tech University Press. I write literary criticism and edit poetry anthologies too.
By day, I'm a mild-mannered English professor at Saint Joseph's University in Philadelphia. By night, I attend way too many rock concerts and travel wherever and whenever I can. I also lavish attention on my rescued pets--two wonderful mutts and two exciteable guinea pigs. I'm a wife, mother, a lover of all things Italian, and a New Yorker at heart though I haven't lived there in quite a while.