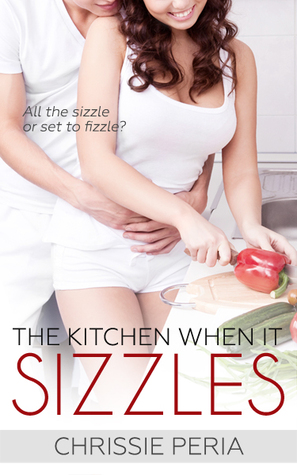 Title: The Kitchen When It Sizzles
Author: Chrissie Peria
Date of Publication: August 16, 2014
Genre: sexy contemporary romance
Olivia Nadal is an almost perfect girl with an almost perfect life. She has stunning good looks, an exciting job that pays well, men lining up to date her, and a homey little condo she calls her own. The only thing keeping her from perfection is her utter inability to cook.




Enter Nate Olivarez, a hotshot chef who's filling in for Olivia's cooking instructor. Sparks fly when they meet, but a fling with the visiting hottie is the last thing Olivia needs. But as things keep heating up in the kitchen, she can't help but wonder. Can things work out between her and Nate? Or is the sizzle all set to fizzle?
My Rating: 4 out of 5 stars
Thank you to Chrissie Peria for my *signed* copy! Having been gifted a copy did not affect my views of the novel.
I read both All's Fair in Blog and War (linked is my review) and The Kitchen When It Sizzles in one night, right after the other. Chrissie's stories are just so easy to read and very enjoyable, you won't realize the time. Like AFIBAW, TKWIS is a sweet contemporary romance novella but with THE STEAM.
Our heroine, Olivia, doesn't know how to cook and has signed up for cooking lessons. As fate would have it, her cooking instructor ends up replaced by her nephew, the hot hotshot Los Angeles-based chef, Nate. Sign me up for one-on-one cooking lessons with the tattooed sizzling hot Nate, please! Seriously. Or maybe hire me as a dishwasher or a sous chef, ANYTHING. Anything within 10 feet of this hunky guy.
Olivia and Nate obviously had sparks and they also like the company of each other. Who am I kidding? These two can steam up mirrors and glasses with their very hot makeout session in the kitchen. I can't exactly pinpoint what it is that just makes them click but when I was reading TKWIS, I just rooted for them all the way.
The main conflict of TKWIS was Olivia doubting if she should get with Nate. She knows for sure he's going to leave Manila and go back to the States as that's what he's been telling her all along. She didn't want to fall in love with him and just get her heart broken so she puts all these walls and tries to keep things from happening. But then things happen (HELLO HOT MAKEOUT SESH THAT MADE ME FAN MYSELF) so she ends up being hot and cold to Nate. Poor Nate bb. Aside from that conflict, assumptions and a certain girl out to get Nate are the other obstacles Olivia and Nate (more on Olivia) need to face.
Having read AFIBAW, I couldn't help but notice that everything could have been solved if our couple just talked with each other. I have nothing against that plot arc (just noticed it) because Chrissie Peria expertly manages to make us invest in her characters and root for them even if normally, you'd want to shake them and make them kiss like your childhood Barbie and Ken. You didn't do that? O-kay. I just want Olivia and Nate together and it was SO FABULOUS when they did.
Once again, Chrissie Peria being a foodie shines through her work. I definitely drooled over Nate but man, I think I drooled even more with the food. It's like I can taste them and I absolutely ended up hungry after reading this.
As for the sexy, no worries as it isn't graphic but it is DEFINITELY hot. I don't know how I'll do if I meet Chrissie in real life. I feel like I'll just smile my freaky smile and snicker at the side. Haha! Guys, the title isn't misleading because the kitchen and the bedroom and everywhere else are sizzling.
I recommend this to anyone who's looking for a sweet AND hot short contemporary romance read. It's extremely satisfying!
About Chrissie Peria
When not obsessing over fictional people doing fictional things, Chrissie obsesses about food: the eating, the cooking, and the procuring of it.
An advertising copywriter in her past life, she now spends most of her time writing, taking photos, cooking, and babysitting a tiny human and a curly-haired dog. She still plays with dolls and she thinks that bacon is the answer. Her first book, All's Fair in Blog and War, won the Best Romance in English category in the 2014 Filipino Readers' Choice Awards.