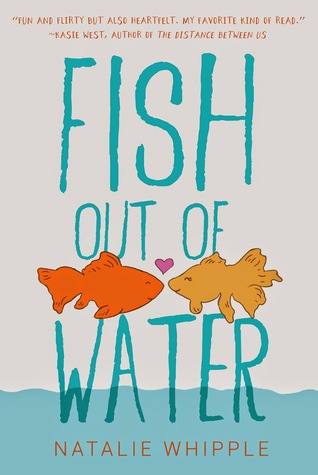 Title: Fish Out of Water
Author: Natalie Whipple
Date of Publication: February 10, 2015
Mika is about to fulfill her dream of working at the world famous Monterey Bay Aquarium when her plans are derailed by an unexpected arrival—her estranged grandmother Betty. Betty has dementia, and is no longer able to take care of herself. Betty is in need of her family's help—and she's not going to be particularly nice about it.




Mika has to give up her summer internship at the Aquarium and stick to working part-time at AnimalZone in order to take care of Betty. The manager at AnimalZone has hired his nephew Dylan to work there, and Mika thinks he's entitled and annoying. Or is he just trying to become a better person?




Mika is trying to be as patient as possible with her grandma—but Betty doesn't make that easy. And neither does Dylan.
My Rating: 4 out of 5 stars
Thank you to Natalie Whipple for the eARC! Having received a review copy did not affect my views of the novel.
I'll clue you in with the most obvious assurance that Fish Out of Water is a great read, especially for contemporary YA lovers: it is blurbed by Kasie West. THE Kasie West, who made me swear I'll name my hypothetical son Alexander with Xander as a nickname because of how much I loved The Distance Between Us. Dude, if Kasie West says it's "fun and flirty but also heartfelt", believe her because IT IS, OKAY?
And because this book is the kind where all I can do is squeal, I'll do a list review to lend some coherence to this. So, let's do this!
Four Reasons Why I Love FISH OUT OF WATER
1. THAT COVER. Let's just get over the most superficial thing on this list and that is a book's cover. I mean, a gorgeous cover is SO IMPORTANT to a book because anyone who says they don't judge a book by its cover is a massive hypocrite. Uhm, guys. I LOVE THIS COVER SO MUCH. The cute fishes that look so in love with each other, the typography, the understated colors, the graphics, EVERYTHING ABOUT IT IS PERFECT, OKAY? And it is so apt for the book. I really want it on my shelf so I'll be getting the hardcover NO MATTER HOW. I will. I will be all mafia don about this.
Now, let's get to the nitty-gritty...
2. Characters. I tried typing this sentence 628164 times but I kept on deleting it because I don't know how to properly describe the characters in this book that will encapsulate their whole being. And that's a great thing, right? People are complex and Natalie Whipple sure knows how to write these wonderful teens. Let me try again. Mika: biracial (Japanese mother and an American father but born in the USA *sings an off-key Bruce Springsteen*), only child of two marine biologists, works at the pet shop AnimalZone, very passionate and knowledgeable about fishes. Dylan: entitled, rich boy forced to work for his uncle, trying to change, learning the ropes, and <insert tons of swoony and positive descriptors here> by the end. Grandma Betty: racist, has Alzheimer's, left by her loved ones repeatedly.
Then we have Yumi (Mika's mother), Stan (Mika's father), Clark (Dylan's uncle), Joel (the caregiver), and Shreya and Olivia (Mika's best friends). I am absolutely in awe how Natalie Whipple crammed so much plot into this novel but without forsaking its readability. True story: I was so busy when I read this book but I still finished it quite fast because I just can't stop reading it! It was so addicting and I was so invested in Mika as a character that I went wherever the story took me. Not only that but our secondary characters also had their own mini plot arcs and they were not boring and B-plots. Everyone's story intertwined with Mika's, which makes the reader invested in them equally. I bow down to Natalie Whipple.
3. Themes. Fish Out of Water doesn't shy away from tackling issues usually glossed over or just presented. In here, racism is faced head-on because we got Grandma Betty who disapproved of Mika's parents marriage because Yumi is Japanese and she doesn't approve of mixing of races. Couple that with her Alzheimer's where she throws things, says hurtful words, and loses all sense of respect, and this book just established itself as a book that DEALS and TACKLES these issues.
This is my first time reading a book about dealing with a family member who has Alzheimer's. For one, I can't even call Betty a loved on because pretty much everyone hates her. But like what Joel the caregiver said, getting to spend time with Betty gave us a whole new outlook on her. Sure, she's racist through and through but as she unconsciously shares her life story, we get to know what happened to her early on. It doesn't excuse her behavior, as Dylan points out, but what can you do but try to understand someone you love who's sick?
I was so astounded by how Natalie Whipple tackled Alzheimer's and when I reached the acknowledgments of the book, she paid homage to her own grandmother, who she loved. Natalie was telling a story from the heart. Dealing with Alzheimer's is hard, both for the patient and for his/her family.
Fish Out of Water also got into arranged marriages (Shreya's strict Indian family), friendships, learning the value of money, how money can't buy happiness, how everybody can change their ways, being in a serious relationship for the first time, giving your heart away completely and irrevocably to someone you love, death, abandoment, and so much more BUT NEVER BEING PREACHY ABOUT IT. This novel is so jampacked yet I want more!
Guys, really, this novel is gold.
4. Romance. Oi, try not to be giddy and to smile from ear to ear while reading this book, I dare you. It is physically impossible, I tell you. It was so fun to read Mika and Dylan be irritated with each other. THE BANTER, GUYS. Oh yes, have I mentioned that this is a hate-to-love romance? EEEEKKK, I know, right? Dolphin squeals right here. Then, have I also mentioned that it starts with a PRETEND RELATIONSHIP? COME ON. If you're still not convinced that you HAVE to read this book then I give up. (Not. I will still hound y'all to read this.) Then we get to read Mika and Dylan flirt with each other and deal with the usual teenage romance problems and concerns without too much drama and angst and I AM IN YA ROMANCE HEAVEN.
Seriously. Guys. You need to get on with this book. A fishily cute summer romance mixed in with heavier matters such as racism and dealing with a family member with Alzheimer's, Fish Out of Water just blew existing contemporary YA novels out of the water with the masterful way Natalie Whipple balanced the fun with the deep. I highly recommend this to EVERYONE but especially to fans of Kasie West and contemporary YA romances because !!!!! (Really, coherence is not my strongest suit.)
About Natalie Whipple
Natalie Whipple grew up in the Bay Area and relocated to Utah for high school, which was quite the culture shock for her anime-loving teen self. But the Rocky Mountains eventually won her over, and she stuck around to earn her degree in English linguistics at BYU, with a minor in editing. Natalie still lives in Utah with her husband and three kids, and keeps the local Asian market in business with all her attempts to cook.
She is the author of the TRANSPARENT series, HOUSE OF IVY & SORROW, the I'M A NINJA series, and FISH OUT OF WATER. In addition to that, she is on the writing team for the cRPG Torment: Tides of Numenera that should be out sometime in 2015.