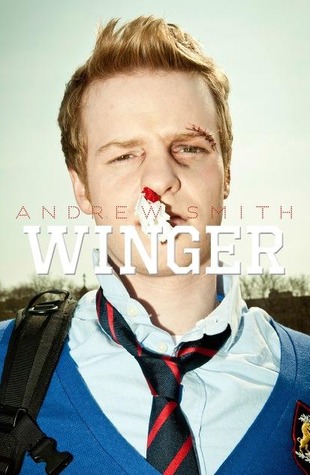 Title: Winger (Winger #1)
Author: Andrew Smith
Publisher: Simon and Schuster BFYR
Date of Publication: May 14, 2013
Ryan Dean West is a fourteen-year-old junior at a boarding school for rich kids in the Pacific Northwest. He's living in Opportunity Hall, the dorm for troublemakers, and rooming with the biggest bully on the rugby team. And he's madly in love with his best friend Annie, who thinks of him as a little boy.




With the help of his sense of humor, rugby buddies, and his penchant for doodling comics, Ryan Dean manages to survive life's complications and even find some happiness along the way. But when the unthinkable happens, he has to figure out how to hold on to what's important, even when it feels like everything has fallen apart.




Filled with hand-drawn info-graphics and illustrations and told in a pitch-perfect voice, this realistic depiction of a teen's experience strikes an exceptional balance of hilarious and heartbreaking.
My Rating: 4 out of 5 stars
Sab and every person on this planet have been raving about this book for the longest time and it took me more than a year to finally read it. Why, Dianne, why don't you listen to everybody?
Reading WINGER was a blast. Ryan Dean West has such a fantastic and unique voice. He has a hypersexualized brain and every female is hot for him. Sure, it's crass and immature but good lord, I love immature and crass humor. My mind is such a gutter and Ryan Dean West never misses with his quips. Plus, WINGER was so fun to read as it read like Ryan Dean's diary as he chronicles his junior year at Pacific Northwest. He even draws comic strips, graphs, pie charts and everything. Although he's smart, his graphs aren't nerdy but they're actually mostly about hot girl meters, what his brain is thinking, and all sorts of nonsensical things.
Ryan Dean's smart, probably too smart, as he's the only fourteen year-old junior in his boarding school for the rich. And these kids are hella rich. They fly to their homes every Friday noon and get back to school Sunday afternoon. THAT rich. While I'm sure this kind of set-up actually exists, it was so baffling for me. But it didn't really matter because BOARDING. SCHOOL. I love YA novels set in boarding schools. The freedom, living together in dorms, and of course, ALL THE SHENANIGANS. I, myself, lived in a dorm inside school grounds for my whole high school life and it was very fun, to say the least. We've been in trouble, we got spooked, we never followed curfew, and yeah, we were heathens. Ack, I suddenly miss high school. Anyway, not only is WINGER set in a boarding school, Ryan Dean West is in Opportunity Hall, where all the kids on probation and always-in-detention kids stay.
It's Ryan Dean's first time in O Hall and he's definitely scared being roomies with one of his rugby teammates, the ever popular alpha asshole Chas. Oh god, I love Chas. I can spy not-really-assholes a mile away and it was so obvious that Chas was ribbing Ryan Dean not to poke fun but to bond with him. But of course, it just came across as him tripping Ryan Dean. Ryan Dean gets into all sorts of hijinks with his O Hall-mates and rugby teammates, Chas, Joey, and Kevin, and it was so fun to read. It made me miss my guy friends because of all the dicking around and the posturing. I love the rugby team so much.
WINGER was a slice-of-life novel, with no real big conflict looming over everyone. Just, Ryan Dean navigating his junior year and trying to win his sixteen year-old batchmate and best friend, Annie. Yes, Ryan Dean is in the dreaded friend zone and it doesn't help that he's two years younger than every junior, and that Annie calls him adorable or a kid. We also get to read Ryan Dean's interactions with his rugby teammates and his previous roommates in the regular dorm, JP and Seanie. Oh guys, I adore Seanie's dark humor and deadpans. Gah, I gobbled that up.
But definitely, my favorite of it all is Joey Cosentino, Ryan Dean's friend and the captain of the rugby team. Joey's gay and he came out last year and everyone was just so cool. His teammates were cool and his roommate Kevin was cool. I love how Andrew Smith didn't have a flamboyant gay character because masculinity and femininity are just social constructs. One can be a rugby player and be gay and it was just so wonderful that it's presented like that. Anyway, I love Joey because he's so sensible and reasonable and he's kind of like Ryan Dean's conscience. Ryan Dean and Joey easily became best of friends. They protected and covered for each other and just, their friendship! I especially love this quote, which made me laugh out loud.
"I timed it and everything. It was at least a minute and a half. That's not kissing. You're right. It's making out. It's practically having sex in public."
<spoiler>

I really like WINGER up until the end. I mean, I still adore it but at the end, something happened that I certainly did not expect. I felt cheated of my emotions, and that it was a cheap trick to pull that string right at the end. It's a legitimate way to create conflict because honestly, nothing was happening. There were mini conflicts sure but like I said, it was a slice-of-life novel. There's a sequel but I honestly could have done without it. I'd be glad to be back with the gang but it wouldn't be the same. I remember staring off into space while I was reading because I just felt so empty.

</spoiler>
I'd recommend WINGER to everybody because it's a great YA novel with such a defined voice. Like the blurb said, it was both hilarious and heartbreaking and isn't that what we feel when we look back into high school?
P.S. Absolutely love the cover and how it fits Ryan Dean so much. Even the stitches and the bloody nose! And please, eternal props to Sam Bosma for all the illustrations because GOLD.
About Andrew Smith
Andrew Smith is the award-winning author of several Young Adult novels, including the critically acclaimed Winger (Starred reviews in Publishers Weekly, Kirkus, Booklist, and Shelf Awareness—an Amazon "Best of the Year," and an ALA Top 10 for 2014) and The Marbury Lens (A YALSA BFYA, and Starred reviews and Best of the Year in both Publishers Weekly and Booklist). He is a native-born Californian who spent most of his formative years traveling the world. His university studies focused on Political Science, Journalism, and Literature. He has published numerous short stories and articles. Grasshopper Jungle, a starred novel by Kirkus, Publishers Weekly, School Library Journal, and Shelf Awareness, is his seventh novel. He lives in Southern California.
Website | Twitter | Facebook