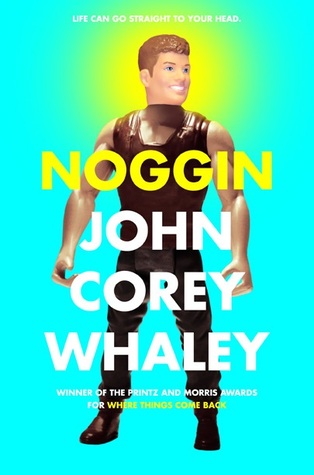 Title: Noggin
Author: John Corey Whaley
Publisher: Atheneum Books for Young Readers
Date of Publication: April 8, 2014
Listen — Travis Coates was alive once and then he wasn't.




Now he's alive again.




Simple as that.




The in between part is still a little fuzzy, but he can tell you that, at some point or another, his head got chopped off and shoved into a freezer in Denver, Colorado. Five years later, it was reattached to some other guy's body, and well, here he is. Despite all logic, he's still 16 and everything and everyone around him has changed. That includes his bedroom, his parents, his best friend, and his girlfriend. Or maybe she's not his girlfriend anymore? That's a bit fuzzy too.




Looks like if the new Travis and the old Travis are ever going to find a way to exist together, then there are going to be a few more scars.




Oh well, you only live twice.
My Rating: 5 out of 5 stars
Thank you to Kai of Amaterasu Reads for lending me an ARC! Getting to read the book for free did not affect my views of the novel.
I never planned on reading this book because I found the premise ridiculous, especially with my ~scientific sensibilities~. However, Christina of A Reader of Fictions gave it 4 stars and that's when I noticed all the raves about this book. Which just made me super curious that I ended up reading it before 2014 ended. Guys, the raves have been all true. This is such a wonderful book and I was right about holding off on posting my Best 2014 Reads post because if ever, I wouldn't have been able to include NOGGIN to the list. Yes, it was a shoo-in to the list even just with the first chapter.
The thing about NOGGIN is that the plot is so ridiculous that you just have to suspend disbelief and take it in stride. It isn't hard to do because Whaley takes it seriously. This is an alternate present, with the Internet and everything else. In my opinion though, the best thing Whaley achieved in this novel is to take this quite impossible character be a character everyone can relate to. Sure, no one among us has a different body after five years but the brilliance is in Travis's concerns and problems are universal. He wants things to go back the way they used to be, good ol' days with his best friend Kyle and girlfriend Cate. He wants to get her back. He wants to just be him and not this celebrity everyone's talking about. This person politicians, religious people, and scientists talk about. This person some people view as an inspiration and some who view as the devil incarnate. While THOSE weren't universal concerns, they are perfect parallels of actual real life issues. Who here hasn't feared or caved into peer pressure or parental expectations? Who here never felt the want to be left alone to freely do whatever he/she wants?
Some readers felt tired of Travis's quest to get back Cate because it was impossible as she's already engaged. While Travis is still a sixteen year-old, everyone around him aged in the five years he wasn't there. Kyle's little sister is even older than him. He's stuck in a playground while everyone's playing adult in a casino. It's such a stark contrast on how immature bordering on stubborn Travis was and how logical and mature everyone seems to be. He's the only one who believes Cate will run back to him when she sees him. While sure, it could have been repetitive to some people, I never got tired of reading NOGGIN and reading about Travis because I LOVE HIM.
Travis's voice is singlehandedly one of my favorite voices in YA. He's funny, in a self-deprecating way. He takes things in stride.
Travis Coates won me over right from the start with his hilarious voice and way of thinking. His musings in life were so on point and PREACH, TRAVIS, PREACH that I just want to hug him and be his friend. It was heartbreaking to read when he hurts and when he emerges victorious, you want to pump your fist along with him.
Don't assume though that NOGGIN just banks on the laughs for its greatness. Because as many times I busted a gut, it's rivaled by the times I just wanna hydrate a raisin back into a grape with my hypothetical tears that failed to appear because I was chuckling yet again.
It sneaks up on you. Then you just feel like crying but then Travis makes you laugh and it's another chapter of loving him and wanting him to succeed and be happy while also wanting to stop him and to be logical so as to avoid the inevitable heartbreak.
Here are two quotes I'm sharing to show you how introspective NOGGIN can get.
"No matter how often you see or talk to someone, no matter how much you know them or don't know them, you always fill up some space in their lives that can't ever be replaced the right way again once you leave it."
"You have to forget about people when you can't have them anymore. That's the only way to be okay."
NOGGIN is at its core a coming-of-age novel. Forget how improbable everything is because that's just the superficial packaging this story covers it with. Beneath it is a gem of a story, timeless. I highly recommend this one. I am URGING you to read it.
About John Corey Whaley
JOHN 'COREY' WHALEY grew up in the small town of Springhill, Louisiana, where he learned to be sarcastic and to tell stories. He has a B.A. in English from Louisiana Tech University, as well as an M.A in Secondary English Education. He started writing stories about aliens and underwater civilizations when he was around ten or eleven, but now writes realistic YA fiction (which sometimes includes zombies…). He taught public school for five years and spent much of that time daydreaming about being a full-time writer…and dodging his students' crafty projectiles. He is terrible at most sports, but is an occasional kayaker and bongo player. He is obsessed with movies, music, and traveling to new places. He is an incredibly picky eater and has never been punched in the face, though he has come quite close. One time, when he was a kid, he had a curse put on him by a strange woman in the arcade section of a Wal-Mart. His favorite word is defenestration. His favorite color is green. His favorite smell is books. He currently splits his time between Louisiana and Los Angeles.
Where Things Come Back is his first novel.
NOGGIN, his second novel, is out on April 8, 2014.