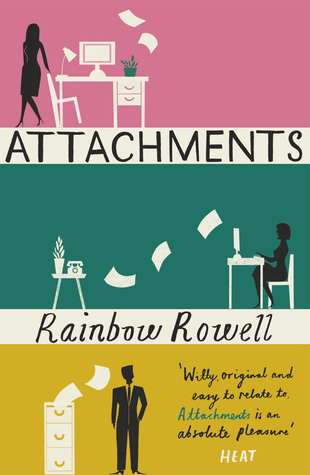 Title: Attachments
Author: Rainbow Rowell
Date of Publication: February 2, 2012
By day, two young women spend their hours emailing each other, discussing every aspect of their lives. By night, Lincoln, a lonely IT guy, spends his hours reading every exchange. Soon Lincoln is drawn into their lives, and finds himself falling for one of them. Lincoln decides it's time to muster the courage to follow his heart.
My Rating: 4 out of 5 stars
For the record, I love that I bought the UK edition a long time ago, even before Rainbow Rowell went big. It is SO pretty. Now, for my review! More like my thoughts, actually.
I read Attachments right after finishing Eleanor & Park, as I felt like binging on some sweet contemporary romance and Rainbow Rowell dishes that in spades if E&P is evidence. Compared to E&P, I think I related more to Attachments. Oh god, I'm getting old. Having mentioned in my E&P review that I didn't have a teenage love to look back on, Attachments was more my stride especially that I'm part of the working class now. The office gossip, the office best friend (who I've been friends with for almost eight years now but I only realized that she's my BFF when we're already working together), those goddamn people from the other department and OH, the tech guy. I personally have been afraid of our tech guy being a tattletale because of ~certain~ reasons. Haha! Anyway, the only point I'm trying to come across is that Attachments IS MY JAM.
I ADORED the characters in Attachments. Yes, capital adored. Beth and Jennifer's email exchanges were gold. I was chuckling A LOT while reading because Beth and Jennifer's humor is my kind of humor. I love them so much. Here's an excerpt from one of their conversations.
"Oh, I love period dramas, especially period dramas starring Colin Firth. I'm like Bridget Jones if she were actually fat."




"Oh... Colin Firth. He should only do period dramas. And period dramas should only star Colin Firth. (One-star upgrade for Colin Firth. Two stars for Colin Firth in a waistcoat.)"




"Keep typing his name, even his name is handsome."
See? My mom kept on looking at me while I was reading because I was in my own world busting my gut.
Lincoln was so cute and adorable. Sure, he's shy and yes, he's a geek, but he's so kind and nice. And he's currently clueless on what to do with his life. He's even living with his mom. His struggles were universal. A job he doesn't want but pays well, moral and ethics issues versus being happy and entertained (granted, he's hurting no one), finding love and purpose, not knowing what to do, all quarterlife crisis issues. With that, I absolutely related to Lincoln even though I'm younger than him. The unknown future is just so unknown and that's a bit scary.
While the circumstances of Beth and Lincoln's romance, while quirky, were definitely eyebrow-raising, you'll instantly forget the icky feeling because you'll just be bating your breath for Beth and Lincoln to finally meet. The great thing about Attachments is that it didn't gloss over Lincoln's stalker tendencies and instead, it discussed it. Lincoln hated that he's reading people's emails and conversations but he couldn't really stop because don't you know it, he's falling for the funny girl.
Aside from the romance, Attachments also spent a great deal of focus on each of our characters, showing us the trials and tribulations they faced and their imminent growth. You just want them all to be happy. But the BEST thing about their growth is that it isn't spurred by another person. They didn't try to be the best person they could be for some other person but it was for themselves. Sure, it might not be a self-realization, especially in Lincoln's part as he's helped by his sister and his friends, but he was the one who decided to CHANGE. The characters came to terms to whatever they need to work on or whatever they have to do by themselves. And I love that.
To end my review, here's a quote that I feel is apt for Attachments as well. The whole time I was reading, I knew I was having fun and I knew that it's a wonderful read.
I remember my immediate reaction after reading was "Aaaaaaaaaawwww <3" because it was so cute and fun and relatable. Thank you, Rainbow Rowell, for another sweet contemporary novel! Let us all chase our happiness.
"There are moments when you can't believe something wonderful is happening. And there are moments when your entire consciousness is filled with knowing absolutely that something wonderful is happening."
About Rainbow Rowell
Rainbow Rowell writes books.
Sometimes she writes about adults (Attachments and Landline).
Sometimes she writes about teenagers (Eleanor & Park and Fangirl).
But she always writes about people who talk a lot. And people who feel like they're screwing up. And people who fall in love.
When she's not writing, Rainbow is reading comic books, planning Disney World trips and arguing about things that don't really matter in the big scheme of things.
She lives in Nebraska with her husband and two sons.