Today, I'm sharing five YA books I recommend for some Christmas reading. These books will get you in the holiday spirit as they're set on December and are perfect for making the holidays warm and cute. Without further ado, here are my YA holiday reads!
Let's start with the very obvious choice, My True Love Gave To Me: Twelve Holiday Stories. You can click on the title to go to my review. Twelve authors banded together to make this anthology edited by Stephanie Perkins. These authors are Rainbow Rowell, Laini Taylor, David Levithan, Matt dela Pena, Kelly Link, Jenny Han, Gayle Forman, Holly Black, Ally Carter, Kiersten White, Myra McEntire and of course, Stephanie Perkins herself. This collection will surely get you into the holiday cheer with all its cuteness and its depth as well. Just, read this one!
I haven't reviewed this yet in the blog but The Incredible Adventures of Cinnamon Girl is by none other than Melissa Keil. Not familiar with her? I know, I think she's super underrated, which is sadly the case for a lot of Aussie authors. But come on, anything Aussie YA is great. This read is cute and unique as Christmas in Australia falls in the summer so I was a bit disoriented at first when they were finding the weather hot. Plus, it's about people flocking to Eden Valley because it's supposed to be the one place the Apocalypse won't affect. Yeah, right? Go get this now! (Or if you can't, Melissa Keil's Life in Outer Space is a nice alternative too. Not really set in December but it'll give you the appropriate Christmas feels. Click on the title for my review!)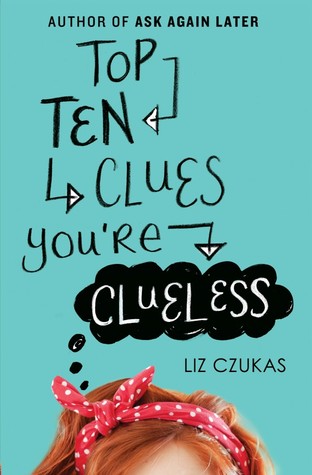 Up next is Top Ten Clues You're Clueless by Liz Czukas! Again, sorry but I haven't reviewed this yet. I planned on having the reviews of these books up before I posted this but time constraints and inspiration blocks, yo. Anyway, Liz definitely writes fun and cute and funny YA novels and I just dig her style and characters so much. The novel is set on Christmas Eve, with a dash of mystery too and some insulin problems. Chloe is diabetic! Be sure to grab this for your Christmas reading!
You can also try Liz's Ask Again Later, which while prom-themed, is still hella cute and HILARIOUS. Linked is my review!
We're down to our last two! Here's another short story collection from John Green, Maureen Johnson and Lauren Myracle. Let It Snow: Three Holiday Romances is composed of three stories intertwined and the pay-off is so satisfying and cute. You can check out my thoughts by clicking on the title!
The new cover is so pretty and I want it for my shelf. My copies a bit well-worn and it has the old cover. Anyone interested in gifting it to me? Haha! #shameless
And here's my last recommendation and my personal favorite. It's...
Dash & Lily's Book of Dares by Rachel Cohn and David Levithan! Guys, you'll see a glowing and raving review when you click the link. This is my favorite Christmas read because dares! Passing a Moleskine notebook! Dash! Lily! I re-read this precious novel EVERY CHRISTMAS SEASON. Since 2012. And it's a tradition I don't have any plan on changing. Just, so so perfect. Dash's snarliness contrasted to Lily's optimism. All the words, the words. I just love it sooooo much.
P.S. I'm also accepting the new version with the pretty cover as a gift. #shameless
P.P.S. It's not set during the holidays but I don't care but Lisa Mangum's After Hello (linked is my review) is P-E-R-F-E-C-T for holiday reading. Seriously. I swear. I swear on my hypothetical son named Vito. It is just too great to be so underrated so I need y'all to read it!
Now it's time for YOU to share your holiday reads. Are there just some books or stories you always read during the holiday season? Or you think are perfect to get any person into the holiday cheer? I'm very open to recommendations as you can see, I only have five. I have nothing else to add here. Maybe next year I can dish out more with the help of your recommendations. So feel free to comment!