Yes, I turned 21 today. Wee! I am legal in every nook and cranny of the world. Mehehe. Obviously, I'm still not mature and ~wise~ enough if I laugh with "mehehe".
Anyway, I'm a babbler so sorry. Here goes more babbling!
(Be nice. It's my birthday. Don't just skip to the giveaway. Yes, there's a giveaway! More like, giveawaySSSS. Yay!)
Last year, I had a massive celebration here in the blog for #DianneTurns20 and it made it seem like I'm so big on celebrations. Actually, I'm not. I am doing exactly nothing for my birthday and I'm playing hooky at work. That's my kind of fun! And my gift to myself. So for this year, I haven't had as much time to prepare and contact authors and publishers to sponsor #DianneTurns21 because I did just get a job this year and I'm also taking classes for my MS. So, yes, this year's celebration isn't as grand as last year's but still, I like giving books! To my readers! To anyone! So you'll still win tons of stuff in here.
Oh, and I also have another gift to myself. Notice anything new in the blog? Yes, I changed my blog design! I love it and I am so so so pumped to blog just so I can see it in this new layout. My previous one has been making me meh towards blogging so yay!
This year, I've experienced hopefully the biggest slump of my entire blogging career. I hope that was the biggest rut I'll ever get into because I hate ruts! A reviewing slump is fine, and a reading slump is fine, but loathing isn't fine. Thankfully, I am now learning how to balance my interests (movies! music! TV shows! sleeping! doing nothing! my other blog!) so I don't just read all the time. I've also acquiesced to being a mood reader and I don't care about reading and reviewing deadlines now. Well, I still care but I'm not stressing over it now.
I would also like to take this opportunity to thank the awesome people surrounding me in this wonderful community.
-To Sab, Charlie, Nina, and Precious, thank you for not just being my closest friends in the book blogging community but in real life as well. Blegh, this is so cheesy. Haha!
-To Pinoy Book Tours and all of its bloggers, thank you!
-To Filipino YA book bloggers, I love you all. I always look forward to meeting you at bookish events because I love your company.
-To all my publicist contacts, I'd be nothing without y'all. Forgive me if I sound like I'm begging at times. I do! #sorrynotsorry
-To my Oops! I Read Again tour hosts, thank you for indulging me with my love for organizing blog tours.
-To the authors who availed of my services, thank you for entrusting me your babies.
-To all the authors I love, thank you for making me want to read, read, read (sang to the tune of Taylor Swift's Shake It Off -- DAMN IT, TAYLOR) and for writing all the books I love. Especially to Elizabeth Fama and Daisy Whitney/Lauren Blakely.
-To National Book Store, especially JB Roperos (huhu, thank you for getting my Amy Tan books signed! and for not replying to my neurotic texts), you spoil me with all the authors you bring each month. Most of all, thank you for bringing Jennifer E. Smith, one of my favorite authors, here in the Philippines. I cry.
-Thank you to Fully Booked for being just a DM away into any book I'd like (and hence, to my money disappearing).
-To all my readers, thank you for tolerating me and my blog. Haha!
While One Direction didn't release their new song/video on my birthday like the past two years (Little Things, Story of My Life), they still released Steal My Girl recently so still, thank you, One Direction!
I already said a lot and I might be boring you so let's just get to the giveaways!
What a tease, right? Haha! Read more to get to them!
Giveaway #1: YA books!
This is open to Philippine residents only. So sorry! Shipping is costly, you guys. One winner will get ALL of these! What are the prizes, you ask?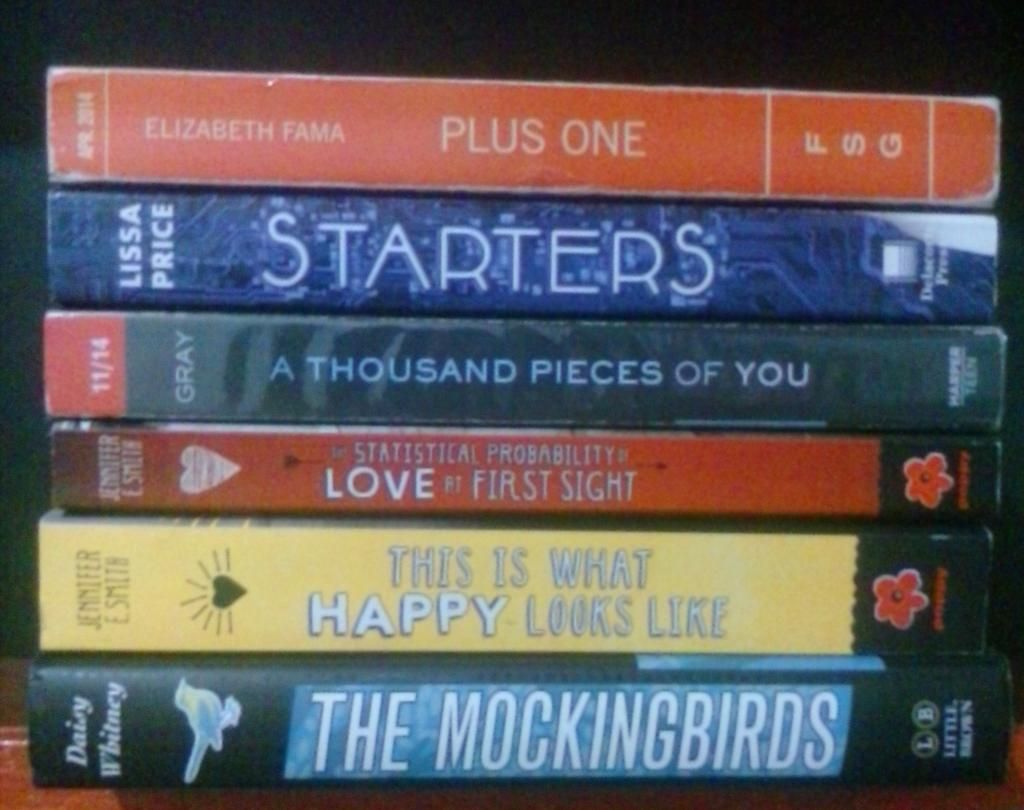 *signed* ARC of PLUS ONE by Elizabeth Fama
*signed* paperback of STARTERS by Lissa Price
*signed* ARC of A THOUSAND PIECES OF YOU by Claudia Gray
*signed* paperback of THE STATISTICAL PROBABILITY OF LOVE AT FIRST SIGHT by Jennifer E. Smith
*signed* paperback of THIS IS WHAT HAPPY LOOKS LIKE by Jennifer E. Smith
hardback of THE MOCKINGBIRDS by Daisy Whitney
Giveaway #2: MG books!
One winner will get this MG prize pack. This is open to Philippine residents only. Just wait, my international readers. You'll have your chance in a bit!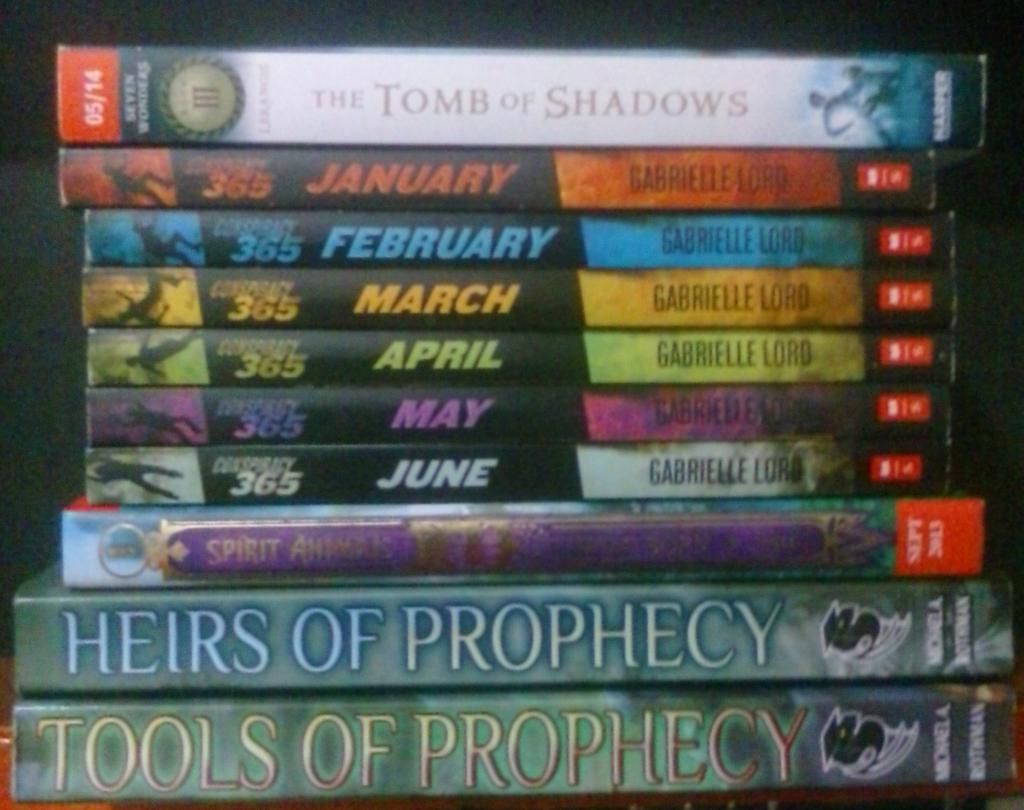 ARC of THE TOMB OF SHADOWS by Peter Lerangis
paperback of CONSPIRACY 365: JANUARY by Gabrielle Lord
paperback of CONSPIRACY 365: FEBRUARY by Gabrielle Lord
paperback of CONSPIRACY 365: MARCH by Gabrielle Lord
paperback of CONSPIRACY 365: APRIL by Gabrielle Lord
paperback of CONSPIRACY 365: MAY by Gabrielle Lord
paperback of CONSPIRACY 365: JUNE by Gabrielle Lord
ARC of WILD BORN by Brandon Mull
paperback of HEIRS OF PROPHECY by Michael A. Rothman
paperback of TOOLS OF PROPHECY by Michael A. Rothman
Uhm, guys, have you seen the talent that is Nicole's nail art designs? You should check out her Tumblr and I am so honored to be giving away a set of nail art decals by her. So proud of her too because she's been featured in Buzzfeed and authors all love her designs! One lucky Philippine resident will win this!
Giveaway #4: NA ebooks!
I'm giving away six (6) ebooks of new adult/mature YA reads I love and this one is finally open worldwide! One person will win all these and prizes include:
THE REAL SCORE by Kesh Tanglao
(UN)BREAKABLE by Kesh Tanglao
any book by Lauren Blakely (Because DUH, I love all of her books.)
a choice from WHATEVER LIFE THROWS AT YOU, THIRD DEGREE or LETTERS TO NOWHERE by Julie Cross
a choice between ALL LINED UP or ALL BROKE DOWN by Cora Carmack
LOVELY VICIOUS by Sara Wolf (or any book in the series)
Giveaway #5: Blog tour services!
One author will win a free blog tour organized by moi! Open internationally.
Giveaway #6: $21 worth from The Book Depository or a $21 Amazon GC
The winner can choose either $21 worth of books from The Book Depository or a $21 Amazon GC. Open worldwide!
Once again, thank you everyone for being with me these past two years I've been blogging. Good luck with the giveaways! <3