Thank you to National Book Store for bringing Marie Lu here in the Philippines! I'm so excited! To welcome her, Pinoy Book Tours is touring her newest book, THE YOUNG ELITES. Today, I'm hosting an excerpt and you can also win a signed copy!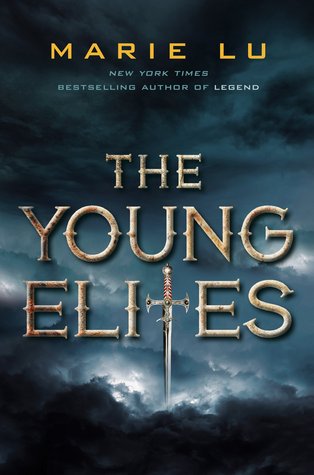 Title: The Young Elites (The Young Elites #1)
Author: Marie Lu
Publisher: Putnam Juvenile
Date of Publication: October 7, 2014
I am tired of being used, hurt, and cast aside.




Adelina Amouteru is a survivor of the blood fever. A decade ago, the deadly illness swept through her nation. Most of the infected perished, while many of the children who survived were left with strange markings. Adelina's black hair turned silver, her lashes went pale, and now she has only a jagged scar where her left eye once was. Her cruel father believes she is a malfetto, an abomination, ruining their family's good name and standing in the way of their fortune. But some of the fever's survivors are rumored to possess more than just scars—they are believed to have mysterious and powerful gifts, and though their identities remain secret, they have come to be called the Young Elites.




Teren Santoro works for the king. As Leader of the Inquisition Axis, it is his job to seek out the Young Elites, to destroy them before they destroy the nation. He believes the Young Elites to be dangerous and vengeful, but it's Teren who may possess the darkest secret of all.




Enzo Valenciano is a member of the Dagger Society. This secret sect of Young Elites seeks out others like them before the Inquisition Axis can. But when the Daggers find Adelina, they discover someone with powers like they've never seen.




Adelina wants to believe Enzo is on her side, and that Teren is the true enemy. But the lives of these three will collide in unexpected ways, as each fights a very different and personal battle. But of one thing they are all certain: Adelina has abilities that shouldn't belong in this world. A vengeful blackness in her heart. And a desire to destroy all who dare to cross her.




It is my turn to use. My turn to hurt.
Excerpt
Adelina Amouteru
I'm going to die tomorrow morning.
That's what the Inquisitors tell me, anyway, when they visit my cell. I've been in here for weeks—I know this only because I've been counting the number of times my meals come.
I stopped counting after that. The hours run together, an endless train of nothingness, filled with different slants of light and the shiver of cold, wet stone, the pieces of my sanity, the disjointed whispers of my thoughts.
But tomorrow, my time ends. They're going to burn me at the stake in the central market square, for all to see. The Inquisitors tell me a crowd has already begun to gather outside.
I sit straight, the way I was always taught. My shoulders don't touch the wall. It takes me a while to realize that I'm rocking back and forth, perhaps to stay sane, perhaps just to keep warm. I hum an old lullaby too, one my mother used to sing to me when I was very little. I do my best to imitate her voice, a sweet and delicate sound, but my notes come out cracked and hoarse, nothing like what I remember. I stop trying.
It's so damp down here. Water trickles from above my door and has painted a groove into the stone wall, discolored green and black with grime. My hair is matted, and my nails are caked with blood and dirt. I want to scrub them clean. Is it strange that all I can think about on my last day is how filthy I am? If my little sister were here, she'd murmur something reassuring and soak my hands in warm water.
I can't stop wondering if she's okay. She hasn't come to see me.
I lower my head into my hands. How did I end up like this?
But I know how, of course. It's because I'm a murderer.
About Marie Lu
I write young adult novels, and have a special love for dystopian books. Ironically, I was born in 1984. Before becoming a full-time writer, I was an Art Director at a video game company. Now I shuffle around at home and talk to myself a lot. :)
I graduated from the University of Southern California in '06 and currently live in LA, where I spend my time stuck on the freeways.
Giveaway
See you at #MarieLuinPH!