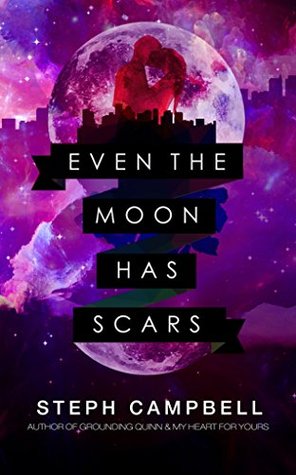 Title: Even the Moon Has Scars
Author: Steph Campbell
Date of Publication: October 28, 2014
Genre: contemporary YA romance
Two strangers.

Two broken hearts.

One night to set each other free.




Almost dying from an undiagnosed heart condition means every second of your life is a precious gift to be guarded.

Lena Pettitt was born a miracle.

And her parents never let her forget it.

Even if that daily reminder kept her from experiencing the one thing they were trying to protect most--her life.




Gabriel Martinez's heart has been ripped out.

His pride has been stomped on.

Oh, and he now has an arrest record that's caused an even bigger rift between him and his DA mother. All for a love that wasn't really true.




Now he's exiled to his grandmother's, working on his late grandpa's old Corvair, when a shivering girl knocks on the garage door. Lena, left alone for the first time ever, has locked herself out of her house. Gabe knows he could help this girl get back inside her house--but that may mean missing the next train to Boston to pick up the part he's spent eight weeks tracking down. She can wait for him at his grandmother's or…




A few hours, an aluminum valve cover, and some strong coffee later, neither Gabe nor Lena can feign disappointment when they race to the station and arrive just as the last train home from Boston is pulling out.




As jaded as he is, Gabe can't deny the fact that he's excited to spend the night exploring a city he knows nearly every corner of, with a girl who sees magic in the simplest things.




Lena has been waiting for her tiny world to crack open her entire life. Now that it's finally happened, she finds the only thing she can focus on is the unexpected tour guide who opens her eyes to possibilities she never imagined.




All they have is this one night, together, under the bright moon in a city full of hidden beauty.

It's one night that will change how they see the world and the paths their hearts will take forever.
Review
My Rating: 3 out of 5 stars
Thank you to Autumn of Wordsmith Publicity and Steph Campbell for the electronic review copy. Having received one did not affect my views of the novel.
When I randomly learned that Steph Campbell had a new book coming out, I squeaked like a mouse at the end of a pot of cheese. It's Steph Campbell! I know, she isn't as visible in my blog as I'd like to be but that's because I read her novels before I started blogging. She just writes characters you can relate to and you'll root for. The title was also so intriguing, Even the Moon Has Scars. Then I saw the cover. Oh goodness gracious, this cover. Not only is it gorgeous, it fits the novel. And I mean, it's so different from all the covers out there in my opinion. It can pass as a sci-fi novel but then you see the skyline and the silhouette of a boy and a girl. And just, I love everything about it. With all of these, I was in, hook, line, and sinker for this novel. Bring it on!
Thankfully, I got into the tour! And I now have the chance to spread the love for Steph Campbell and her books. First, the characters. Steph Campbell has yet again wrote such wonderful characters you'll love. We have Lena, who is nothing short of a miracle with how she actually died but lived again from her congenital heart disease. With this, her parents treat her as if she's fragile and are very protective. She's homeschooled, she can't be by herself even in their house, they want her to attend the closest college there is. She's smothered, smothered with love, yes, but Lena has been wanting to live and experience life.
Then we have Gabe, son of the district attorney. After getting in jail for punching a cop in plainclothes for his ex-girlfriend, his mother ships him off just outside of Boston to live with his grandmother for an indefinite amount of time. His grades are no good, he got into trouble so much and the works. His grandfather died last year, his father left them, his mother cares more about her image and being re-elected than him, and his ex-girlfriend just landed him in jail. Life sucks for Gabe.
With a twist of luck, or fate, or whatever force you'd like to call it, Lena ends up locked out of her house the first time she's ever alone. She goes to a neighbor's house to ask for help and lo and behold, Gabe's tinkering with his grandfather's car. Gabe's game to help Lena but he needs to pick up a rare car part first in the city before the shop closes. Here starts Lena and Gabe's night of adventure and eeeekkk!
Seriously, don't tell me you're not swooning yet with the prospect of a magical night? In a city? With a stranger? Because even before starting the novel, the idea of that had me excited! As expected, the pages flied by and it gave me a feeling of possibility, of what beauty could lurk in the corners that I never noticed until it catches me off-guard. Gabe and Lena tour Harvard, drink trashy coffee, ride the T, drink awesome coffee, eat pies, attend a Polish wedding, dance at night, and more. And more. With every stop they made in the city, they got to know each other more and what once were strangers were now confidantes. Ah really, I'm a sucker for this set-up! Reminded me so much of Jennifer E. Smith's The Statistical Probability of Love at First Sight.
I love how both different and still, similar, Gabe and Lena are. Gabe has all the freedom but none of the love. Lena has all the love but none of the freedom. Together, they explore the city, Lena seeing it for the first time, Gabe seeing it in another light. Before you write off Lena and Gabe as the usual naive girl and the bad boy, stop. Stop right there. Lena is shy yet sassy and I never really bought that Gabe is a bad boy. He has such a big heart and he just got into trouble because of his ex-girlfriend. But then, his mother doesn't see any of that. Doesn't see him, actually. I just love these characters!
Even the Moon Has Scars is perfect for fans of Jennifer E. Smith and for anyone looking for that kismet in their books. ETMHS, aside from being a romantic story, is equally a story on families.
About Steph Campbell
Steph Campbell grew up in Southern California, but now lives in the hot, humid south. She has one husband, four children and a serious nail polish obsession. When she's not writing or taking care of her brood, she's reading or scouring travel sites, always ready for life's next adventure.
Giveaway
Follow the Tour