In six days, WHATEVER LIFE THROWS AT YOU by Julie Cross is coming out! Julie is one of my most loved authors so I'm so excited for this release (I will read it this weekend!) and so pumped to share the trailer too! Get your excitement on for this now!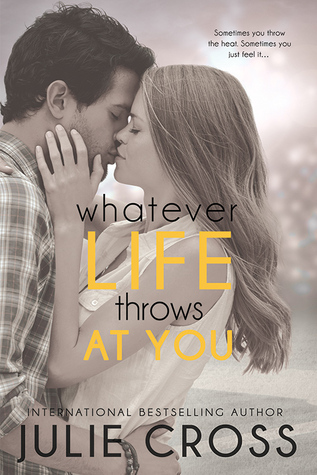 Title: Whatever Life Throws at You
Author: Julie Cross
Publisher: Entangled Teen
Date of Publication: October 7, 2014
Life loves a good curveball…




Seventeen-year-old Annie Lucas's life is completely upended the moment her dad returns to the major leagues as the new pitching coach for the Kansas City Royals. Now she's living in Missouri (too cold), attending an all-girls school (no boys), and navigating the strange world of professional sports. But Annie has dreams of her own—most of which involve placing first at every track meet…and one starring the Royals' super-hot rookie pitcher.




But nineteen-year-old Jason Brody is completely, utterly, and totally off-limits. Besides, her dad would kill them both several times over. Not to mention Brody has something of a past, and his fan club is filled with C-cupped models, not smart-mouthed high school "brats" who can run the pants off every player on the team. Annie has enough on her plate without taking their friendship to the next level. The last thing she should be doing is falling in love.




But baseball isn't just a game. It's life. And sometimes, it can break your heart…
Trailer
About Julie Cross
Julie Cross lives in Central Illinois with her husband and three children. She's a former gymnast and longtime gymnastics fan, coach, and former gymnastics program director with the YMCA. She's a lover of books, devouring several novels a week, especially in the young adult and new adult genres. Outside of her reading and writing credentials, Julie is a committed—but not talented—long-distance runner, creator of imaginary beach vacations, Midwest bipolar-weather survivor, and expired CPR certification card holder, as well as a ponytail and gym-shoe addict.