I've been waiting for ALL BROKE DOWN ever since I loved and worshipped ALL LINED UP, the first book in Cora Carmack's new adult Rusk University series. And I mean, bowed down and gave all my love. You can read my review and see for yourself. If you haven't read ALU, seriously, WHY? You need to read it, stat! But no worries if you haven't, the books in this series can be read as a standalone so you can read them in any order.

Anyway, my point is, ALL BROKE DOWN IS OUT TODAY!!! To celebrate, here's my review and a lovely giveaway where you can win the books in the series. Woo to the hoo!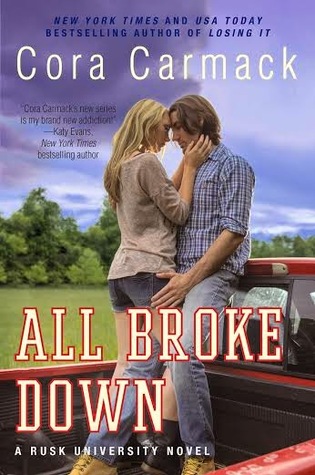 Title: All Broke Down (Rusk University #2)
Author: Cora Carmack
Publisher: William Morrow Paperbacks
Date of Publication: October 28, 2014
In this second book in New York Times and USA Today bestselling author Cora Carmack s New Adult, Texas-set Rusk University series, which began with All Lined Up, a young woman discovers that you can't only fight for what you believe in... sometimes you have to fight for what you love.




Dylan fights for lost causes. Probably because she used to be one.




Environmental issues, civil rights, corrupt corporations, and politicians you name it, she's probably been involved in a protest. When her latest cause lands her in jail overnight, she meets Silas Moore. He's in for a different kind of fighting. And though he's arrogant and infuriating, she can't help being fascinated with him. Yet another lost cause.




Football and trouble are the only things that have ever come naturally to Silas. And it's trouble that lands him in a cell next to do-gooder Dylan. He's met girls like her before fixers, he calls them, desperate to heal the damage and make him into their ideal boyfriend. But he doesn't think he's broken, and he definitely doesn't need a girlfriend trying to change him. Until, that is, his anger issues and rash decisions threaten the only thing he really cares about: his spot on the Rusk University football team. Dylan might just be the perfect girl to help.




Because Silas Moore needs some fixing after all.
Review
My Rating: 4 out of 5 stars

Thank you to Jessie of HarperCollins and Edelweiss for the review copy! Having received one did not affect my views of the novel in any way.

Like I said, I've been impatiently waiting for ALL BROKE DOWN for months because SILAS. MOORE. If you've read All Lined Up, I'm sure you're also like me who wanted to get to know Silas more. Sure, he could be a cocky jock (and sometimes an asshole) but he's a decent person. He just likes to joke around and take things lightly, never being serious unless it's a game. You also saw a glimpse of the depth of his character and I'm sure you wished for the next book to be focused on him. And yes, Cora Carmack answers prayers because here it is! I practically begged Jessie for an eARC of All Broke Down because I would have cried if I didn't get to read it early. SILAS MOOOOORE.

And lord, does Cora Carmack deliver all the goods! I read ABD during a cold, stormy night and it was as if it wasn't even raining because All Broke Down is steaming! I seriously got hot and bothered with the scenes because they will make you fan yourself and look away and blush like a schoolgirl. I don't suggest reading this in public unless getting turned on in public is your thing. So for the sizzling factor, All Broke Down definitely got it in spades.

Okay, forgive me for tackling the steaminess first. I just had to get that out and now, as I remember those scenes, my face is heating up again. Now, let's get to the characters. I was correct. Silas Moore is definitely deeper and more dimensional than what we read of him in ALU. Then we also have Dylan, who couldn't have been more different than Silas. However, as we get to know both of them and as they get to know each other, we see that they have lots in common. Both have pasts they wish weren't a part of who they are and which they absolutely want to get away from. They're looking for the other to fix them. I usually hate this kind of set-up because I always think that another person doesn't fix or complete you. Only you can do that. But give it to Cora Carmack to make me not roll my eyes. Because you see it. Silas and Dylan are so good for each other. They just click and fit.

Some people loved ALU more than ABD and some found ABD even better than ALU. I'm of the former, in that, I still love ALU more. I hate to compare but I can't help it because I was so ready for All Broke Down to be another five-star read. Knowing Cora, that's not a long shot. Still, I kept my expectations low for this book but for me, it didn't live up to All Lined Up. I guess I'm just a fan of the slow-burning romance and the delayed gratification for the sexy scenes like in ALU. Silas and Dylan got intimate quite fast and while I dig that too, you could blame that bit why this isn't a five-star read. Moreover, I didn't connect with Dylan as much as I wanted to but no worries because I was so on Silas's side all the way. I wanted him to succeed and get the girl and manage his anger issues. Silas Moore <3

But please, don't think All Broke Down isn't great. It is! I love it too and I love this series so so much. Cora just knows how to write sexy scenes without being THAT graphic and lewd. But not only is she a pro in the steam, she can also pull on the heartstrings and make you feel for the characters. The emotions felt by the characters and their issues and problems really came across to me as a reader.

For those who enjoyed All Lined Up, our favorite Rusk University Wildcats and all the other amazing characters also appear in here. It was such a joy to read about Dallas and Carson because hello, I SHIP AND LOVE THEM SO MUCH. Really, everything was such a blast to read.

All in all, yet another fantastic new adult novel from Cora Carmack! With All Broke Down, Cora Carmack is cementing her as one of THE new adult authors you have to follow and read. I highly recommend All Broke Down for new adult fans, romance fans and fans of books infused with sports!
About Cora Carmack
Cora Carmack is a twenty-something writer who likes to write about twenty-something characters. She's done a multitude of things in her life-- boring jobs (like working retail), Fun jobs (like working in a theatre), stressful jobs (like teaching), and dream jobs (like writing). She enjoys placing her characters in the most awkward situations possible, and then trying to help them get a boyfriend out of it. Awkward people need love, too. Her first book, LOSING IT, is a New York Times and USA Today bestseller.
Giveaway