I've read this book back in July and it has been sitting in my drafts for so long. I finally decided to just get it over it. So here's my review of the mature YA/NA contemporary romance debut of Amber Hart, BEFORE YOU!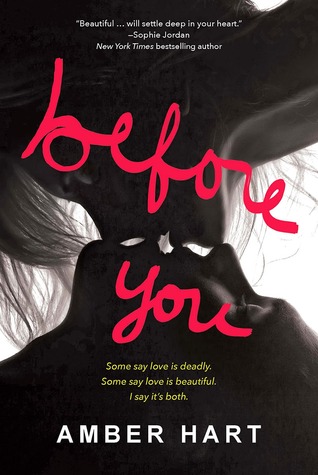 Title: Before You (Before & After #1)
Author: Amber Hart
Publisher: Kensington Teen
Date of Publication: July 29, 2014
Some say love is deadly. Some say love is beautiful. I say it is both.




Faith Watters spent her junior year traveling the world, studying in exquisite places, before returning to Oviedo High School. From the outside her life is picture-perfect. Captain of the dance team. Popular. Happy. Too bad it's all a lie.




It will haunt me. It will claim me. It will shatter me. And I don't care.




Eighteen-year-old Diego Alvarez hates his new life in the States, but staying in Cuba is not an option. Covered in tattoos and scars, Diego doesn't stand a chance of fitting in. Nor does he want to. His only concern is staying hidden from his past—a past, which if it were to surface, would cost him everything. Including his life.




At Oviedo High School, it seems that Faith Watters and Diego Alvarez do not belong together. But fate is as tricky as it is lovely. Freedom with no restraint is what they long for. What they get is something different entirely.




Love—it will ruin you and save you, both.
Review
My Rating: 3 out of 5 stars
Thank you to Kensington and NetGalley for the review copy! Having received one did not affect my views of the novel.

I've read Before You before reading His Reverie and this is definitely better than the latter. Waaaaay better. I had to compare because both have the same premise and spoiler alert for His Reverie, both have heroines that are daughters of a church pastor. Glad to say that Before You has more depth and has more dimensional characters you'll root for.

My feelings for this book have been very confusing. It was like teetering on a three-way seesaw if ever there is something like that. I was so excited for this book that I even featured it as a Waiting on Wednesday. It's just that I read the first chapters and damn, I was hooked. So when I finally started it, I already felt that I'll give it four stars. Then le slump happened and I couldn't keep my attention and interest with the book. I kept finding reasons why it's not working for me and why I'm not liking it. In the interest of fairness, I dropped the book for a bit and picked it up when I was in a better mood. Then it was smooth sailing after that. It went to a four-star again then something happened and I was shouting at home and I was ready to give the book five stars even with all the things I didn't like at first but then meh, Amber Hart didn't follow through the shocking and shattering plot arc so it went back to four stars. Then after some time, my loving views regarding the novel petered out and it went back to three stars.

Don't get me wrong, I love the characters. I thought they were dimensional and I was rooting for each of them. Faith is the pastor's daughter and she has been dressing very conservatively and has been dating the same boring guy for the longest time. Everything she does is calculated as she doesn't want to bring shame to her father. The only real thing she shows is her love for dance. She has been harboring a secret too that only her family and her best friend know. Because Faith Watters is not perfect. She is so far from perfect.

Then we have Diego Alvarez. His family fled Cuba after the mob killed his mother and almost killed him and his father. He's the quintessential thug-looking Hispanic with all his scars and tattoos but of course, inside, he just loves his family. I especially love Diego's scenes with his cousin Javier and his very large extended family. Sure, the characters aren't exactly unique but they check all the boxes: motivations, secrets, wants, needs, and everything else.

One of the main themes of Before You is expectation. Faith is expected to be conservative, nice and perfect, when she isn't. Diego is expected to be bad and even if he didn't start a fight, he's always the suspect. I love how Amber Hart tackled the very real divide race incurs. It's the 21st century, yes, but ethnic and racial discrimination is still everywhere. We might not be doing it purposefully but it is so ingrained on our minds. Really, this novel touched upon a lot of subjects, such as drugs, poverty, and a whole lot more. I applaud Amber Hart for dealing with social issues, making them innate into the story, which allows time for romance. However, it just felt like Faith's preachy and all. Oh, yes, it's in dual POV so yay!

Now, I think Before You lost me in the romance department. Sure, Faith and Diego have crackling chemistry but yes, it is a wee bit instalove. All my issues are rooted in there so I can't really discuss it. Plus, I really don't approve of using other people to make the other person jealous.

Anyway, there's this big twist at the end which made me hyperventilate and which broke my heart. But then, Amber Hart didn't push through with it so we can get our HEA. I already admitted defeat and that this is a heartbreaking novel but <spoiler alert>

HOW MANY TIMES CAN A PERSON DIE BUT NOT REALLY DIE??? TWICE IS TOO MANY TIMES ALREADY

<end of spoiler>. I had issues with the ending bit. But it was still a four-star at this point.

It got to three stars when I remembered how forced the writing was to me, especially Faith's perspective. Just, while I was reading it during my slump, it felt like it was trying too hard to be poetic? To be lyrical? It was full of short sentences, with all that italics. It was so angsty that it felt fake to me. I don't know, maybe it's just me and that slump talking.

Even though I didn't fully love this book, I still recommend it. I think I would have loved it if I read it at a different time. I'm a fan of Katie McGarry and Amber Hart's writing is reminiscent of Katie's. I even think Before You is like the heightened and more frighteningly real version of Crash into You. We have actual mobs and gangs in here who are old and really scary. Real danger alert! Anyway, Before You would be perfect for fans of Katie McGarry and those who love angst in YA.
About Amber Hart

Amber Hart grew up in Orlando, Florida and Atlanta, Georgia. She now resides in the Smoky Mountains with family. When unable to find a book, she can be found writing or daydreaming. She's the author of the Before & After series (BEFORE YOU, AFTER US, MAYBE ME), and the Until You Find Me series (UNTIL YOU FIND ME, sequel TBA). Rep'd by Beth Miller of Writers House.

Website | Twitter | Facebook