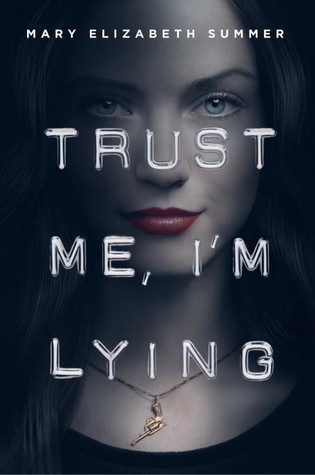 Title: Trust Me, I'm Lying
Author: Mary Elizabeth Summer
Publisher: Delacorte Press
Date of Publication: October 14, 2014
Fans of Ally Carter, especially her Heist Society readers, will love this teen mystery/thriller with sarcastic wit, a hint of romance, and Ocean's Eleven–inspired action.




Julep Dupree tells lies. A lot of them. She's a con artist, a master of disguise, and a sophomore at Chicago's swanky St. Agatha High, where her father, an old-school grifter with a weakness for the ponies, sends her to so she can learn to mingle with the upper crust. For extra spending money Julep doesn't rely on her dad—she runs petty scams for her classmates while dodging the dean of students and maintaining an A+ (okay, A-) average.




But when she comes home one day to a ransacked apartment and her father gone, Julep's carefully laid plans for an expenses-paid golden ticket to Yale start to unravel. Even with help from St. Agatha's resident Prince Charming, Tyler Richland, and her loyal hacker sidekick, Sam, Julep struggles to trace her dad's trail of clues through a maze of creepy stalkers, hit attempts, family secrets, and worse, the threat of foster care. With everything she has at stake, Julep's in way over her head . . . but that's not going to stop her from using every trick in the book to find her dad before his mark finds her. Because that would be criminal.
Review
My Rating: 4 out of 5 stars
Thank you to Mary Elizabeth Summers and NetGalley for the review copy! This in no way affected my views of the novel.
What a solid read! I was hooked right from the first sentence. Who wouldn't be with this?
I can't say I have much personal experience with conscience.
You got me, Julep Dupree, hook, line and sinker. Reading this book was a blast! I've always been a fan of mysteries and thrillers, whether in literature, film or TV, especially those involving spies. But what I even love better than spies? Grifters. Con artists. Swindlers. Yes, those are my favorite characters of all time. Neal Caffrey from White Collar definitely made me a full-fledged grifter-loving person (not firsthand though but in medium). Julep explained it so good, that con artists make people believe that something that doesn't exist exists. They're making people trust them only to POOF, you've been duped.
We start the novel on the job, of course, where we get introduced to Julep's best friend and sidekick, Sam Seward. They both go to this super swanky private school and Julep's known there, hush hush of course, as a fixer. In fact, we get to meet Murphy right after, a geek, hiring her to make the hottest girl in school, Bryn Halverson, to be his date in the upcoming dance. He has liked her ever since middle school, when she was far from hot. His earnestness is so cute.
But then, when Julep goes home, her apartment is ransacked and she's sure it has something to do with her dad, the grifter who taught her all she knows. All she has is a gun and what might be a clue. It is now up to Julep, and Sam, and all her wits and smart and the favors she has racked up, to solve the mystery. Where is her father? Why is he missing? Who are they up against with?
And that's how we get all the gears rolling in this high-staked novel. Don't even think that just because we have a sixteen year-old lead that the dangers in this book are petty. No missy, they aren't. The clues were really hard and dangerous to find and even then, they aren't really clues. They're just riddles that don't make any sense. Another thing I love? Sleuthing. Oh good lord, Nancy Drew was my hero back then and as Julep channels her inner Nancy Drew, I end up sucked even more to this book.
With that in the clear, I guess I shall discuss the romantic bits then. As expected, I'm #TeamSam because he's the best friend! He's the sidekick! He's the underdog. Even if we all know that Julep only sees him as a friend. However, I can't deny though that Tyler was really sweet and helpful and very concerned about Julep's situation. He brought her pizza! He helped her forge fake IDs! Yes, Trust Me, I'm Lying could be a little bit cheesy at times but I didn't really care because Julep's sixteen and she never really thought about fluttery stomach and tachycardia feelings before. She's just keen on getting to Yale and I wouldn't blame her to like Tyler because let's face it, Tyler is so likable.
I really like the teens and actually, all of the characters in here. The dean, Mike, Murphy, Heather, Dani, everyone! Sure, they could be a bit stereotypical but they were all full of heart.
And if you think this novel is all rainbows and unicorns at the end, you're wrong. I was actually shocked at how the author went far with the plot and I just applaud Mary Elizabeth Summer because DAMN, THAT WAS GREAT. It didn't bode well for my heart but that was freakin' amazing. No spoilers here but guys, this is not fluff. Moreover, Juleps' ruminations about her family, her past, her future, her priorities, they were legitimately issues you can relate to. Sure, not everyone wears disguises to get into private clubs but Julep's wants and dreams are very realistic of someone who wants to move on from her status quo.
The end of the novel wasn't a cliffhanger but it definitely ended wherein there can be a next book and this could be a series. And I say, YES, MAKE IT A SERIES. For once, I actually want more. I highly enjoyed Julep's voice and I want to read more of her antics and scams and jobs.
I'd hate to use the actual blurb to pitch this book but it sums it up perfectly. Fans of Ally Carter will really dig this book. We got a Ukrainian mob, a hacker sidekick best friend who just might be in love with our heroine, the hottest guy in school who insists on helping her, and a missing dad. Add to that the stress of making the hottest girl in school go with a nerd for a dance, making fake IDs for high school kids to party with, oh you, should I list them all? Julep will win you with her affinity for the sarcastic, her street smarts and her heart. Mix in lots of action, scheming, sleuthing and grifting and I am fawning all over Mary Elizabeth Summer's debut novel. It's just her freaking debut novel and it's this addicting! Trust Me, I'm Lying is another great addition to mystery thrillers in YA! I definitely recommend this book to everyone!
About Mary Elizabeth Summers
Mary Elizabeth Summer is an instructional designer, a mom, a champion of the serial comma, and a pie junkie. Oh, and she sometimes writes books about teenage delinquents saving the day. She lives in Portland, Oregon with her daughter, her partner, and her evil overlor–er, cat. TRUST ME, I'M LYING, a YA mystery, will be released by Delacorte in Fall 2014.
Website | Twitter | Facebook
Giveaway
Follow the Tour