You guys. I dig this series so much it's all I talk about for weeks now. And now, Remember Me, the second book in the series, is here! If you're not on the Romily Bernard train yet, now's a good time to start.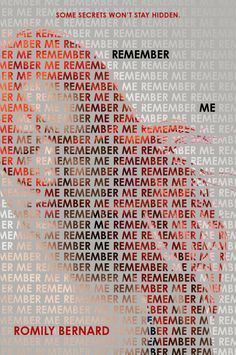 Title: Remember Me (Find Me #2)
Author: Romily Bernard
Date of Publication: September 23, 2014
In the sequel to Find Me, Wick Tate, sarcastic teen hacker, is back and once again dealing with criminals and corrupt cops…and a brooding new love interest. Will Wick persevere when some secrets refuse to stay hidden?




Wick had thought her troubles were over.




But she should've known better.




Not only is she embroiled in a new murder case, which starts with a body with "Remember Me" carved into it and doesn't stop there, but she also discovers new evidence surrounding her mother's suicide…which leads her right back to her imprisoned deadbeat dad. And she has to deal with her flirty new hacker friend, Milo, sniffing around—which her boyfriend, Griff, isn't too happy about.




The pressure might be too much as secrets—including Wick's own—climb to the surface.




Remember Me is an edge-of-your-seat thrilling read that'll have readers turning the pages at lightning speed! The paperback of Find Me is on sale simultaneously, and a digital original novella from Romily, featuring Griff, is on sale just a few weeks before!
Review
My Rating: 4 out of 5 stars
Thank you to Harper Teen and Edelweiss for the review copy! Receiving a copy did not affect my views in any way. There will be spoilers from the first book so read at your own risk!
I really liked FIND ME (click for my review) but this series got elevated to I-love-it status after I've read Griff's prequel novella, LIE FOR ME (click for review). I've had an eARC of REMEMBER ME in my Kindle for months but only after squealing like a sugar-high kid because of Lie for Me did I turn into NEED-TO-READ-REMEMBER-ME-NOW. In fact, I dropped everything I was doing and just read. Screw reading schedules, I needed my dose of awesome hacker Wick, her intense chemistry with Griff, Griff, and the expected mystery thriller YA novel Romily Bernard will surely deliver. And goodness, delivered on your doorstep with a freebie on the side (*ahem Milo ahem*). I've actually read Remember Me twice already. Yeap. That good. So, what exactly makes Remember Me awesome?
The mystery, specifically, the murder. So in Find Me, Wick's friend Tessa committed suicide because of someone and that person was targeting Wick's younger sister Lily next. It was up to Wick to find who pushed Tessa to take her own life and who's threatening her sister. With her hacking skills and with Griff's help, she solved it but without repercussions. A bad arm, fear of darkness and some more issues are the scars left by Wick's previous dash with danger. It isn't at all different in here because Judge Bay's assistant was murdered, with the words "Remember Me". It is now again up to Wick to solve the murder, thanks to Carson, the cop who is now using her to solve his cases, with Wick's illegal extracurricular hacking activities as his leverage.
The extra mysteries. Not only do we have a murder on hand, someone is also sending Wick evidence about her mother's death. Not only that, we also get another dead body and another dead body too. Romily Bernard has made this all the more darker than the first book! *giddy eye glint* I believe that the more deaths (in mysteries), the merrier!
Illegal activities abound! More hacking, more breaking and entering, more illegal things. It might not be realistic but who cares! I read books because I can live a thousand lives through them! All that breaking and entering by Wick. The explosives. The tracking. Everything.
Wick's personal issues. Picking up from the events of the first book, Wick and Lily are now living with Bren and after everything that went down, Bren becomes overprotective. And very hardworking too because the town is looking down upon Bren. Aside from Wick's difficulty in connecting with Bren, especially now with her receiving all these DVD tapes about her mother, we also get more of a feel of what Wick thinks. How she wants to be good but ultimately ends up being bad. How she doesn't want to be fragile around Griff but he makes her feel special, wanted and breakable. How she will and actually did sacrifice her own freedom just so she can protect the ones she love. We read a lot of Wick's internal struggles and thoughts and I just love that Romily Bernard further explored Wick's character and personality.
The romance and Griff, oh Griff. I mean, COME ON. Griff is at the top of my favorite YA heroes. A hacker, rides a motorcycle, an artist, caring, altruistic, has a self-deprecating humor, filial, sensitive, supportive, sexy, really, this list can go on and on. Like the previous book, Wick and Griff's chemistry was sizzling and SERIOUSLY, how did you do it, Romily? This book is for YA readers but I felt hot while reading it. Just proof of how great Romily is at writing scenes oozing with romantic chemistry and leads that you just want to grow up and translocate to a new adult novel. Haha!
We also get a third wheel in the whole romance. Yes, there's a love triangle but while some of you might feel off about this, I was like, GAME! Wick became a bit of a noble idiot in here but for once, I didn't care. I thought Milo's entrance into Wick's life, who's a computer builder who believes that Wick should do what she's great at which is hacking, was organic. He wasn't introduced just because we need a love triangle to shake things but he was the opposite of Griff's kind character. While Griff would be a person who'll tell authorities about a bully, Milo and Wick are the type who'll get revenge. I love the contrast that Romily showed and so, I was down with Wick loving Griff but liking Milo too because he understands her. And don't we all crave understanding? Plus, Milo's hot too. Hehe. I will be Team Griffick forever but that's because I want Milo for myself. Kidding! Haha! But really, I still ship Griff and Wick.
I hate to say this but Remember Me was gearing up to be a five-star read for me right from the start but the drop in the rating was caused by the big ole reveal and the resolution. It felt rushed to me and while I didn't guess right away whodunit (like I did with Find Me) because my brain was pretty much a mush, the conclusion wasn't satisfying to me. Not only did it felt rushed but for me, it came out of nowhere? Or maybe I wasn't just paying attention because like I said, mushed brain.
However, damn that ending! Romily Bernard definitely knows how to write endings because BAM I need the third book!
I highly recommend the Find Me series to any mystery-loving YA reader because this series rock, you guys. Hacking! Illegal fun times! Cracking cases! Romance! Sarcastic badass heroine and a very sweet hero! Just, READ THIS SERIES.
About Romily Bernard
I graduated from Georgia State University with a Literature degree. Since then, I've worked as a riding instructor, cell phone salesgirl, personal assistant, groom, exercise rider, accounting assistant, and, during a very dark time, customer service rep.
So don't let anyone tell you a BA degree will keep you unemployed.