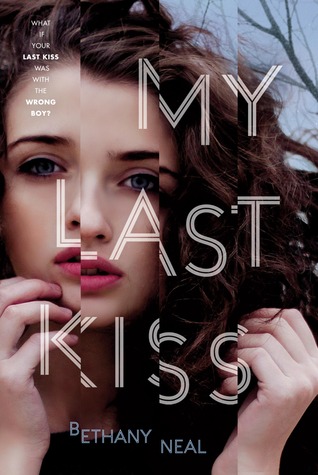 Title: My Last Kiss
Author: Bethany Neal
Publisher: Farrar, Straus and Giroux
Date of Publication: June 10, 2014
What if your last kiss was with the wrong boy?




Cassidy Haines remembers her first kiss vividly. It was on the old covered bridge the summer before her freshman year with her boyfriend of three years, Ethan Keys. But her last kiss--the one she shared with someone at her seventeenth birthday party the night she died--is a blur. Cassidy is trapped in the living world, not only mourning the loss of her human body, but left with the grim suspicion that her untimely death wasn't a suicide as everyone assumes. She can't remember anything from the weeks leading up to her birthday and she's worried that she may have betrayed her boyfriend.




If Cassidy is to uncover the truth about that fateful night and make amends with the only boy she'll ever love, she must face her past and all the decisions she made--good and bad--that led to her last kiss.




Bethany Neal's suspenseful debut novel is about the power of first love and the haunting lies that threaten to tear it apart.
Thank you to Bethany Neal and NetGalley for the review copy. This in no way affected my views of the novel.
This is my first DNF review on the blog... Really, it's not the book, it's me. I stopped reading this back in June and I said I'll pick it up again. But with my recent decision to start DNF-ing books because life is too short, I realized I don't even want to pick up this novel again. So here we are.
I can't connect with the main character and she's irritating me. And I'm only at the start so I don't know if it gets better but I just can't deal with her the time I read this. I stopped at 10% because she sounded shallow and it felt shallow. Don't get mad at me because obviously I love YA but the plot sounded childish to me? Looking for the guy who last kissed her? I mean, sure, it has to something to do with her death but I would have preferred if it wasn't about a kiss. I don't know if it's with the writing but it just doesn't work for me.
I've read from friends who didn't like this as well or only liked it enough to give it 3 stars but the time I read this, I was at a point where I could not afford a book that's not great. I was having the slump of my blogging career and it wasn't what I wanted to read to lift me up off that slump.
Don't pass on this book though just because of my review. I'm still giving it 2 stars because the writing was fine. I give everything at least two stars except if the writing is excessively horrible, which is when I give that lone star. Does it even make sense that I'm rating something with 2 stars when I didn't even reach halfway? I don't know, who cares, it's my blog. Haha!
Bethany Neal writes young-adult novels with a little dark side and a lot of kissing! She is obsessed with (but not limited to): nail polish, ginormous rings, pigs, pickles, and dessert.
You can find her locked in her Writertorium for insane amounts of time. But, hey, insanity is fun! My Last Kiss is her first novel.