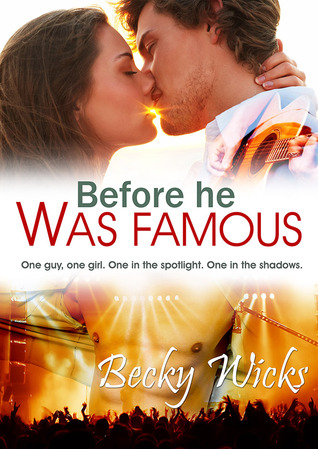 Title: Before He Was Famous (Starstruck #1)
Author: Becky Wicks
Date of Publication: May 29, 2014
Genre: contemporary new adult romance
One guy, one girl. One in the spotlight. One in the shadows.




Falling in love with your best friend isn't always a great idea, especially when he's Noah Lockton - the sexiest, most famous new talent on the planet. When 21-year-old small-town photographer Chloe Campbell is offered the chance of a lifetime – to join her celebrity childhood friend Noah on tour as an exclusive blogger for a New York magazine – she's certain both have put what happened four years ago behind them. But his eyes still burn; his voice is still a jackhammer to her heartstrings; all his songs are about her. Is it possible that that night still haunts them both?




The music industry is a machine, spinning hype and rumors as much as his records. It's not just Noah's girlfriends who've got it in for Chloe (there's no stopping the Twitter-obsessed, cat-loving pop-star Courtney Lentini for starters). Pretty soon, the jealousy and media frenzy surrounding these so-called-friends takes a life-changing turn and it seems making love means making enemies at every turn. When tragedy threatens to pull the final curtain on their relationship, both Chloe and Noah must make a choice. As much as this world leaves them starstruck, is living their dream really worth living without each other?




A story of lifelong friendships, love and hope, set in a world of celebrity, fame and social media gone very, very wrong.




From International Bestselling HarperCollins Author, Becky Wicks, comes a new adult romance that will leave you starstruck.




***Warning: this book contains graphic language, sex, and mature situations. Not intended for young adult readers.***
Excerpt
Chloe
He didn't take off my underwear. He sat up, pulled me on top of him so I was straddling his solid waist, grabbed my head in his big hands for a moment and searched my face. I could see he was asking me if we should stop. Years passed as I saw us playing, laughing, singing, fighting and now... what the hell? A lightning bolt of reality struck my brain but the sparks shot off into my blood before anything made too much sense. I was on fire, suddenly. I needed to keep burning else I'd die, I knew it.
I pulled his head to me with one hand, reached down for him beneath me with the other. I found him so hard for me that I gasped and as he kissed me with a fever I gripped him tighter with my legs until my crotch was pressed against him; until the only thing rooting me to reality was the feel of this brand new part of Noah.
Touching each other everywhere, drinking each other in, rolling with our limbs entwined it felt like we were riding some crazy fucked up fairground ride. When he let out a groan, pulled the fabric of my underwear aside roughly and pushed hard into me, I clutched him tight with all the strength I had left.
'Chloe,' he cried out, grabbing my hips, my sunburnt shoulders, moaning as I sped up and slowed down and sped up again, pulling him harder and further into me with every thrust. I couldn't stay steady. The knowledge of what just happened in my world kept hitting me like waves of a tsunami. Again and again they blasted through me till all the pieces of myself were driftwood in my body and the only thing I could do to feel whole was to keep on crashing into Noah.
When he came, he came so hard I could feel his orgasm jolting through me, too, almost becoming my own. I buried myself in the feeling, the sweet surrender to nothingness that saw the horror of the day fly out of the tree house for a nanosecond, leaving only love. Only us.
About Becky Wicks
I'm a writer, originally from the UK. Since graduating Lincoln University with a degree in Media Production I've lived and worked in London, New York, Dubai, Sydney and Bali, and at the moment I'm alternating between the UK and the US, trying to figure out where I belong.
People often ask me how I got into writing. The answer is, I wrote. A lot. I wrote about everything. And if I didn't have anything to write about, I wrote about my lack of inspiration until something flowed. Blogging helped. I've been a blogger on one site or another since I was 21, back when I did the amazing Mountbatten Program in New York (which totally changed my life, by the way).
It's only been the last few years or so (I'm now 34) that I've been able to write on the move. But sticking with my passion definitely paid off. I've done a LOT of work.
Three years ago I moved to Ubud, Bali, to write 'Balilicious – The Bali Diaries' (published in December 2012, HarperCollins Australia). This was the sequel to my first book 'Burqalicious – The Dubai Diaries! My third travel memoir Latinalicious – The South American Diaries, hit shelves December 2013. Get your e-copy here. All three were ridiculously fun to write. I'm surprised I actually found time, actually… I was travelling SO much!
Now I've slowed down a bit, come back to Bali, and I'm focussing on fiction. The Starstruck Series is a bit of a behind-the-scenes look at fame, celebrity culture and reality TV. I love to write love stories and I'm still trying to dream my best male characters to life. Wish me luck.
Giveaway