#AlexLondoninPH this August 30! And to welcome him, Pinoy Book Tours, in partnership with National Book Store, has arranged a blog tour with a giveaway for a signed copy to boot! Read on for my review and don't forget to join the giveaway!
Title: Proxy (Proxy #1)
Author: Alex London
Publisher: Philomel (HB) | Speak (PB)
Date of Publication: June 18, 2013 (HB) | May 1, 2014 (PB)
Syd's life is not his own. As a proxy he must to pay for someone else's crimes. When his patron Knox crashes a car and kills someone, Syd is branded and sentenced to death. The boys realize the only way to beat the system is to save each other so they flee. The ensuing cross-country chase will uncover a secret society of rebels, test the boys' resolve, and shine a blinding light onto a world of those who owe and those who pay.




This fast-paced thrill ride of a novel is full of breakneck action, shocking twists and heart-hammering suspense that will have readers gasping until the very last page.
Review
My Rating: 4 out of 5 stars
Admittedly, I just finished PROXY last night and I immediately let out a gurgled scream of AAAAAAAAAAAAAAA after what went down. I might be incoherent still so please forgive me for any excessive use of exclamation marks or run-on sentences.
I was planning on making a Post-It type of review for this book before I started it. That is, I will be putting my comments on Post-Its and take pictures of them as I read the book. However, this plan was never executed and I only ended up with ONE because PROXY IS SO FREAKING INTENSE AND FAST-PACED AND AWESOME. I'll get to that in a bit but first, here's my one and only note~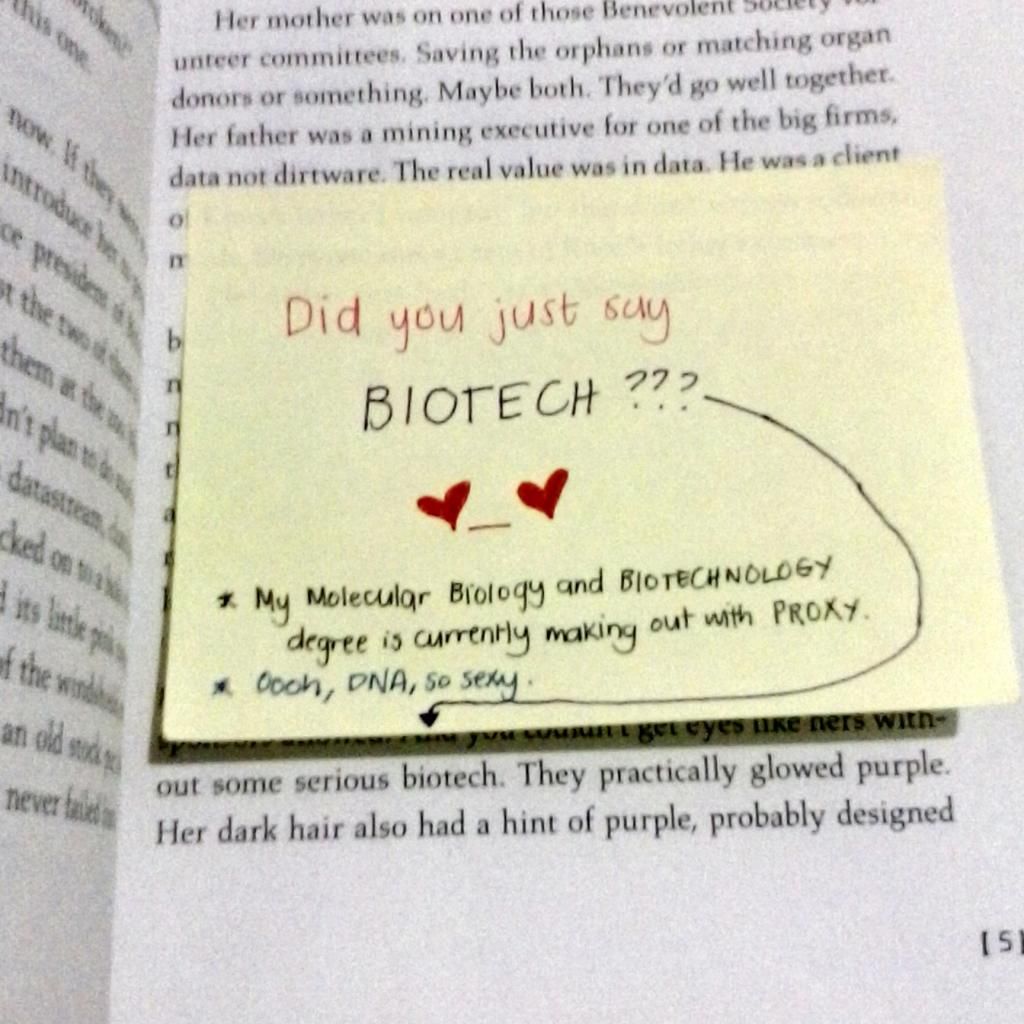 K, now that that's out of the way, it's still not out of my mind. Just by page 5, I already felt that I will like this book. Not only the first chapter was a very vivid look into the psychology and character of Knox, it firmly established this futuristic world's love for image and looks. Going into Proxy, I knew that it was an LGBT book and that alone was enough reason to love this and recommend it to everyone. Then, it also touches on body image and body modifications? That's very timely. Add to that that Knox is a HACKER and holy shiz if that isn't a major book turn-on for me. Mehehe. The advanced technology, the glaringly obvious social divide, all that biotechnology (THEY REVIVED EXTINCT ANIMALS IN THE PATRON ZOO!!), good lord, really, the molecular biologist in me rejoiced and partied like Miley Cyrus.
So the whole storyworld of PROXY intrigued me and it would have been enough to glue me to the pages. Then as the story progressed, we got to know more about the Proxy system and we came to understand and sympathize with Syd. Syd's a smart kid and has been lying low but he has been dealt with a bad set of cards, in the form of his patron Knox. Knox just might be the worst patron ever and Syd gets punished every week for all the infractions and shenanigans Knox do. I just wanted Syd to get out of the system and be free but then we wouldn't have a story, wouldn't we?
So we also have topnotch characters in here, with depth, motives and dreams. Knox isn't the most likable person and in fact, he's an asshole but he knows it, admits it and owns it. And you just can't help but be endeared with him even if he's like that. Aside from the boys, we have Marie, who's such an idealist and who believes in equality and the freeing of the proxies. While I am not an idealist myself (I am cynical), I couldn't hate on Marie because she is damn feisty and she stands for her principles. Now, that's a strong girl without being kick-ass. Oh shoot, she's also kick-ass because she knows how to fight. Attagirl!
More importantly, the characters in Proxy are very... normal. We don't have the usual heroes we have in young adult who suddenly accepts their fate and swoops in to save the day. Syd just wants to live unnoticed and Know just wants to piss his father off. Even with everything that's happening, they reacted how normal teens would react - lost, confused and angry. Especially in dystopia, these characters are such a breath of fresh air. Thank you, Alex London.
Now, I'll get to all those exclamation points I promised. Proxy's story is just so goddamned fast-paced that I READ IT IN ONE SITTING!!!!1 This reading-slump-suffering, cannot-finish-a-book-in-a-day blogger finished this book in a breeze. Seriously, you should not start Proxy late at night because you won't be getting enough sleep. There was enough mystery in it to keep you flipping the page (what's that mark on Syd??), there were tons of issues it toed but didn't discuss fully which I fully appreciate because I don't want preachy novels, several themes cropped up and action is right around every corner. You think Syd will be safe now? Ha, you're wrong! Then you'll think it's really over then BOOM SHAKALAKA Alex London just keeps on giving us more reasons for this: !!!!!!!!!!!!1111
All I can say is, if you haven't read PROXY, DO SO NOW. NOW. NOW. NOW. NOW. That ending? I was shocked and I love it. You guys, if you want something action-packed but with depth, go read this.
Giveaway
One lucky Filipino resident will win a SIGNED copy of PROXY! Good luck!
Follow the Tour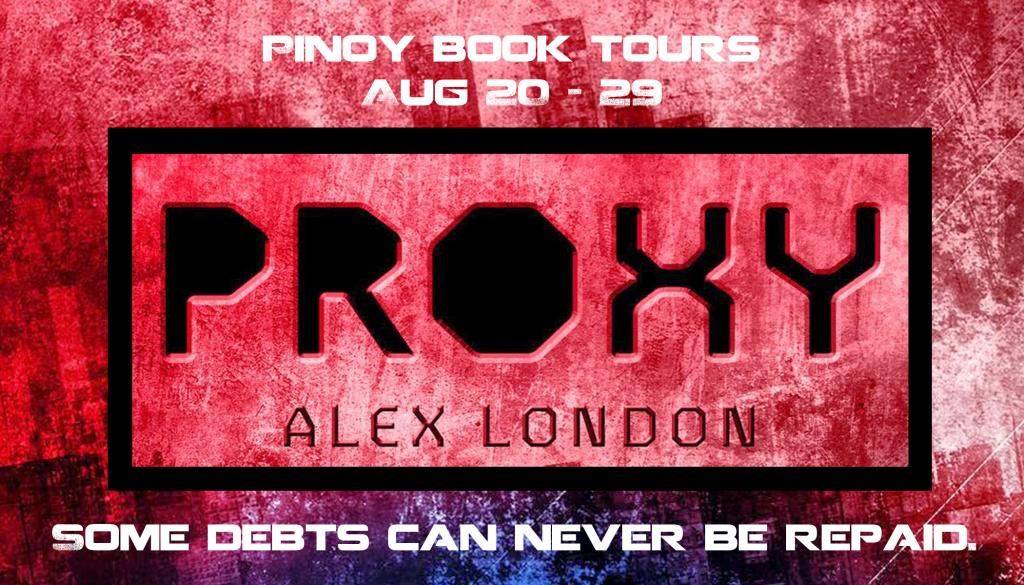 See you at #AlexLondoninPH, bookish Filipinos!