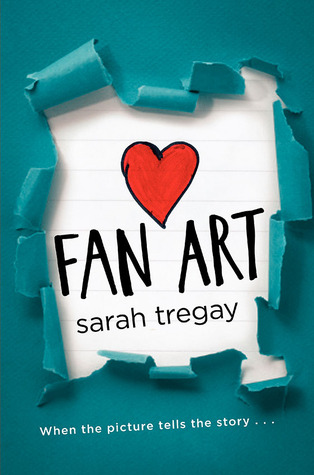 Title: Fan Art
Author: Sarah Tregay
Publisher: Katherine Tegen Books
Date of Publication: June 17, 2014
Genre: contemporary LGBT YA
When the picture tells the story…




Senior year is almost over, and Jamie Peterson has a big problem. Not college—that's all set. Not prom—he'll find a date somehow. No, it's the worst problem of all: he's fallen for his best friend.




As much as Jamie tries to keep it under wraps, everyone seems to know where his affections lie, and the giggling girls in art class are determined to help Jamie get together with Mason. But Jamie isn't sure if that's what he wants—because as much as Jamie would like to come clean to Mason, what if the truth ruins everything? What if there are no more road trips, taco dinners, or movie nights? Does he dare risk a childhood friendship for romance?




This book is about what happens when a picture reveals what we can't say, when art is truer than life, and how falling in love is easy, except when it's not. Fan Art explores the joys and pains of friendship, of pressing boundaries, and how facing our worst fears can sometimes lead us to what we want most.
Excerpt
"Does someone not liking you back break your heart?"
She looks at me. "You mean me or you?"
I try to smile. It feels like I wince.
She nods as if she understands. "It hurts. But more like a bruise. Not so much broken."
"Sometimes," she says, "the first step to telling someone you like them is to come out to them."
"Yeah," I agree. "But it's not like I can tell this person I like him. He's straight."
"But could you come out to him? I mean, in case he isn't."
I play along, because art-geek girls think everyone is gay. "Maybe."
"Good," Eden says, and squeezes my hand. "So you're gonna tell Mason?"
"Yeah." I feel my fingers wrap tighter around hers, as if mere mention of the subject scares me. "I'll tell him."
Eden squeezes my hand back and says, "Sometimes, I wish things weren't so complex."
"Like, so I wouldn't have to come out? Yeah."
"Like, if people didn't care if love was love."
"Love is love, I say, more to myself than to Eden, as I scan the room for Mason. He and Bahti are back on the dance floor, swaying to a slow song and deep conversation. I don't know which hurts more: his arms around her or that they really seem interested in each other.
"Do you ever wanna be like them?" Eden nods in their direction.
"It just looks so easy. One dress, one tux. Just the way things should be."
"I dunno, maybe. I never really thought about it like that." I see where Eden is coming from. She'd been raised by people who thought that a couple was supposed to be a man and a woman, not two of one variety.
We're quiet for like an hour. I watch the other couples at the dance. Sure, they are all Eden's "right" genders, wearing all the "right" clothes, but I don't wanna be them. Not in my heart, I want to be me, not them.
About Sarah Tregay
Raised without television, I started writing my own middle grade novels after I had read all of the ones in the library. I later discovered YA books, but never did make it to the adult section. When I'm not jotting down poems at stoplights, I can be found hanging out with my "little sister" from Big Brothers Big Sisters or stressing over performance classes at a model horse show.
I have both a Bachelors and Masters of Fine Art in graphic design, and my obsession with typography and layout naturally translates into formatting poetry on the page.
I live in Eagle, Idaho with my husband, two Boston Terriers, and an appaloosa named Mr. Pots.
Giveaway
Follow the Tour