It's PARANOIA day!!!! The sequel I've been waiting for a year is now available and I just have to flail and spazz. I'll end up babbling so here goes!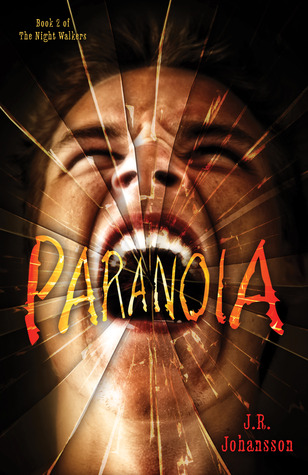 Title: Paranoia (The Night Walkers #2)
Author: J.R. Johansson
Date of Publication: June 8, 2014
In the aftermath of the events that nearly killed him, Parker Chipp is trying to learn to cope better with life as a Watcher. And it seems to be working...until he wakes up in jail with a hangover and 12 hours of missing time. Darkness has somehow taken control and Parker doesn't have a clue how to stop him. He finds an unlikely ally in Jack, the mysterious guy in the motorcycle jacket who offers to help Parker master his abilities as a Watcher. But even as they practice, the darkness inside Parker is getting more and more powerful, taking over Parker's body and doing everything he can to destroy Parker's life.




When Jack reveals that there is another kind of Night Walker, known as a Taker, Parker starts to wonder if the strange things happening in Oakville are more than just a coincidence. After all, people are more than just sleepwalking. They're emptying their savings accounts with no memory of doing so, wandering into strange parts of town and disappearing, they're even killing other people--all in their sleep. If Parker wants to find out what's happening or have any hope of seeing his father again, he'll have to defy Jack and put his own life in danger...because the more he learns about these other Night Walkers, the more certain he becomes that his life isn't the only one that could be lost.
Review
My Rating: 4 out of 5 stars
Thank you to Flux and NetGalley for the review copy! This in no way affected my views of the novel.
It's here, you guys!! PARANOIA IS HERE!!!! And I'm here to share my review of the sequel to one of the books I loved last year, INSOMNIA (click for my review). Just be warned that there will be spoilers about INSOMNIA so please do read this only when you've read the first book.
Jenn Johansson is back with another dark and twisty novel and I gobbled it up in a day. This seems like a trend with her. Parker is back, with Darkness all too real, present, raging and fighting for control. With Mia, Addie and Finn on a week-long getaway to Florida, he doesn't have Mia's dreams to sleep in and this results in him being weak. And with Parker weak, Darkness gets to play. After an especially rough night which lands him in jail, Parker decides he needs to deal with Darkness. Here comes Jack, after months of being a no-show, telling him he's here to help. Parker is reluctant and suspicious of Jack but he knows a lot about being a Watcher and that's all he's been yearning for ever since, answers. Knowledge.
Parker now knows that he's called a Night Walker, and that there are three types of it. Jack becomes the Night Walker master as he tells Parker what he needs to know and even teaches him how to manipulate dreams, which Parker thought was impossible. Meanwhile, Parker struggles with keeping his relationship with Addie a secret from Finn because duh, bro-code. While all of these are happening, Oakville is under distress as well, with people disappearing and waking up completely out of whack. Parker suspects that this has something to do with the other type of Night Walkers, the Takers, who take over bodies.
Good lord, the answers! I have been waiting for answers like Parker ever since I read INSOMNIA. Why can Parker watch dreams? What is going on? Now, everything is answered thanks to Jack. It might be a little bit of info dump but it's one I appreciate because seriously, the world Jenn crafted has been picking on my brain matter for a long time.
Similar to INSOMNIA, while Parker has his own issues, there's a larger conflict or plot arc that begs to be solved. In here, it is the mysterious uptick in missing people and the Takers in action. With Parker, it's about getting himself in control as he now knows that he is what called a Divided. I love this set-up because we never run out of mysteries and problems to be solved. Only this time, we not only have Parker but we basically get an ensemble of characters working towards the same goal. Jack is an interesting character but it just might be me but I didn't really connect with him.
I guess my expectations were different and I wanted other things to happen in PARANOIA so my love for it wasn't as strong as the first book's. Okay, I will definitely have spoilers now. We know from INSOMNIA that Parker and Addie have feelings for each other. Part of the reason why I was so excited for the sequel is that I want to read on Parker's conflict of liking Addie but needing Mia. Isn't that one of the best love triangle set-ups? It sure need not be a love triangle but I was imagining how Parker needing Mia would put a stress on his relationship with Addie. But nah, there was no such thing. Okay, that was fine with me but then Addie and Parker break up because Parker's keeping her a secret and he has problems aka Darkness. That's still okay too, relationships need to be tested to be stronger. But then a love triangle crops up in Jack liking Addie. I just didn't like the direction the romance went. I think this is the primary reason why I didn't love this sequel as much.
Even though I was not the biggest fan of the romance arc, I still highly enjoyed PARANOIA. It was more action-packed than INSOMNIA and with definitely higher stakes. The danger, OH the danger. We also get to peel more layers from Parker's complexity as a character which gains the book a thousand brownie points from me. His internal conflict in PARANOIA was so juicy to read. By the way, I love Darkness. He's Parker and he's not. I totally feel for him and I pity him and I get him. Feel free to psychoanalyze me.
As usual, Jenn doesn't hold back from surprises and PARANOIA definitely earned gasps and OMGs from me. Like its predecessor, PARANOIA was fast-paced and exciting, making you invested all the way. However, it also felt like some of the reveals were pretty convenient and predictable. I still think the writing was strong because it kept me glued to it even with my issues. If you loved INSOMNIA, I think PARANOIA is still a must-read. And now that I know there's going to be a third book in Jack's point-of-view, I am very much looking forward to it too. To have a piece of Jack's mind would be epic. And to get more answers and to completely build the story world in my mind would be fantastic. Eep!
About J.R. Johansson
J.R. JOHANSSON is a young adult thriller author. Her books INSOMNIA, PARANOIA (June 2014), and a third untitled book (June 2015) are with Flux Books. CUT ME FREE (Winter 2015) and another untitled book (Winter 2016) will be coming out with FSG/Macmillan. She has a B.S. degree in public relations and a background in marketing. She credits her abnormal psychology minor with inspiring many of her characters. When she's not writing, she loves reading, playing board games, and sitting in her hot tub. Her dream is that someday she can do all three at the same time. She has two young sons and a wonderful husband. In fact, other than her cat, Cleo, she's nearly drowning in testosterone.
Giveaway