Last year, I loved INSOMNIA by J.R. Johansson. I loved it too much I wasn't able to review it because WORDS. FAIL. ME. Eek. But now that the sequel PARANOIA is coming out tomorrow (!!!), I thought it was high time to make an event out of this. So for three days, Oops! I Read A Book Again will be The Night Walkers series central with a review of INSOMNIA today, a review of PARANOIA tomorrow and an interview with the amazing Jenn Johansson on Monday! With this, Jenn let me be a part of her tour so this mini-event is part of the official blog tour for PARANOIA! Awesome possum, yes, that is Jenn. So, let's get to the festivities!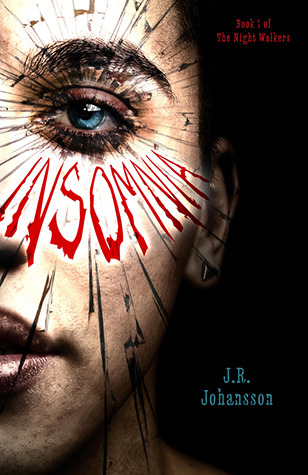 Title: Insomnia (The Night Walkers #1)
Author: J.R. Johansson
Date of Publication: June 8, 2013
Her eyes saved his life.

Her dreams released his darkness.




After four years of sleeplessness, high school junior Parker Chipp can't take much more. Every night, instead of sleeping, he enters the dreams of the last person he's made eye contact with. If he doesn't sleep soon, Parker will die.




Then he meets Mia. Her dreams, calm and beautifully uncomplicated, allow him blissful rest that is utterly addictive. But what starts out as a chance meeting turns into an obsession; Parker's furious desire for what he needs pushes him to extremes he never thought he'd go. And when someone begins to terrorizing Mia with twisted death threats, Parker's memory blackouts leave him doubting his own innocence.
Review
My Rating: 5 out of 5 stars
Thank you to Flux and NetGalley for the review copy! This in no way affected my views of the novel.
Around the same time last year, I read INSOMNIA and loved it. Absolutely loved it. Loved it enough that I wasn't able to review it (which is common to books I love and read outside of blog tours). But now I am taking up the challenge by listing all the reasons why I thought it was amazing. So here goes!
Five Reasons Why Insomnia Was Great
1. Story world. I've always been into books about dreams, especially to characters being able to go or live in other people's dreams. But this is the first I've encountered that dealt with the ramifications of being in another person's dream. Do you sleep or not? Do you have a choice in it or not? Here in INSOMNIA, we have Parker Chipp, a nice guy who hasn't slept a wink in a long time. He watches the dreams of the person he last made eye contact with. He's been suffering from sleep deprivation and he tries so hard to live normally and not let anyone know. He doesn't know why he's like this of if there are other people like him. I love when the character doesn't know what's going on because it means WE don't know, which makes the story world such a mystery. Me likes.
2. Characters. Parker is such a complex character and I like peeling off all his layers. He's a nice guy but psychosis and death looming all over him don't do him any good. Coupled with his mom up all on his business thinking he's doing drugs. He just wants to sleep. For a person like me who almost always deprives herself of sleep, I suddenly feared for myself too when sleep deprivation was discussed. Suffice it to say I tried sleeping early after reading this but to no avail because I was in a book hangover.
Aside from Parker, we have his best friend Finn, Finn's sister Addie and the new girl in school, Mia. Finn's fun and funny, which provides comic relief to the distress weighing down on the story with Parker's problems. Then we have Mia. Which I'll stretch over to reason #3.
3. Unreliable narrator. Parker is getting addicted to Mia's dreams because only then he is able to sleep. He then becomes a stalker and Mia's scared of him because she's been receiving death threats. DUN DUN DUN. Then Parker experiences blackouts and he can't remember anything during these blackouts. Is he turning into someone or something bad? Is he the one threatening Mia? He doesn't know and we don't know. Gah, I love unreliable narrators.
4. Writing. Okay Jenn, wow. That fast pacing but without ever losing us? Gold. All the twists and turns you made us go through? Wonderful job on that. I read INSOMNIA in one sitting and I remember rolling in my bed from the gamut of emotions and adrenaline and excitement and fear I felt while reading it. Things got revealed but then it led to more questions. I want to believe in Parker but then I also doubt him. The conflict was not only in the novel, it was a palpable conflict to the reader. Most novels only get you to clinically see the situation but in INSOMNIA, it's different. It's as if you really have your say because you want to have a say on whatever's happening. I felt like I was with Parker all throughout, in his confusion, in his rage, in his happiness, in everything. I LOVE PARKER and Jenn made that possible.
5. The next book. I remember taking a bath right after reading this book and talking to myself all the time, thinking of all the scenarios, conflict and plot Jenn would subject Parker to in the next book. Just that excitement for the sequel (when I usually hate books in serial and I mightily prefer standalones) is just a testament to how amazing INSOMNIA was.
Twistingly dark, INSOMNIA will grip you so hard you won't be able to stop reading. It was such a compelling read that I couldn't put it down. I am definitely looking forward to more thrillers from Jenn Johansson because THIS. IS. AMAZING.
About J.R. Johansson
J.R. JOHANSSON is a young adult thriller author. Her books INSOMNIA, PARANOIA (June
2014), and a third untitled book (June 2015) are with Flux Books. CUT ME FREE (Winter
2015) and another untitled book (Winter 2016) will be coming out with FSG/Macmillan. She
has a B.S. degree in public relations and a background in marketing. She credits her abnormal
psychology minor with inspiring many of her characters. When she's not writing, she loves
reading, playing board games, and sitting in her hot tub. Her dream is that someday she can do
all three at the same time. She has two young sons and a wonderful husband. In fact, other than
her cat, Cleo, she's nearly drowning in testosterone.
Giveaway