To end the mini blog event I'm having dedicated to the Night Walkers series, J.R. Johansson has graciously agreed to be put in the spotlight for an interview. So without further ado, I present to you, Jenn!
J.R. JOHANSSON is a young adult thriller author. Her books INSOMNIA, PARANOIA (June 2014), and a third untitled book (June 2015) are with Flux Books. CUT ME FREE (Winter 2015) and another untitled book (Winter 2016) will be coming out with FSG/Macmillan. She has a B.S. degree in public relations and a background in marketing. She credits her abnormal psychology minor with inspiring many of her characters. When she's not writing, she loves reading, playing board games, and sitting in her hot tub. Her dream is that someday she can do all three at the same time. She has two young sons and a wonderful husband. In fact, other than her cat, Cleo, she's nearly drowning in testosterone.
What's the best thing that happened since you debuted as an author?
Wow, that's hard. There are so many great things. I think probably the best is that I've grown to better understand my own skill set. I know there are still so many areas I can improve on and I'm looking forward to that, but I am also starting to really understand the areas where I excel and learning to hone those areas even further is so much fun.
How did you celebrate the publishing of Insomnia and/or Paranoia?
A couple of years before I got my agent or contract, my sister and mom took me on a 'Girl's Cruise' and it was a total blast. When I started writing, they both read my books and gave me good feedback and support. I decided that when I got my deal, that I would pay them back by taking them on a cruise, so that's what we did in January of 2013. It was epic. :)
Have you always wanted to be a writer or did the idea for a book just came to you?
I never wanted to be a writer. I wrote to help me through a tough life experience and then it turned out that I liked it, so I didn't stop. I'm random like that.
What is your writing style? (Plotter or pantser)
I'm in between. I make a very loose outline and then let it evolve, if needed, as I write. It's a fluid, but guided process that works very well for me.
How did the idea for The Night Walkers duology come to you?
TRICK QUESTION! It's a trilogy. ;-) There WILL be a third book which does not yet have a name...and it will be out in June 2015, but it is kind of a companion novel because it does continue where PARANOIA leaves off, but it will be from Jack's point of view! And the idea for the series came to me because I have bizarre dreams and I started wondering if someone saw them what they would think, or if I saw someone else's dreams, would they be like mine? And then I got obsessed with sleep deprivation and it was all pretty much downhill from there.
How did you come up with the names of the characters? Do their names mean anything?
Parker is also the name of my youngest son. I asked him if he wanted a character named after him and he said yes... thus we have Parker. I've made it clear to my son that he is not to consider INSOMNIA to be any sort of roadmap to his life. As for the other characters, Finn used to be Andy, Addie used to Megan, but Megan was too close to Mia and so it created a ripple of change. It was sort of like a character alphabet soup. They don't have any particular meaning except that I picked names that I truly liked. All characters were names I (at one point or another) considered naming children. So, there you go.
Who's your favorite character in the book? Who was the most fun to write? Who was the hardest?


Finn has to be the most fun, but I honestly think my favorite character is probably Darkness. Does that say a lot about me, or what? Perhaps I need therapy...
You have an upcoming thriller book called CUT ME FREE? Can you tell us something about it?


CUT ME FREE is an incredibly special book to me. While The Night Walkers books were very fun to write, CUT ME FREE was heartbreaking and terrifying. It's a book that I poured so much of myself into and it means so much to me that it's finally coming out into the world. It's a true thriller and in many ways, scarier than the Night Walkers Books. Plus, it deals with tough issues like human trafficking and I'm hoping to be able to do some cool things to help those causes along with my promotion for the book, so watch for more information on that in the coming months. For now, you can read more about the story here.
Are you interested in writing in a different genre or for a different audience?
I've thought a lot about writing for middle grade. I have a killer idea for a book, but the middle grade voice is a tough one to nail and I'm also a little nervous about scaring small children...we'll see how that all plays out in a few years, maybe.
What are you writing now?
Right now, I'm wrapping up the first draft on the final Night Walkers Book and getting ready to start drafting the next book with Macmillan that will follow CUT ME FREE. It is going to be SO FREAKING COOL...just wait.
Favorite color? Silver
Favorite movie? Pitch Perfect (Acca-believe it!)
Favorite ice cream flavor? Cookies & Cream
Favorite song? Impossible to choose...I'm very eclectic in my music choice. Today it is Demons by Imagine Dragons. Tomorrow, probably something by the Beatles or Def Leppard.
Ultimate celebrity crush (dead or alive)? hmm...Tom Hiddleston, because Loki = yum.
Thank you so much for this awesome interview! These were some really fun questions! :)
Not familiar with The Night Walkers series? Check out the first two books below!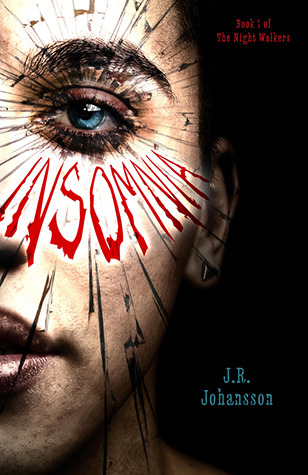 Title: Insomnia (The Night Walkers #1)
Author: J.R. Johansson
Date of Publication: June 8, 2013
Her eyes saved his life.

Her dreams released his darkness.




After four years of sleeplessness, high school junior Parker Chipp can't take much more. Every night, instead of sleeping, he enters the dreams of the last person he's made eye contact with. If he doesn't sleep soon, Parker will die.




Then he meets Mia. Her dreams, calm and beautifully uncomplicated, allow him blissful rest that is utterly addictive. But what starts out as a chance meeting turns into an obsession; Parker's furious desire for what he needs pushes him to extremes he never thought he'd go. And when someone begins to terrorizing Mia with twisted death threats, Parker's memory blackouts leave him doubting his own innocence.
Praise for INSOMNIA
"The perfect blend of everything I love in a story. I hope a sequel comes soon!"
-James Dashner, New York Times bestselling author of THE MAZE RUNNER
"Completely unputdownable. I've decided to nickname Johansson: Scary McScarypants, because
she spooked me in all the best ways."
-Carrie Harris, author of BAD TASTE IN BOYS
"Cleverly written and dangerously dark, Insomnia will take you to the brink of insanity. A must-
read for thriller and romance fans alike."
-Elana Johnson, author of POSSESSION
"A riveting story of terror and despair that will keep you up long past your bedtime."
-Jennifer Bosworth, author of STRUCK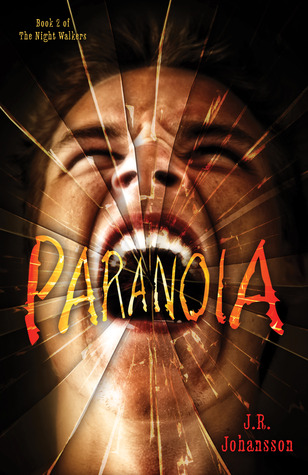 Title: Paranoia (The Night Walkers #2)
Author: J.R. Johansson
Date of Publication: June 8, 2014
In the aftermath of the events that nearly killed him, Parker Chipp is trying to learn to cope better with life as a Watcher. And it seems to be working...until he wakes up in jail with a hangover and 12 hours of missing time. Darkness has somehow taken control and Parker doesn't have a clue how to stop him. He finds an unlikely ally in Jack, the mysterious guy in the motorcycle jacket who offers to help Parker master his abilities as a Watcher. But even as they practice, the darkness inside Parker is getting more and more powerful, taking over Parker's body and doing everything he can to destroy Parker's life.




When Jack reveals that there is another kind of Night Walker, known as a Taker, Parker starts to wonder if the strange things happening in Oakville are more than just a coincidence. After all, people are more than just sleepwalking. They're emptying their savings accounts with no memory of doing so, wandering into strange parts of town and disappearing, they're even killing other people--all in their sleep. If Parker wants to find out what's happening or have any hope of seeing his father again, he'll have to defy Jack and put his own life in danger...because the more he learns about these other Night Walkers, the more certain he becomes that his life isn't the only one that could be lost.
Thank you so so much to the aca-awesome Jenn!! See, she loves Pitch Perfect, which is a characteristic of all the cool and awesome people. Haha! I'm so stoked for the third book in Jack's POV because this means more of the world of this story and I am also at the edge of my seat for CUT ME FREE. Suffice to say Jenn is an auto-read author for me.
Now, we want to share the love for the series so Jenn's giving you the chance to win! Ten winners will win either INSOMNIA or PARANOIA. Open internationally, yay! To all those who hasn't read INSOMNIA yet, do join away because you need to start this series. YOU. DO.
Giveaway