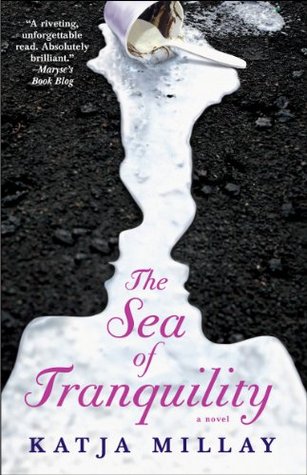 Title: The Sea of Tranquility
Author: Katja Millay
Date of Publication: November 13, 2012
I live in a world without magic or miracles. A place where there are no clairvoyants or shapeshifters, no angels or superhuman boys to save you. A place where people die and music disintegrates and things suck. I am pressed so hard against the earth by the weight of reality that some days I wonder how I am still able to lift my feet to walk.




Former piano prodigy Nastya Kashnikov wants two things: to get through high school without anyone learning about her past and to make the boy who took everything from her—her identity, her spirit, her will to live—pay.




Josh Bennett's story is no secret: every person he loves has been taken from his life until, at seventeen years old, there is no one left. Now all he wants is be left alone and people allow it because when your name is synonymous with death, everyone tends to give you your space.




Everyone except Nastya, the mysterious new girl at school who starts showing up and won't go away until she's insinuated herself into every aspect of his life. But the more he gets to know her, the more of an enigma she becomes. As their relationship intensifies and the unanswered questions begin to pile up, he starts to wonder if he will ever learn the secrets she's been hiding—or if he even wants to.




The Sea of Tranquility is a rich, intense, and brilliantly imagined story about a lonely boy, an emotionally fragile girl, and the miracle of second chances.
Playlist
I've just seen a face
I can't forget the time or place
Where we just met
Falling, yes I am falling
And she keeps calling
Me back again
I have never known
The like of this, I've been alone
And I have missed things
And kept out of sight
But other girls were never quite
Like this, da-da-n'da-da'n'da
This can be Josh reminiscing when he saw, truly saw, Nastya's face for the first time. That time when he knows he's falling for her and she just keeps coming back in his garage and in his life. Then the last verse I included describes Josh's life of not mingling with people, being alone, missing things and that bit with other girls not being like Nastya were all 100% apt.
Remember those walls I built?
Well, baby they're tumbling down
And they didn't even put up a fight
They didn't even make a sound
I found a way to let you in
But, I never really had a doubt
Standing in the light of your halo
I got my angel now
It's like I've been awakened
Every rule I had you breakin'
It's the risk that I'm taking
I ain't never gonna shut you out
Everywhere I'm looking now
I'm surrounded by your embrace
Baby, I can see your halo
You know you're my saving grace
You're everything I need and more
The song for when Josh realizes he's in love with Nastya and it can also work as when Nastya realizes the same. The lyrics so perfectly chronicles how they broke down each other's defenses. Then them being each other's saving grace - oh wow, this song could have been written for them
I'm no superman
I can't take your hand
And fly you anywhere
You want to go (yeah)
I can't read your mind
Like a billboard sign
And tell you everything
You want to hear, but
I'll be your hero
Josh wants to be a hero for Nastya and him wanting to do just that and his apprehensions are all accounted for in this song.
I never meant to fall for you but I
Was buried underneath and
All that I could see was white
My salvation
My, my
My salvation
My, my
Josh's name means "salvation" so of course I thought of this song. But then the lyrics and tone of the song also match the novel because Josh and Nastya were each other's salvation, echoed by the song Halo. The quote I included as the moment of truth in the novel can be soundtracked by this song.
'Cause they say home is where your heart is set in stone
Is where you go when you're alone
Is where you go to rest your bones
It's not just where you lay your head
It's not just where you make your bed
As long as we're together, does it matter where we go?
Home home home home
If The Sea of Tranquility was a movie, then this would be the song playing during the credits, right after the film ends. I think the lyrics sums up Nastya and Josh's story and after that last scene, we know they're at home with each other.
What do you think of these songs? Would love to hear your thoughts!
About Katja Millay
Katja Millay graduated with a degree in film and television production from New York University's Tisch School of the Arts and has worked as a television producer and film studies & screenwriting teacher. Her debut novel The Sea of Tranquility was a recipient of the American Library Association's Alex Award and was named one of the Best Books of 2013 by the School Library Journal. She currently resides in Florida with her family.