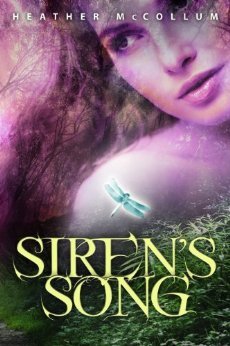 Title: Siren's Song
Author: Heather McCollum
Publisher: Spencer Hill Press
Date of Publication: March 25, 2014
Jule Welsh can sing. She enthralls people with her bel canto voice. But it takes more than practice to reach her level of exquisite song; it takes siren's blood running through her veins. Jule is starting her senior year at Cougar Creek High when her relatively normal world begins to resemble a roller coaster flying through a carnival scare house. Her mother is diagnosed as insane and committed, a psycho-stalker is snapping pictures of her to put into his homemade Jule-shrine, her voice is suddenly putting people into comatose trances, oh and the gorgeous new guy in town, Luke Whitmore, is interested in her . . . but also wants to kill her.
Excerpt
"Hey." I can't just let him go when he is finally sort of talking. "Did you bring me dinner last night?" A blush heats up my neck into my cheeks.
He turns back with a smile. "You like mushrooms. My mom makes a killer lasagna."
"So, you broke into my house, fed the dog, left dinner, and turned on the lights for me. I almost called the police."
He leans back against the lockers and glances at the ceiling like he is beseeching heavenly help. "I want to…I /need/ to make sure you are…taken care of."
My eyes narrow as I try to understand his words. "And /you/ have decided to take on the assignment? Why?"
A sad smile touches his mouth as his head rolls across the lockers so he can look at me again. "I believe I mentioned being obsessed." His face suddenly seems tired, older somehow, like he has lived a long time and is tired of the whole thing, like he is hopeless.
About Heather McCollum
Heather McCollum is an award winning, historical paranormal romance writer. She earned her B.A. in Biology from the University of Maine, much to her English professor's dismay. She is a member of Romance Writers of America, Heart of Carolina Romance Writers and the Ruby Slipper Sisterhood of 2009 Golden Heart Finalists.
The ancient magic and lush beauty of Great Britain entranced Ms. McCollum's heart and imagination when she visited there years ago. The country's history and landscape have been a backdrop for her writing ever since. She currently resides with her very own Highland hero and three spirited children in the wilds of suburbia on the mid-Atlantic coast.