Starting 2014 by being so blessed! Here's a list of all the physical books I got this January and February! I still don't have a proper Internet connection at home so forgive me for being so lazy on posting.
For Review
Borrowed
Gifted
Won
Thank you to Vicky of Strange Chemistry, JB, Chad and all of National Book Store (REBEL EEEEEPPPP!!!! And of course, THE CLOCKWORK PRINCE!!! And bringing Gayle Forman in here! EEEKK), Sarah and Monique of Hot Key Books, Charlotte of Pan Macmillan Australia, Dianna of William Morrow, Precious of Fragments of Life, Kai of Amaterasu Reads, Jennifer McGowan, Nichole of YA Reads and my parents!

And sorry if there are no pictures but there's a reason... It's because I FINALLY HAVE A BOOKSHELF!!!!!! I already arranged the books in alphabetical order per author's surname so I found it a hassle to get all the books in this post and take a separate picture. But I am indulging by doing bookshelfies!!!! I was supposed to do a video but I had a massive zit right on my forehead and I didn't want to grace your screens with it. Hee.
TADA!!!~~

For more pictures, just go under the cut!
Really sorry about the blur! I was in a hurry. It's the left topmost panel, spanning two "floors" with books by authors with surnames that start with A-D and F-J.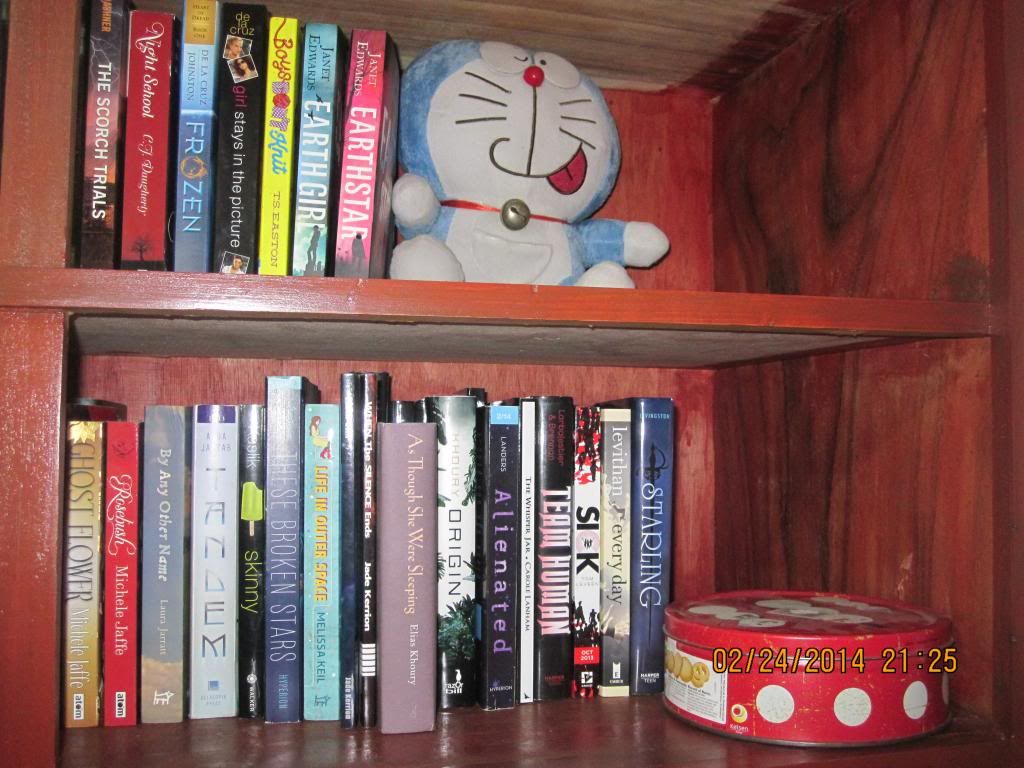 Yes, I do love Doraemon. Some D and all of the E books. At the bottom "floor" are JKL books! That canister is my swag canister!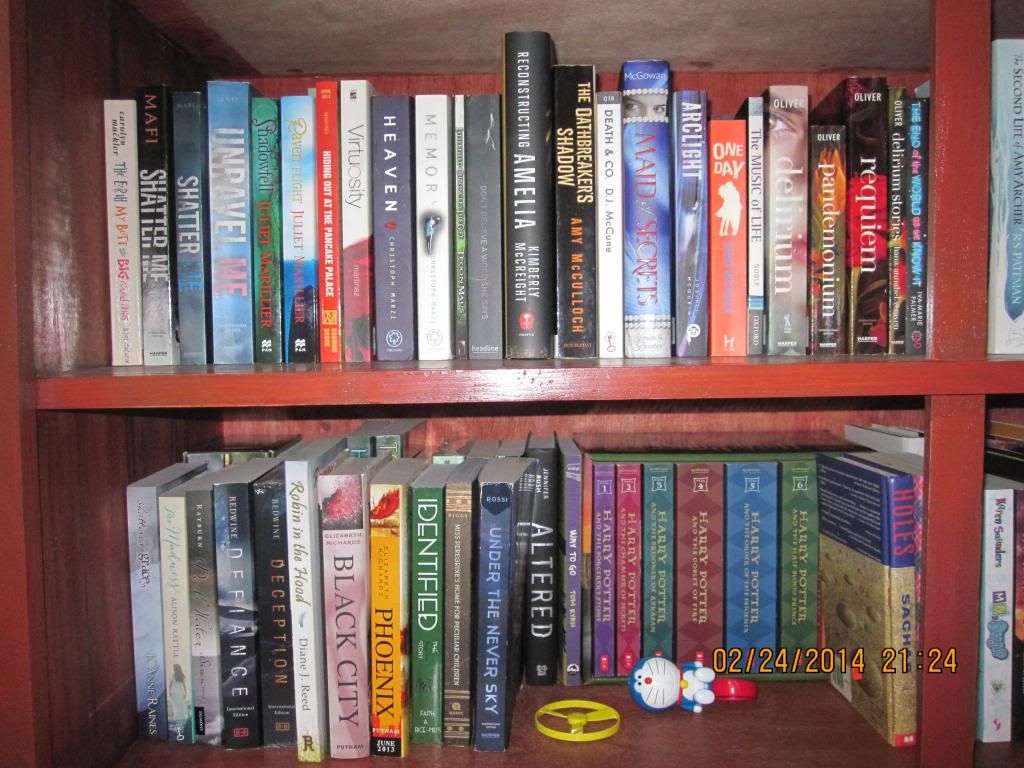 I spy great books! And Doraemon!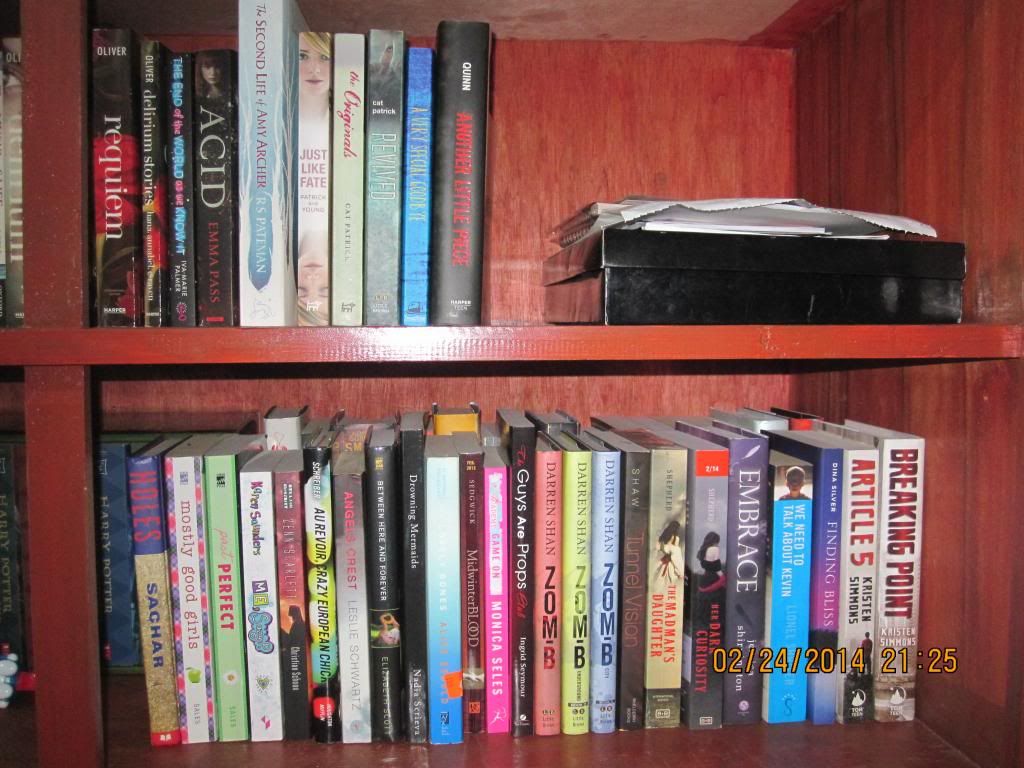 That's my swag box too!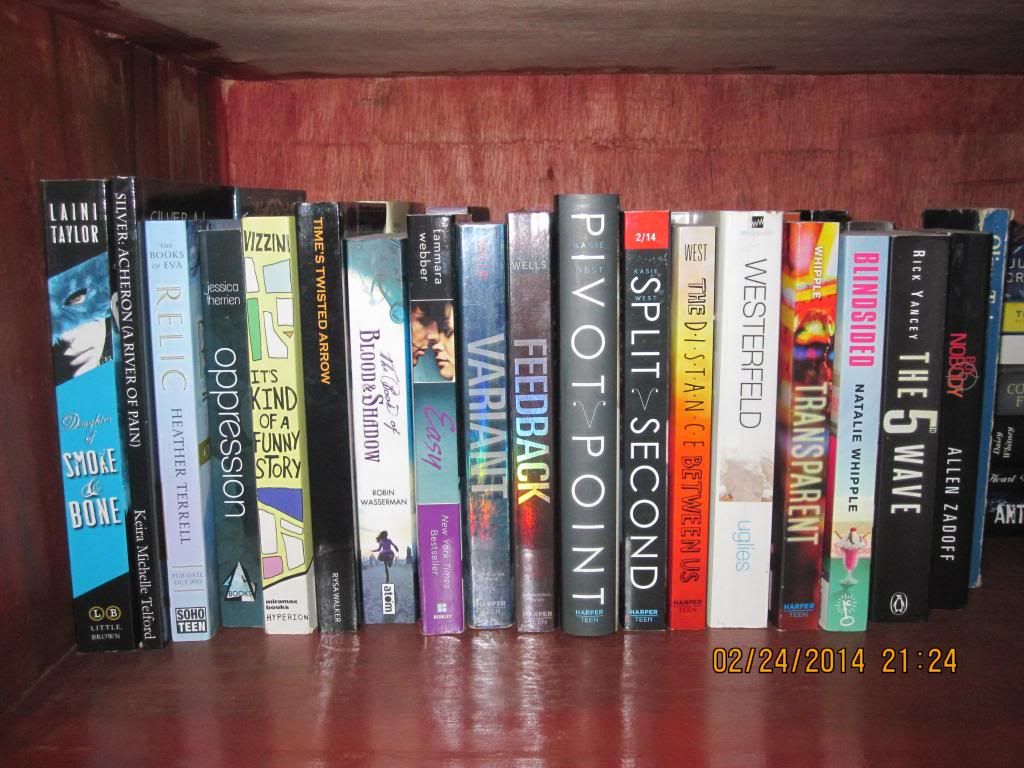 Didn't realize I have so many books from authors with surnames starting in W. M, R and S were expected but W? I was surprised.
The stack there are to-be-returned and to-give-away books and my small collection of Nancy Drew mysteries! And of course, my One Direction coffee table book my friend gifted to me.
It's a shame that these pretty and amazing books are at the back and it hurts me but I have limited space. My parents called dibs on the lowermost floor I didn't picture in here and a cabinet-type area for our encyclopedias. So there's that.

Swag box!
So there! I'm so happy (happy doesn't even cover it) that my books finally have a proper home. WEE!
Feel free to share bookshelfies or bookshelf tour links in the comments section! Would love to see yours!