I know this post is long overdue (sorry, National Book Store!) but life has swallowed me whole and has just regurgitated me only recently (gross). But better late than never is my motto so if you want to relive the awesomeness of Gayle Forman being in Manila, this is the place to be! Also, this is the place to be if you want to win a signed paperback of JUST ONE DAY!
Above is a picture pre-event, everyone waiting for the arrival of Gayle Forman. And then here's our rockstar, GAYLE FORMAN! Seriously, you guys, she's so cool. I haven't interacted much with Gayle on Twitter so I don't know what to expect but she's soooo kind (National Book Store attested to this as well. She even gave them Gayle Forman Philippine Tour shirts! She's even wearing it!). And here's a fun fact: She's obsessed with the animated movie, Frozen. Yup! She can't help singing "Do You Want to Build a Snowman?" and "Let It Go" again and again. I KNOW. WHAT A ROCKSTAR.
The next few pictures show just a fraction of those who attended the book signing. Because dude, there were LOTS.
And here are some pictures of yours truly with THE Gayle Forman! Thank you to Kate of The Bookaholic Blurbs for my photos with Gayle!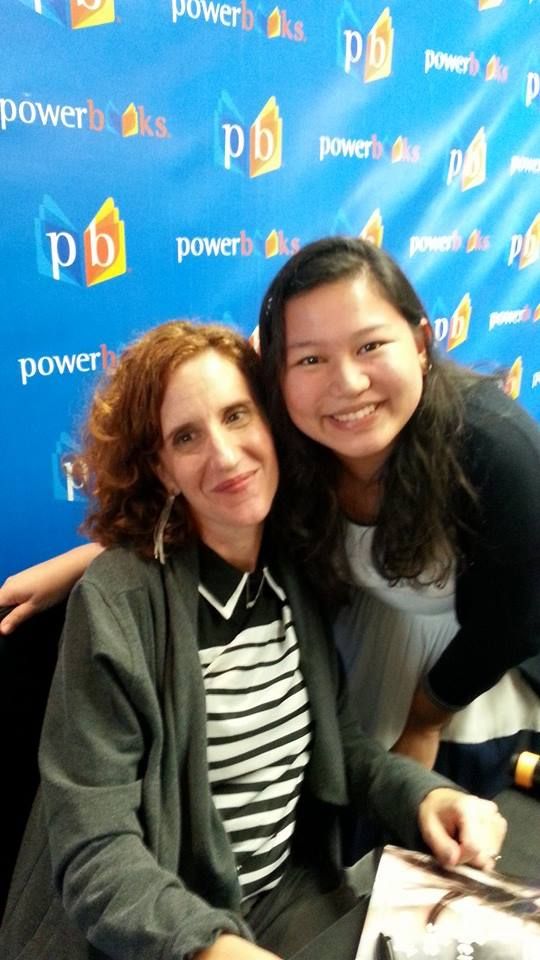 Saying "Let it go~" with Gayle, here are the Filipino YA Book Bloggers!
And yes, I'm wacky like that. Haha!
For all of us wanting more of Gayle's writing, she has a book coming out this 2015 entitled I WAS HERE. Linked is the Goodreads page and all she said about it is that it's gonna be dark. From Goodreads: "The story follows Cody Reynolds in the months following her best friend Meg's suicide, as she delves into Meg's secret life in search of answers." Personally, I am TOTES excited.
And because I'm getting older, I even forgot to take a picture of my signed goodies for this post. So I'll just add that in here tomorrow. (Because don't you know, I'm at my aunt's just to post this!)
To the good stuff! I'm giving away a signed paperback of JUST ONE DAY with a special message of "Let it go..." from Gayle Forman! All you have to do is accomplish the entries in the Rafflecopter below. Open to Philippine residents only!