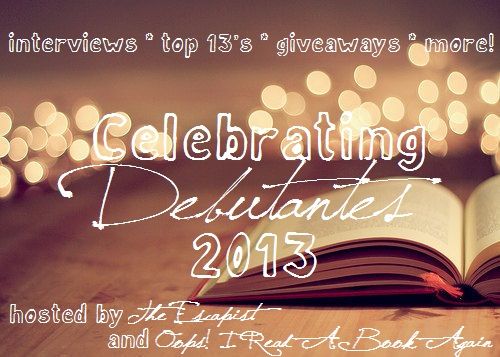 I never thought we'll come here but it's the last day of Celebrating Debutantes 2013. So to everyone who checked out all of our posts and commented and joined the giveaways, THANK YOU VERY MUCH!!! <3 And now, I present to you the last author who'll be visiting Oops! I Read A Book Again, LAUREN MILLER!
About Lauren Miller
I grew up in Atlanta. I went to college at Yale and law school at Berkeley, then I got married and moved to Southern California to practice law.

I liked it. But after about a year, I got the itch to be doing something more creative. The itch got stronger. I found myself typing out random bits of dialogue on my Blackberry (remember those?) and pitching story ideas to my co-workers. One of those ideas became a script for a TV pilot. When it didn't sell, I wrote another one and another one. Soon, I was ducking out of work to go to pitch meetings at studios and networks. It felt like I was getting somewhere.

Then I got pregnant. Unexpectedly. This freaked me out. Not because I didn't want kids (I did), but because I was afraid (ok, convinced) that motherhood would zap my creative potential.

To prove myself wrong, I resolved to write a novel in the first 100 days of my child's life and blog about it, an experiment I called "embracing the detour" (if you're looking for an embrace the detour fridge magnet, I'm your girl. If you're looking for old embrace the detour blog posts, click HERE). At the time, it seemed like a brilliant idea. Looking back, it makes me laugh at the childless version of me.

Then again, she's the reason the current version of me ended up with a two-book deal at HarperTeen. And my very first script sale (but that's a whole other story).

Thanks to to Kristyn Keene at ICM and Sarah Landis at HarperTeen, my debut novel, Parallel, hit bookstores on May 14th. My second novel, Free to Fall, will be out next Spring.

Website | Twitter | Pinterest
THIRTEEN THINGS YOU MIGHT NOT KNOW ABOUT LAUREN MILLER

1. I have never seen any of the Star Wars movies.

2. At 13, I got hit by an air conditioning truck while riding my bike to a gas station to buy magazines.

3. My parents are junior high sweethearts. They've been together since they were 12 & 13.

4. I'm allergic to almonds.

5. My favorite book of all time is The Prince of Tides by Pat Conroy. Tied for second are most of John Irving's books.

6. I wrote Parallel during the first 100 days of my daughter's life and blogged about it. Before my first blog entry, I'd never even READ a blog, much less written one!

7. I love to cook but suck at baking.

8. I've never missed an episode of Pretty Little Liars.

9. I loved to act as a kid. Then I forgot my lines while performing a monologue as Lady MacBeth in 7th grade and never set foot on a stage again.

10. I love the rain.

11. I've seen Ray LaMontagne in concert 10 times and counting

12. Three things in life I cannot live without: coffee, avocados, and popcorn
13. I am composing this list while wearing a full length blue parka in an enclosed airplane hanger (slash freezer) next to the RMS Queen Mary in Long Beach where it's currently 9 degrees Fahrenheit, while surrounded by ice sculptures and camera crazy tourists.
***
Title: Parallel
Author: Lauren Miller
Publisher: Harper Teen
Date of Publication: May 14, 2013
Abby Barnes had a plan. The Plan. She'd go to Northwestern, major in journalism, and land a job at a national newspaper, all before she turned twenty-two. But one tiny choice—taking a drama class her senior year of high school—changed all that. Now, on the eve of her eighteenth birthday, Abby is stuck on a Hollywood movie set, miles from where she wants to be, wishing she could rewind her life. The next morning, she's in a dorm room at Yale, with no memory of how she got there. Overnight, it's as if her past has been rewritten.

With the help of Caitlin, her science-savvy BFF, Abby discovers that this new reality is the result of a cosmic collision of parallel universes that has Abby living an alternate version of her life. And not only that: Abby's life changes every time her parallel self makes a new choice. Meanwhile, her parallel is living out Abby's senior year of high school and falling for someone Abby's never even met.

As she struggles to navigate her ever-shifting existence, forced to live out the consequences of a path she didn't choose, Abby must let go of the Plan and learn to focus on the present, without losing sight of who she is, the boy who might just be her soul mate, and the destiny that's finally within reach.
Purchase from Amazon | B&N | The Book Depository
Giveaway

Lauren is giving away a UK ARC of PARALLEL! Open internationally. Good luck!
a Rafflecopter giveaway

Thank you Lauren for celebrating your debut year with us! Now, go on to Michelle's blog for her feature on Emma Pass! Thank you for joining Michelle and I in celebrating our 2013 debut authors!
Are you a 2014 debut author? Are you interested in participating for Celebrating Debutantes 2014? Fill out this form!