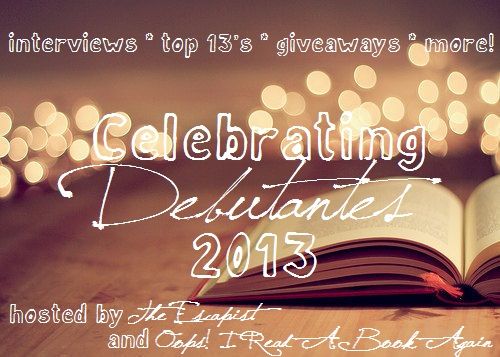 About Kari Luna
Kari Luna is a teen novelist and whimsicologist. Her YA debut, The Theory of Everything, combines string theory, 80′s mixtapes and shaman pandas in one book without making you dizzy! Almost. Watch the awesome video here: http://bit.ly/14wQdlp. And find Kari, here: www.kariluna.com tweet: @wordette blog: blog.kariluna.com

Website | Twitter
THIRTEEN THINGS YOU MIGHT NOT KNOW ABOUT KARI LUNA

1. The first book I can remember writing was a vampire book. Seriously! It was called Dracula's Kiss and the hand-drawn cover featured a vampire with one huge fang. Blood dripped off of it to create the title. I was only six years old, but I was ahead of my time, right?

2. I accidentally dress in themes like my main character, Sophie Sophia. It's probably because I love to wear vintage from the 1960's, but this season's theme is MAJORETTE. I have the navy skirts, coat, and boots. All I need now is a baton!

3. I once sped through the Swiss Alps in a Tiny Swiss Car with a Tiny Swiss Boy on the way to Italy. It was thrilling and horrifying and changed my life.

4. The book trailer/video for THE THEORY OF EVERYTHING came directly out of a dream. I'm also a creative director/copywriter by day, so once I had the idea, I wrote the script and found the people and music to make it happen. It was fun! But also something I've been doing since I was in my early twenties. I've loved creative directing all the graphics and promotions for the book. It was a natural.

5. I used to hide a tape recorder under the table during family dinners at my Grandma's house. Later, I'd listen back and use the juiciest bits for stories. Or blackmail! Just kidding. Stories. Probably.

6. Nothing beats a hand-written thank you note.

7. When I feel blocked during writing time, I turn on KCRW's Morning Becomes Eclectic. It's not long before I'm deep inside of a scene. It's a great motivator. If they can show up and play amazing music, the least I can do is write to it.

8. I live in Portland, Oregon, but I was born in Texas, Land of the Largest Skies Anywhere. Maybe it's my imagination, but their blue skies seem to go on for miles and the clouds are some of the puffiest I've ever seen. I get homesick for them.

9. My favorite drink and soup are the same color: chartreuse. The soup is Spring Pea and the drink is called the Dragonfly Elixir. It's a mixture of soy, mate, honey and green tea and when delivered, it's the color of aliens. Delicious!

10. I've played in bands since I was nineteen - keyboard, piano and Hammond Organ. The first one was a ska band and the rest were rock-punk-soul bands. Every once and a while I even sang! But we won't talk about that.

11. I wasn't very good at science in high school, but now I LOVE the sciences. It's why I gave myself an honorary scientific title: whimsicologist. It's very serious business. (She said, munching on a macaroon.)

12. Last week I met Lemony Snicket, who was fabulous, but also gave me my new favorite book inscription: "To Kari, doomed like all of us." Ha ha!

13. As a #debutdiva, of course I have a dog – Petey Sellers. Like the French actor, he grins a lot, is super clownish and never lets me get too serious, which is helpful. Whimsicology is serious enough! Ahem.
***
Title: The Theory of Everything
Author: Kari Luna
Publisher: Philomel
Date of Publication: July 11, 2013
One part Libba Bray's GOING BOVINE, two parts String Theory, and three parts love story equals a whimsical novel that will change the way you think about the world.

Sophie Sophia is obsessed with music from the late eighties. She also has an eccentric physicist father who sometimes vanishes for days and sees things other people don't see. But when he disappears for good and Sophie's mom moves them from Brooklyn, New York, to Havencrest, Illinois, for a fresh start, things take a turn for the weird. Sophie starts seeing things, like marching band pandas, just like her dad.

Guided by Walt, her shaman panda, and her new (human) friend named Finny, Sophie is determined to find her father and figure out her visions, once and for all. So she travels back to where it began—New York City and NYU's physics department. As she discovers more about her dad's research on M-theory and her father himself, Sophie opens her eyes to the world's infinite possibilities—and her heart to love.

Perfect for fans of Going Bovine, The Perks of Being a Wallflower, Scott Pilgrim vs. The World and The Probability of Miracles.
Purchase from Amazon | B&N | The Book Depository
Giveaway

Kari is giving away a The Theory of Everything poster and pins! Open internationally. Good luck!

Thank you Kari for celebrating your debut year with us! Come back tomorrow here at Oops! I Read A Book Again as Kimberly Ann Miller visits us! Now, go on to Michelle's blog for her feature on Hafsah Laziaf!
Are you a 2014 debut author? Are you interested in participating for Celebrating Debutantes 2014? Fill out this form!