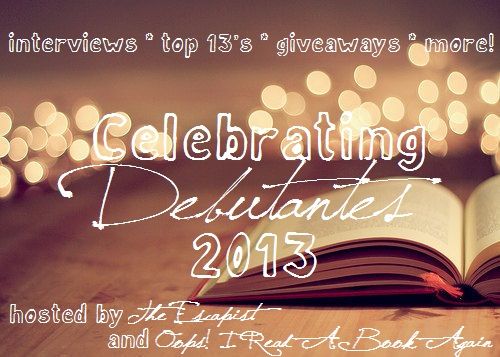 About Eliza Crewe
Eliza Crewe always thought she'd be a lawyer, and even went so far as to complete law school. But as they say, you are what you eat, and considering the number of books Eliza has devoured since childhood, it was inevitable she'd end up in the literary world. She abandoned the lawyer-plan to instead become a librarian and now a writer.

While she's been filling notebooks with random scenes for years, Eliza didn't seriously commit to writing an entire novel until the spring of 2011, when she and her husband bought a house. With that house came a half-hour commute, during which Eliza decided she needed something to think about other than her road-rage. Is it any surprise she wrote a book about a blood-thirsty, people-eating monster?

Eliza has lived in Illinois, Edinburgh, and Las Vegas, and now lives in North Carolina with her husband, her hens, her angry, talking, stuffed dwarf giraffe, and a sweet, mute, pantomiming bear. She likes to partially-complete craft projects, free-range her hens, and take long walks. Cracked is her first novel.

Website | Twitter
THIRTEEN THINGS YOU MIGHT NOT KNOW ABOUT ELIZA CREWE

1. When I was young, I used to secretly read my grandmother's 80's bodice-rippers hidden behind a peeled-off cover of Anne of Avonlea. My parents must have thought I looooooooved that book!

2. I have pet hens

3. I love windy days. Warm ones remind me of the beach, and cold ones remind me of wilderness survival stories.

4. I fenced in college (the kind with a sword, not a hammer).

5. The only bone I've ever broken is my toe--which I managed to do at a National Academic League competition.

6. Whenever I visit a new country, I take a pebble home to add to my garden so I always have a little piece. Plus, I like to think how it will confuse the hell out of geologists in the future.

7. While living in Scotland, I once had to chase highland cattle off the road. I never knew something could be so adorable and yet so intimidating at the same time.

8. The first non-children's/YA novel I ever read was Diana Gabaldon's Outlander, which I checked out from my middle school library. The cover had been removed so I had no idea what I was in for (nor, I suspect, did our librarian--OMG SEX!!).

9. My first favorite book was a picture book about a beautiful egg, and that's all I can remember. Well, that and how it smelled--but that doesn't help much in identifying it!

10. I've written two full novels so far; Cracked is the second.

11. My oldest brother married my college roommate.

12. My favorite time of day is early morning, especially when it's warm enough to sit on my porch (but not too warm!) with a steaming mug of coffee.
13. The first time I attempted to write a novel was in high school. It was about a homely and rebellious Victorian debutante who accidentally loses her miserably uncomfortable shoes when unexpectedly asked to dance and somehow ends up witnessing a murder from a wardrobe. Sadly I'd only written about half when it went the way of a crashed hard drive. I didn't try again for fifteen years.
***
Title: Cracked (Soul Eater #1)
Author: Eliza Crewe
Publisher: Strange Chemistry
Date of Publication: November 5, 2013
Meet Meda. She eats people.

Well, technically, she eats their soul. But she totally promises to only go for people who deserve it. She's special. It's not her fault she enjoys it. She can't help being a bad guy. Besides, what else can she do? Her mother was killed and it's not like there are any other "soul-eaters" around to show her how to be different. That is, until the three men in suits show up.

They can do what she can do. They're like her. Meda might finally have a chance to figure out what she is. The problem? They kind of want to kill her. Before they get the chance Meda is rescued by crusaders, members of an elite group dedicated to wiping out Meda's kind. This is her chance! Play along with the "good guys" and she'll finally figure out what, exactly, her 'kind' is.

Be careful what you wish for. Playing capture the flag with her mortal enemies, babysitting a teenage boy with a hero complex, and trying to keep one step ahead of a too-clever girl are bad enough. But the Hunger is gaining on her.

The more she learns, the worse it gets. And when Meda uncovers a shocking secret about her mother, her past, and her destiny… she may finally give into it.
Purchase from Amazon | B&N | The Book Depository
Giveaway

Eliza is giving away a copy of CRACKED! Open internationally. Good luck!
a Rafflecopter giveaway

Thank you Eliza for celebrating your debut year with us! Come back tomorrow here at Oops! I Read A Book Again as Kari Luna visits us! Now, go on to Michelle's blog for her feature on Stephanie Kuehn!
Are you a 2014 debut author? Are you interested in participating for Celebrating Debutantes 2014? Fill out this form!