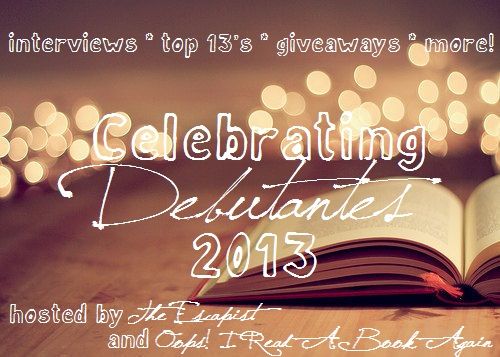 Caela Carter was raised in Basking Ridge, NJ and Baltimore, MD. She's been writing since she learned how to pick up a pen but before the writing thing got serious she spent six years teaching English to middle and high school students in Jacksonville, FL and Chicago, IL. Her debut novel, ME, HIM, THEM AND IT will be published in 2013 by Bloomsbury. When she's not writing, Caela is a middle school librarian in Harlem, a Notre Dame football enthusiast, and a happy explorer in New York City.

Website | Twitter

INTERVIEW WITH CAELA CARTER

What do you feel about the number '13'?

Honestly, I'm not a huge fan. When I was about 6 I had a really terrible Friday the 13th when I got in trouble for ruining a friend's plastic jewelry. I don't remember much about it except that all day long I was sure I would show Friday the 13th that it wasn't so scary; I was sure I would have a GREAT day because I was going to my friend's house. And then it didn't work out quite so well. I've been uncomfortable with 13 ever since then, but I managed not to think about it too much this year, haha.

What's the best thing that happened after your book was published?

A lot of great things have happened. But the best was seeing ME, HIM, THEM AND IT by Caela Carter on a shelf for the first time. Professionally, I'm not sure anything will ever beat that moment.

How did you celebrate the publishing of your book?

The best celebration was that first day. My husband took the day off and we ran all over New York City gazing at the book on various shelves. There is a lot of stress that coms along with release day which I honestly didn't expect at all. I had barely slept for about a week before and I knew there was a lot of worry coming as people started to actually read the book. But I made myself take the actual release day off of stress and worry. I made myself take 24 hours to just enjoy the dream getting as far as it did. Later in the week I also had a party at The Corner Bookstore in New York, which was both awesome and nerve-wrecking.

Do you read reviews of your book?

Ugh. Yes, I do. Everyone tells you not to but it's pretty impossible to resist. I used to get so mad at myself for reading them. But getting mad at myself just made the whole thing worse! So now I accept that I'm going to read them and I'm sometimes going to get upset about it, but then I will get over it.

What is your best or most unforgettable moment with a fan?

The emails I've gotten have been the best. In particular, I got a few emails from women who were pregnant as teens and who found comfort and compassion in Evelyn's story. Nothing can beat that. But, it was also really fun when book blogger Kari Olson recognized me at BEA based on my name tag and called out "Did you write ME, HIM, THEM AND IT?"

Was there any book/s from other debut author of 2013 that you loved?

There are so many that I've loved! In particular I was really lucky to debut along with two of my friends from graduate school and critique partners and if you love YA Contemporary like I do, you should stop everything and read OCD LOVE STORY by Corey Ann Haydu and MY LIFE AFTER NOW by Jessica Verdi.

Are you interested in writing in a different genre or for a different audience?

Yes. I'm trying my hand at middle grade right now and I'm kicking around an adult idea. I'm in love with words and sentences and stories more so than any age group. But, I do think that teen lit will remain my primary passion.

Share us one embarrassing moment you've had.

Ugh, do I have to? My face just got so pink trying to wrack my brain for a story that would be just-embarassing-enogh to share here and that pink face is pretty embarrassing, so I'll leave it at that.

Favorite color? Red and purple when they are side-by-side (ever since I read THE COLOR PURPLE in high school)
Favorite movie? I'm not a huge movie person. I do love The Labyrinth.
Favorite ice cream flavor? Mint chocolate chip.
Favorite song? Can't Take My Eyes Off Of You
Ultimate celebrity crush (dead or alive)? Harry Potter (fictional works too, right?)


What's next for you?

My second book, MY BEST FRIEND MAYBE, comes out on June 3rd. It's about friendship, secrets, sexuality, romance and the Greek Islands!
***
Title: Me, Him, Them, & It
Author: Caela Carter
Publisher: Bloomsbury
Date of Publication: February 26, 2013
ME is Evelyn Jones, 16, a valedictorian hopeful who's been playing bad girl to piss off THEM, her cold, distant parents. HIM is Todd, Evelyn's secret un-boyfriend, who she thought she was just using for sex - until she accidentally fell in love with him. But before Evelyn gets a chance to tell Todd how she feels, something much more important comes up. IT. IT is a fetus. Evelyn is pregnant - and when Todd turns his back on her, Evelyn has no idea who to turn to. Can a cheating father, a stiff, cold mother, a pissed-off BFF, and a (thankfully!) loving aunt with adopted girls of her own help Evelyn make the heart-wrenching decisions that follow?

Thank you Caela for celebrating your debut year with us! Come back tomorrow here at Oops! I Read A Book Again as our last author, Lauren Miller, visits us! Now, go on to Michelle's blog for her feature on Amanda Sun!
Are you a 2014 debut author? Are you interested in participating for Celebrating Debutantes 2014? Fill out this form!